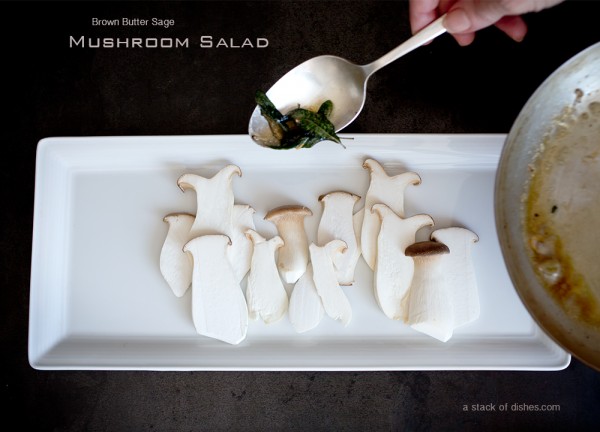 Just in time for National Salad Day: As promised, this is Part II of my ingredient expedition adventure. The "find"- Pleurotus eryngii- better known as King Mushrooms, French Horn, King Oyster, Boletus of the Steppes or Trumpet Royale. They are from the Oyster mushroom family, or otherwise known as pluerotes.
Mushrooms are often the accent of the salad, or a null addendum to a bright flavor base. These regal beauties have enough oomph to stand up on their own, and you'll want to let them. So gorgeous and plump- they command attention. They also have a hearty shelf life, so if you find them, you can stock up a week of treats and they'll hold up fine.
The flavor is fairly neutral which makes them a great platform for any handling. Sliced as planks their sturdiness also makes them great for grilling.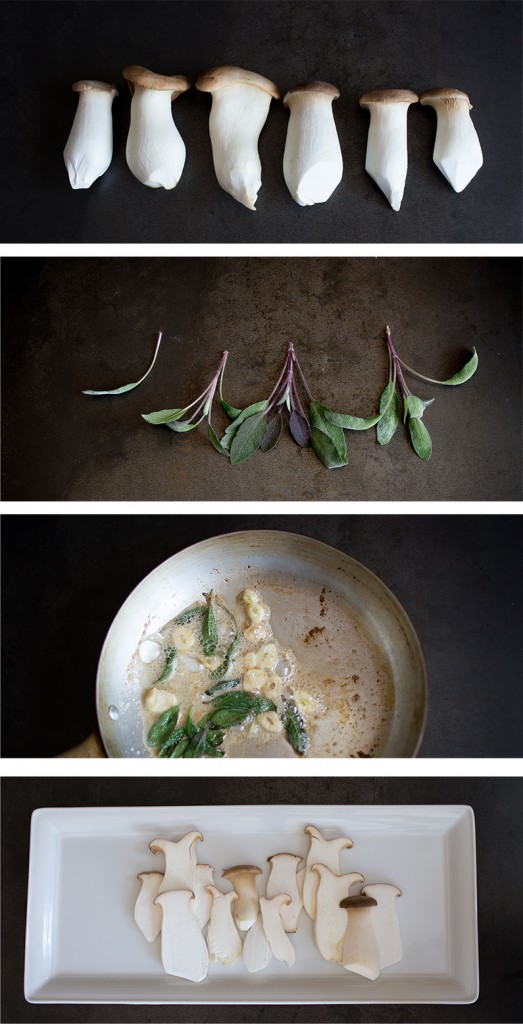 I decided to fry up some slices of garlic and some of my purple sage leaves and leave it at that. The earthiness of the mushroom is a nice pairing to nutty browned butter. The garlic became caramelized and the sage added a crunch and herbacious hit that was simplistic perfection.
I like to serve these as a small plate with wine or cocktails.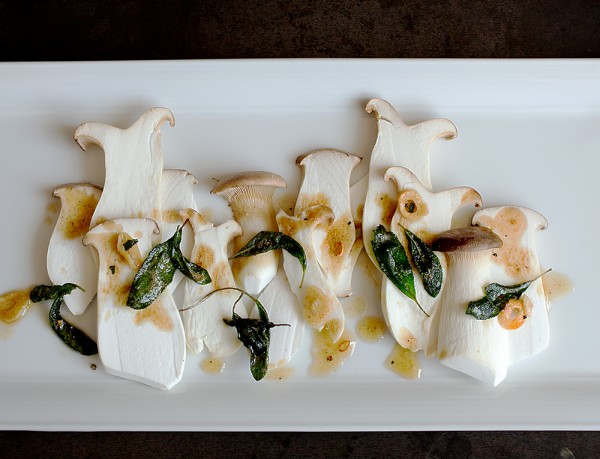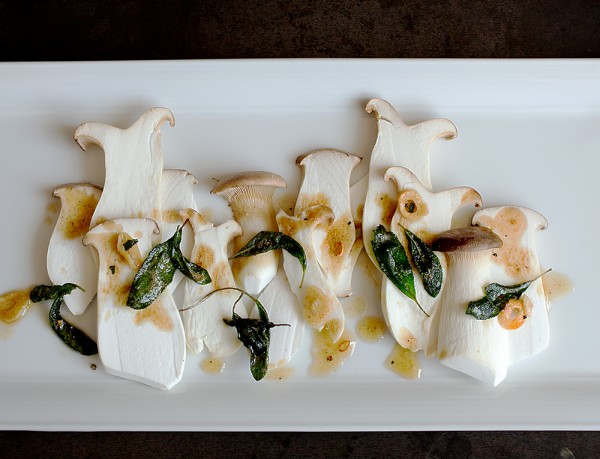 Browned Butter Sage Mushroom Salad
2013-05-01 05:36:19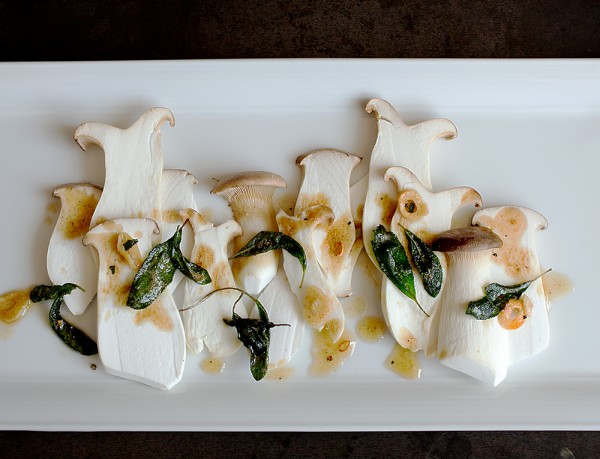 This pretty salad can be made with any mushrooms you have on hand. It's also wonderful served as a tapas, or small plate with some wine. Serves 2
Nutrition Facts
Amount Per Serving
* Percent Daily Values are based on a 2,000 calorie diet. Your Daily Values may be higher or lower depending on your calorie needs.
Ingredients
10 stems of King Mushrooms, approx 8 ounces
2 tablespoons unsalted butter
2 cloves garlic, sliced
20 leaves of purple sage, rinsed and dried
2 tablespoons olive oil
1/2 cup dry white wine
salt and pepper to taste
Instructions
Trim and slice mushrooms in to 1/8" slices and arrange on a plate.
In a frying pan, warm the butter over medium low heat and add the garlic and sage. Cook until the garlic and butter turns golden and the sage crisps. 4 minutes.
Remove the sage and set aside.
Add the olive oil and the wine and cook for 3 minutes over medium low heat.
Season with salt and pepper.
Spoon dressing while still warm over the mushrooms and finish with the sage.
A Stack of Dishes http://www.astackofdishes.com/