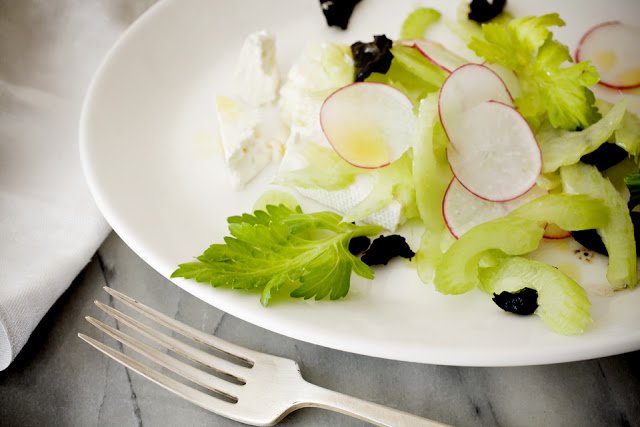 Such a simple salad with simple ingredients that are better than the sum of it's parts. I first made this salad one late Spring for a friend on a lazy Sunday afternoon. It was a superbly warm day, much like what we had yesterday here in NYC.
A cool Chardonnay was poured and a crusty baguette was served on the side while soft classical music played as the afternoon eased on.
Celery has such a bright clean fresh taste, but so hard to take solely on it's own. The radishes not only offer a twinkle of color, but also a nice sharp snap to this salad. Soft fresh feta offers some heft and the lemony vinaigrette just mellows it all out. I love the black olives- an intense punch of color and a nice note of earthiness.
This would also be great along pate, or a lobster salad.
Can you tell I am itching for warmer, sunnier days?
Lemony Celery Salad with Vinaigrette
serves 4
4 stalk of celery with the leaves
4 radishes
4 oz block of fresh feta cheese
black olives of your liking
1 lemon zested and juiced
.5 clove garlic, finely minced
.25 t dijon mustard
~.5c fruity olive oil
S & P
Slice the feta into 4 equal pieces and place each one on a plate.
Either by hand or mandolin, finely slice radishes and celery, reserving the leaves. Set aside.
In separate bowl combine lemon zest and juice, garlic, mustard and a pinch of salt and pepper. The feta and olives have plenty of salt, so go lightly here.
Whisk together while slowly dribbling in olive oil until emulsified. Taste as you go for balance- either adding or eliminating olive oil as needed.
Toss celery and radishes with dressing and spoon over the feta.
Tear olives while removing the pits and toss over the salad.
Enjoy! Here's to warmer days ahead!