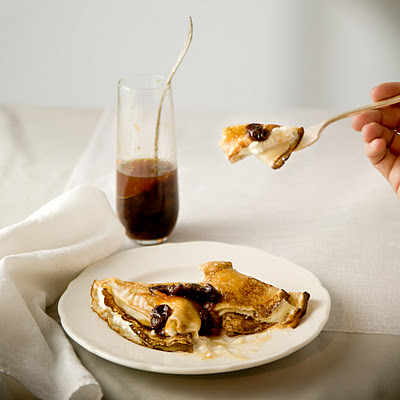 Crepes are typically thought of as a special occasion treat- and why shouldn't they? So delicate and gorgeous and so full of potential. Not the puffed up all-American pancake, but the slim, fine featured European cousin. A pancake gets syrup, crepes get sauced. Pancakes are eaten with elbows on the table, crepes with your unused hand in your lap.
I can get into making crepes. There is a zen quality to making them when the pan is just the right temperature, the sound of the sizzle of the batter as it's swirled around the pan, and the easy flip, all become rhythm- and bit by bit they pile up in a tidy stack.
For Christmas and Easter breakfasts I traditionally make blintzes- which are similar to these, but also not even close.
I filled these crepes with a sweetened fresh ricotta and orange zest. The sauce- well the sauce is worth writing home about. Dried cherries are plumped in Amaretto and fleshed out with apricot jam. The result is a boozy, sweet, almondy apricoty deliciousness that has a bottom note of the cherries and the texture to boot.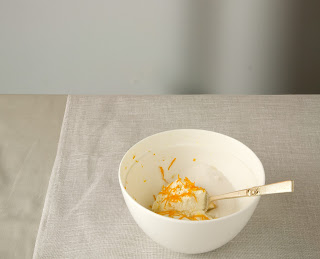 Please add this to your holiday morning breakfast roster- or even better any ol' lazy morning that you feel like indulging and kicking back. Crepe batter is better when prepared the night before and allowed to sit in the fridge til morning. Think how easily you could be a hero at the start of the day. These are perfect for a snowy Sunday or just a cold dreary weekend of any kind. Invite people over, let them admire your European flair- and let them keep their elbows on the table if they insist.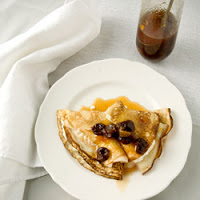 Crepes with Orange Ricotta Filling
serves 6
1.5c AP flour
2 eggs
1c milk
2T sugar
1t vanilla
dash of salt
*
2c fresh ricotta
4T superfine sugar, or powdered sugar to taste
grated zest from one beautiful orange
Combine the crepe ingredients into a bowl and whisk smooth. If a little thick add some water. I almost always do that. The batter should be thicker than heavy cream, more like a custard sauce consistency. 
I use a non stick 8″ fry pan. When I have to make crepes for a crowd I get two going. It's awesome. 
Heat the pan on medium to slightly high heat. Lightly grease the pan with melted butter brushed on or cooking spray.
Using a large spoon or small ladle, pour in about 4T of batter into the center of the pan and then tilt and twist to get the batter swirled around the edges and somewhat evenly.
As the batter cooks the edges will begin to brown. I use a toothpick to loosen the edge off the pan and then with my fingers I flip the crepe. OK, you're going to think that crazy and a bit dangerous, but it's really not and it results in less fuss and less ripped crepes. Give that flipped side just about 20 seconds. That's all it needs.
The first crepe NEVER turns out well. I consider it the Angel's Share of the batch and promise you won't don't fuss about it. The best way to handle this is to eat it. Standing up. Over the next crepe- that is doing it's thing in the pan.
I used to stack my crepes between paper towels but I stopped doing that long ago. It's just not necessary. No need to waste paper.
The crepes may also be made in advance the day before, covered and put in the fridge. Just warm them a bit before you serve them. Covered with foil in a warm oven will do it.
********
For the filling simply combine the ingredients into a bowl and stir. 
Let the filling sit for a few minutes for the sugar to melt in.
That's it. Nice right?
***********
Use about 2T of filling per crepe. Feel free to improvise.
Amaretto Apricot Dried Cherry Sauce
makes 1.5 cup
.5c Amaretto
.5c water
.5 c dried cherries
.5 c good quality apricot jam
Combine Amaretto, water and dried cherries in a small sauce pan. Bring to a gentle boil and turn off heat. Allow the cherries to plump for a few minutes.
Stir in the apricot jam and cook on medium low for a few minutes to melt down the jam and thicken up the sauce.
This also can be made in advance and rewarmed before use. It's so good. You'll love it.