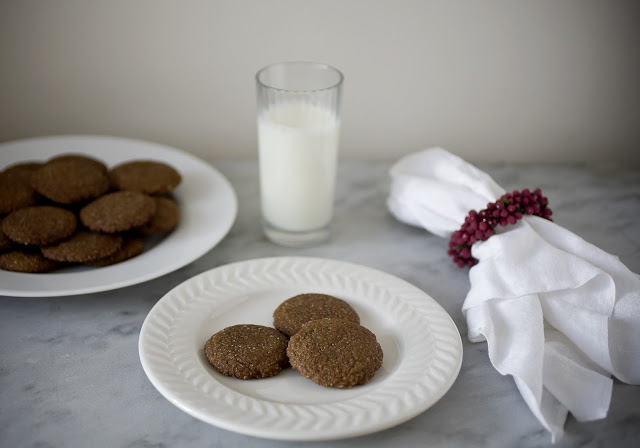 Sugared Molasses Crisps, full of Winter spiciness.
I spent some time with my neighbors yesterday decking the halls of my apartment building. This family is renowned for the over-the-top decor. It took them the best part of yesterday- about 8 hours- to tack up lights, glistening glittered candy canes, tinsel and hanging snowflakes. The transformation is so staggering that when I came home last night after being out I had trouble finding my door!
Before I headed out to assist in untangling miles and miles of colored lights, I made up a couple of batches of cookies. The first being these molasses crisps.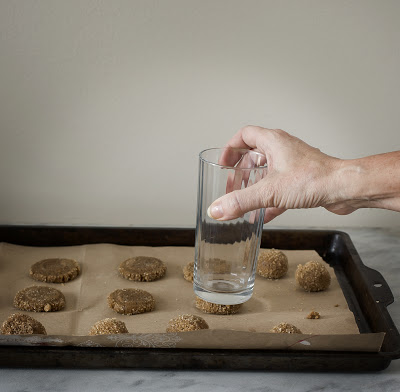 I love these spicy cookies, and I love the way they make the house smell when they're baking too. The best part is they have a ring of crunchy goodness on the outside and a chewy soft interior. LOVE that in a spice cookie.
As I was making these I started to think about some words of wisdom I might share about holiday baking. I know for some baking is not a regular thing, and even if it is, the high volume and intensity of cookie swapping and gift giving can be a major undertaking. So let me offer you a few words of advice that may make things go a little better for you.
7 Tips to Make Holiday Cookie Making a Success
Take a moment to write up an action plan and pin it up for you to see. The recipes that call for chilling the dough should be made first. The same goes for cookies that need to be filled. Put them at the beginning of the preparation order.
As with the action plan, write up all your recipes and post them on up where you can see them easily. Chefs keep their orders at eye level and it's for a good reason. If you have to keep retrieving greasy slips of paper from under the flour sack it will start to make you crazy.
Before baking the entire batch try a test cookie or three. This may feel like a waste of time but it is SO worth it. The test batch will let you know if your oven is too hot, if the racks are too high/low, if your dough is too warm/cold, etc.
Don't try to make doughs and bake at the same time. It's hard to keep too many plates spinning at once. Dedicate dough preparation time and then baking time. Utilize the time that the cookies are in the oven to clean or just pull together the ingredients for the next batch.
If time runs out you can set unbaked cookies on a baking sheet, cover and store in the fridge until you have the time to bake them off. Just be sure that the dough is at the correct temperature before baking- and still do that test run.
Update your baking soda and baking powder. They lose their potency over time, so start with a fresh box if it's been awhile since you've used them.
Lastly, keep notes. We all tweak here and there, and we all learn to nuance our kitchens and work methods. Update your recipes with what worked and what didn't- this information will be invaluable the next time you bake, and it's the legacy that you can pass on to your family.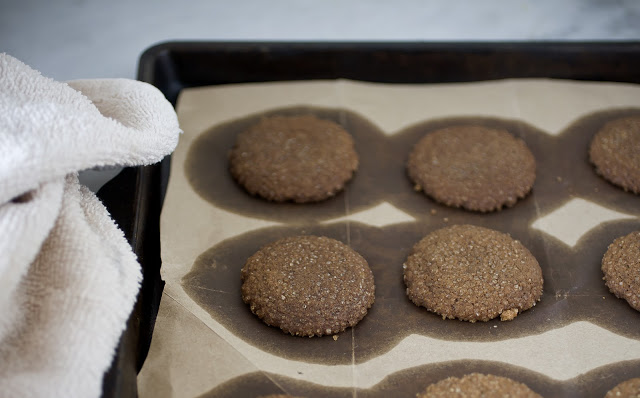 There will be more baking to come over the next few days, so stay tuned!
Spicy Molasses Crisp Cookies
makes approx 4 doz cookies
2c all purpose flour
1t baking soda
1t ground cinnamon
.5t ground cloves
.25t ground nutmeg
.25t salt
1 generous T fresh minced ginger
1.5 sticks unsalted butter, softened
.5 c sugar
.5c dark brown sugar
.25 c molasses
1 egg, room temp
1c demerara sugar
Preheat oven to 350˚ and line cookie sheets with parchment or cut brown paper bags- or you can simply grease a cookie sheet.
In a large bowl sift together four, baking soda, salt and dried spices.
In a stand mixer, beat the butter, the sugars, the molasses and the ginger until creamy and fluffy. About 5 mins. Add the egg and beat smooth.
Pour the wet mixture into the dry and stir until evenly incorporated.
If the dough is too soft to handle you can pop this into the fridge for awhile, or even overnight. Just let the dough come to room temp before baking.
Pinch off enough dough to make a 1″ ball and roll in the demerara sugar, or another course sugar you may have.
Place on the cookie sheet allowing at least 2″ between. Using a flat bottomed glass, mash down the balls to a 1/8″ thickness.
Bake in the middle of the oven for ~15 minutes. Since the color is dark you can't use that as a baking guide. I press on mine to test for doneness. They should feel fully cooked but still give.
Cool on racks.
Happy Baking!!!