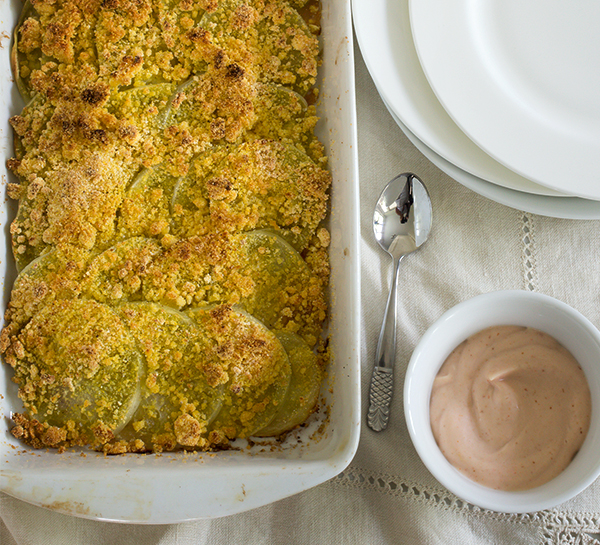 It's been almost 7 weeks since I pulled away from the grimy NYC curb, and pulled into the driveway of our balmy southern home. The first few weeks were an All-Hands-On-Deck flurry of disengaging my belongings from the wrappings and bondages of packing materials. There were days and days of navigating piles of cardboard and bubble wrap amidst stacks of books, china, linens and art- all searching for their final niche in the nest. They were hard, sweaty, un-fun days that I am sure Pam thought would never end.
Somewhere towards the end, after staring at my collections of props and dishes for days on end (and I had given so much away!), she attempted a campaign of Zen Minimalism. With admirable constraint she said, "I think we should have nothing, just the absolute minimum of what we neeeeed".
To her credit she is slowly beginning to understand that multiple sets of white plates, serving spoons and napkins ARE what I need, and she can see that indeed they do get used fairly regularly. To her amazement and, (I assume) delight, I have also managed to tuck everything away, and not in the teetering balanced matrix of NYC storage either. Everything has a place with easy access and room to breathe. Items are still seeking their level, and weekly there are more things added to the "donate" pile, but for the most part I have nestled my things in all tucked and cozy.
This has now brought us to the second phase of the move in- a long list of household projects, which has set the house into a different type of disarray. Walls are being painted, furniture shifted and moved, curtain colors and fabrics to be decided upon, and together we are making a pair of upholstered headboards for the guest room. Day by day we practice our groove of co-mingling households, conceding to each other's taste and style as we enhance our personal sense of home – OUR home.
The truth is we are two women who have mostly lived alone for several years now, two STRONG women. Both of us have enjoyed the open freedom to purchase a pillow, or angle a rug without thought or consideration- but now we find ourselves in a wholly separate mindset of togetherness and creation. The interesting thing is we used to argue more about details when we were not together, but now- now it flows with grace and a resounding sense of satisfaction. That's not to say we don't disagree, we do, but once we've worked through the process, the final *sigh* is just so juicy and satisfying. It's a world of yes, and beauty and building. We love it.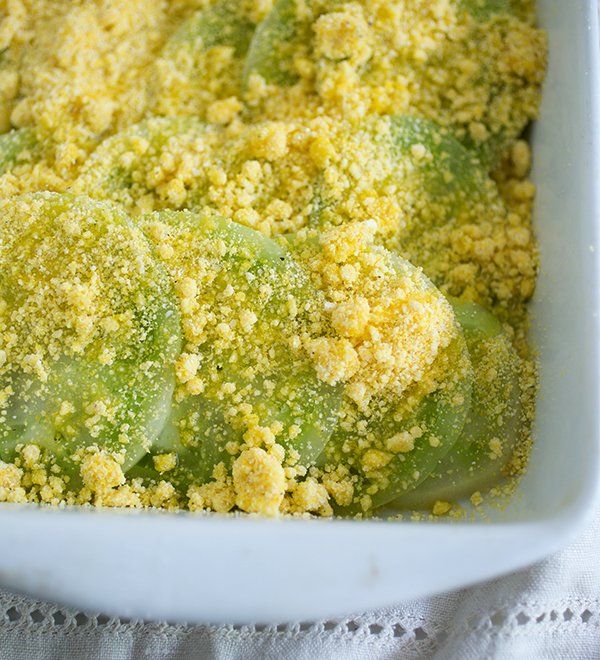 I am also adjusting to the southern song. I now find myself slowing down my speech and adding just a hint of a lilt from time to time. Y'all's and darlin's and "might could" (as in "I might could get around to baking that peach pie today") flow easily from my lips, and I stop to chat with folks for no good reason at all. During my trips down here to visit over the past four years it was not uncommon for folks here to give me startled looks from time to time. After all I was an express train direct to the point New Yorker who found no need for the banter of niceties. In fact, I remember thinking to myself back then- "how does anything get done with all this needless chit chat?"
As it turns out, it all gets done very well in fact, in the most soft and lovely way that I now have trouble imaging life without. I'm learning to love it more and more.
I am also learning to love the different foods and produce that I wouldn't often see in NY. Okra, field peas, and of course, green tomatoes.
Fanny Flagg made Fried Green Tomatoes famous with her incredible book (and then movie), which has made this simple dish a culinary ambassador for the South.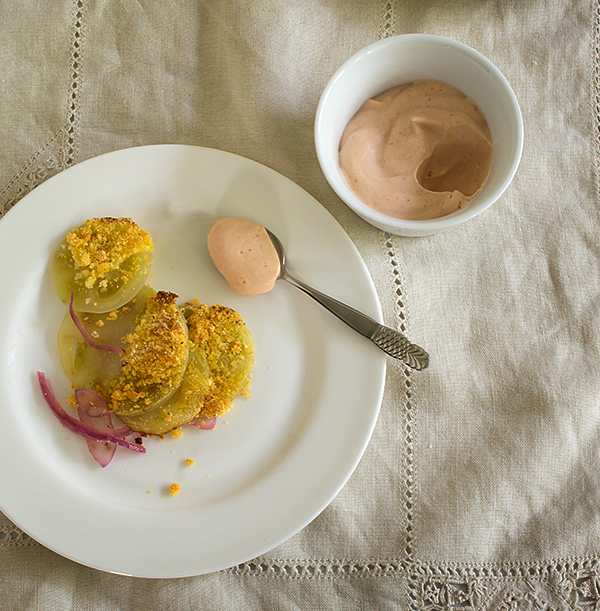 There is nothing like frying, and the tangy acidity of tomatoes with the crunchy buttermilk laced crust is a toothsome bite that is a delight to this northerner. No proper southern cook would think to stray from this classic- for any ol' reason- but I've never been accused of being proper about much really.
This super simple baked version still offers the tangy crunch without so much "greese". As much as I love me some fried anything- it just ain't the healthiest thing goin'. This is not to suggest a replacement for the real thing- when you want the good stuff I say go for it, but most of the time we try to be mostly good.
To redeem myself, I whipped up a spicy remoulade type sauce to go with them, adding several shakes of Tabasco, which might be my only saving grace. I may have a lot to learn about southern cooking, but splashing food with a good dose of Tabasco is not one of them.
NOT Fried Green Tomatoes
2013-07-25 05:51:00
A riff on the classic. My wholesome attempt to a healthier version. Surprising there is still a lot of crunch in the topping....
Nutrition Facts
Amount Per Serving
* Percent Daily Values are based on a 2,000 calorie diet. Your Daily Values may be higher or lower depending on your calorie needs.
Ingredients
4 medium sized green tomatoes, sliced 1/8 inch
1/2 cup thinly sliced red onion
1 cup cornmeal
3 tablespoons flour
3 tablespoons canola oil
3 tablespoons buttermilk
1/2 teaspoon salt
1/4 teaspoon black pepper
1/8 teaspoon cayenne pepper
4 shakes of tabasco sauce
1 cup reduced fat mayonnaise
1 tablespoon tomato paste
2 tablespoons reduced fat buttermilk
zest of half a lemon
1 tablespoon fresh lemon juice
1/4 teaspoon cayenne pepper
10 drops tabasco sauce, or to taste
1/4 teaspoon salt
Instructions
Preheat the oven to 400˚ and prepare a small casserole dish with cooking spray
Spread the sliced onions along the bottom of the dish, then layer the tomatoes on top.
In a small bowl, combine the cornmeal, flour, oil, buttermilk, salt, peppers and tabasco. Mix into a wet but crumbly mixture, then sprinkle evenly across the top of the tomatoes.
Bake in the middle of the oven for 15 minutes, or until the topping starts to brown.
In a small bowl combine the mayonnaise, tomato paste, buttermilk, zest and lemon juice, cayenne and tabasco and stir to thoroughly combine. Add more buttermilk if you prefer a thinner consistency.
Serve dollops of the remoulade along with the tomatoes.
A Stack of Dishes http://www.astackofdishes.com/