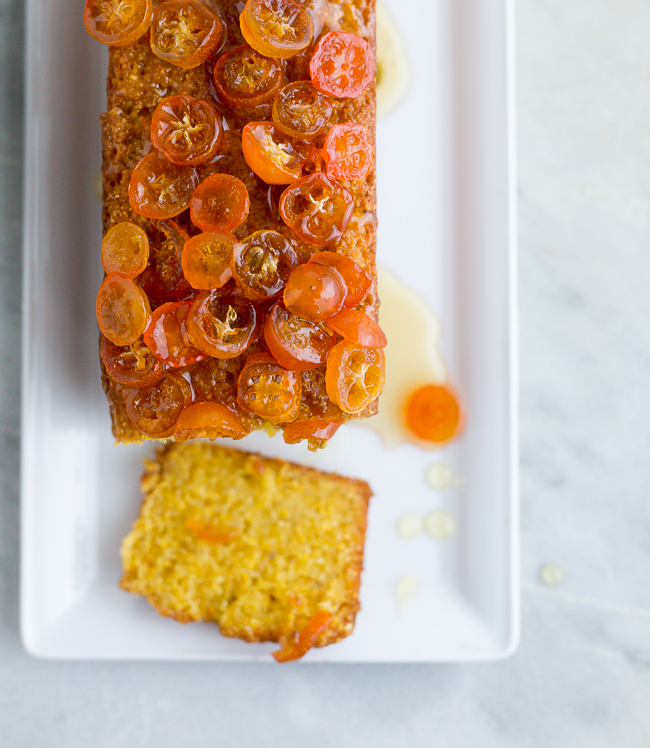 Earlier this summer I attended a party that served the most delicious olive oil polenta cake. It was densely wonderful, and only slightly sweet. It was the unusual texture that I really fell in love with. It had a slight crunch of the grits, and to counter the low sugar in the cake, a lovely glaze that just fringed the top edge. As you can see this cake has been haunting me. So much so that I had to sort it out- A gorgeous Olive Oil Polenta Cake, just like the one I had tasted.
This cake is very unlike anything I've made before (and as you know, I've made more cakes than tea in china). It's not exactly a quick bread, though it's a simple one bowl recipe. To me quick breads are, well, more bready, or almost biscuit like. Is that it? no, it's the crumb, quick bread has holes and a rough texture. This cake is certainly crude, which is absolutely one of its charms, but it's so moist, and dense and…. well, I think you really must give it a try.
I tested this recipe 4 different ways. Each time varying the ratio of coarse polenta:medium polenta:flour. I was not unhappy with any of the results, but this version was definitely the best. A nice crunch from the coarse grits, but not too gritty. The result was a lovely treat that would be great with afternoon coffee, and even low sugar enough to have for breakfast. Toasted?? OMG! that would be killer.
There are many other fruit versions you could do for the glazing. Lemons are the most obvious (I would infuse my lemons with some thyme or rosemary), A combination of dark berries, or even a beautiful cherry compote with some boozy element? You get the idea. If you're not a fruit person, I would sprinkle the top with some coarse sugar to get a crunchy edge on the top and leave it at that. All good my friends- all good.
The best part really is you really should have all the ingredients already in the house- other than the kumquats I suppose, but the cake part- it's in there. This fact makes this a good weekend with guests thing. It takes no time to put together. So what if you don't have any kumquats, go ahead and serve it with some jam in the fridge.
Enjoy!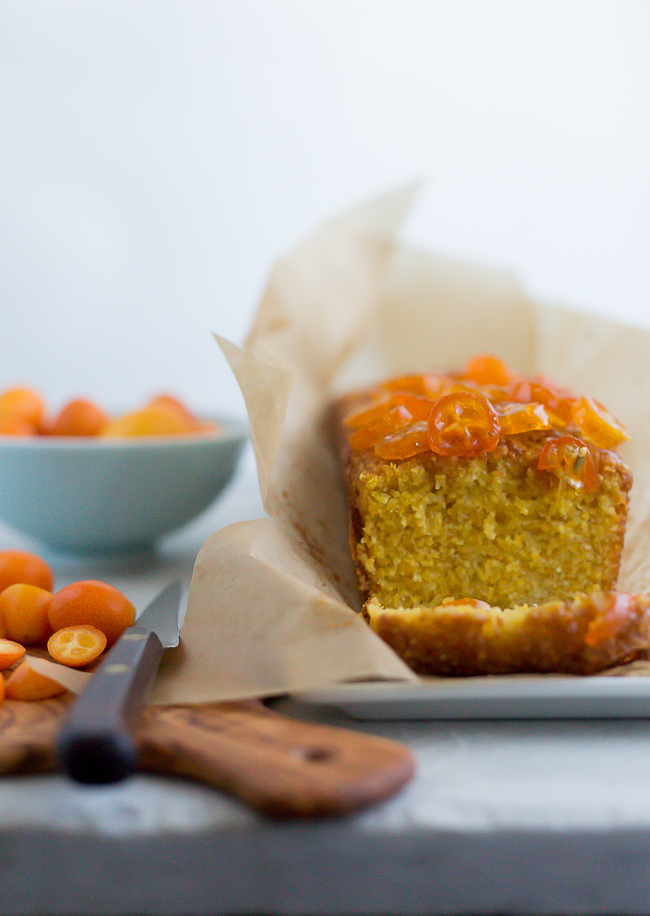 Olive Oil Polenta Cake with Candied Kumquats
2/3 cup medium coarse Cornmeal
1/3 cup coarse cornmeal
1/4 cup flour
2 teaspoons baking powder
2/3 cup sugar
1 teaspoon salt
3 large eggs
1/2 cup olive oil
1/4 cup milk
1 teaspoon vanilla
2 pint kumquats sliced
1 cup water
1 cup sugar
splash of vanilla
Preheat the oven to 350˚ and prepare a small loaf pan. You may use an 8″ cake pan too- though line the pans with paper.
In a large bowl combine the cornmeals, flour, baking powder, sugar and salt. Stir to thoroughly incorporate.
In a measuring cup add the olive oil and the milk and then the eggs and vanilla and stir vigorously with a fork to a smooth consistency.
Dump the wet mix into the bowl and stir to combine taking care not to over beat the batter. It will be a bit soupy.
Pour the batter into the pan and place in the oven for 50-60 minutes until set in the middle.
Meanwhile place the kumquats, water and sugar in a medium saucepan and bring to a boil. Lower the heat and simmer the fruit until it gets translucent and the syrup turns a slightly orangy color. About 40 minutes. Set aside to cool.
Note* you can glaze the cake straight out of the oven, or you can make the cake in advance and glaze right before serving.
Arrange the kumquats on top if you like and then drizzle the syrup over the cake and serve. Alternatively you can save the kumquats on the side to serve, but a nice drizzle over the cake with the syrup is a must.