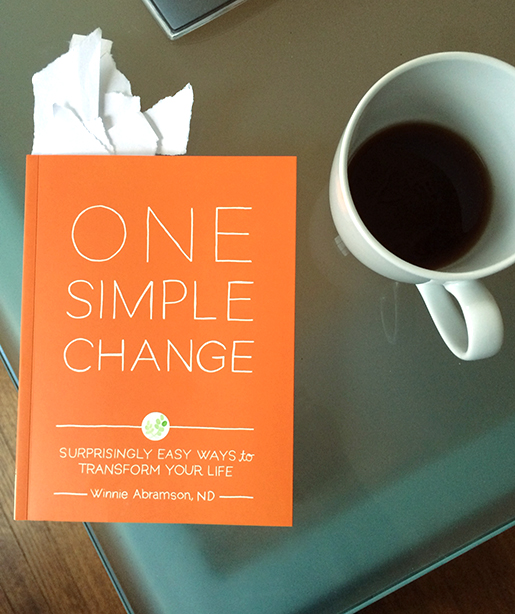 Because sometimes it's the simplest things that can make the biggest difference. Congratulations to my friend Winnie Abramson for her new delightful book, One Simple Change
. It's a petite powerhouse of great ideas and insights on how to make easy changes that can change your life. Just imagine how wonderful it would be if each week we did one small easy thing for ourselves! As Winnie describes it:
One Simple Change takes a holistic approach. It will help you discover how to live in a way that will make you feel great while you decrease your risk for a number of chronic diseases. In addition making the simple changes suggested in this book with benefit not just your personal health but the health of our planet as well.
As you can see from my page markers there are tons of wonderful ideas that resonated with me right off the bat. Start the day with a glass of water, eat real food, and one of my favorites- cook more. Winnie writes with an easy personal voice that offers gentle support without being preachy. Each chapter is short and succinct, making it easy to read in those off moments of the day.
Might I suggest, you can become one of the cool kids on the morning train. This gem sports a sleek design and gorgeous orange cover which will look chic when you pull it out of your handbag, (like my pal Maggie Batista at Eat Boutique does). This is the sort of book that makes for a great Holiday gift. Think stocking stuffer, Secret Santa. Or even better, get a bunch of copies for the office and get everyone in on making One Simple Change together!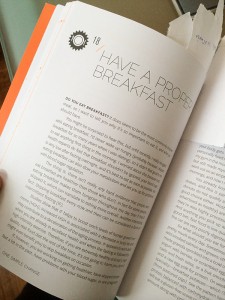 With Winnie's permission A Healthy Hunger will be running a regular column on this concept. I've done a more extensive review of the book, which you can read here. The first installment is A Healthy Breakfast. I'm including the recipe here, but please pop over and read the full post on why and how to make this a part of your day.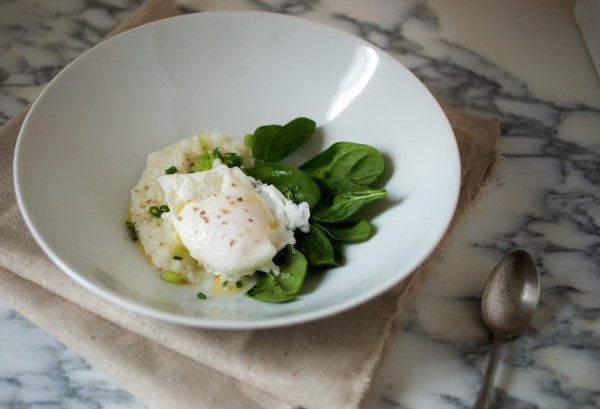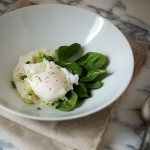 Poached Eggs and Grits with Spinach and Smoked Salt
2013-12-10 09:26:45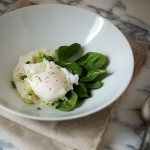 This is a bowl of goodness that can be easily transformed into different taste profiles. The scallions, sesame oil and smoked salt give this version an Asian flair. Add salsa and beans for a Mexican touch!
Nutrition Facts
Amount Per Serving
* Percent Daily Values are based on a 2,000 calorie diet. Your Daily Values may be higher or lower depending on your calorie needs.
Ingredients
3/4 cup Grits, quick cooking
3 cups water
1/4 tsp salt
4 eggs, large, preferably organic
1-2 tablespoons white vinegar
2 cups baby spinach leaves
1 scallion, sliced
1 teaspoon toasted sesame oil
1/2 teaspoon smoked salt
Instructions
Set a medium sauce pan with 2" of warm water with the vinegar on the stove to boil. Reduce to a simmer and carefully crack each egg into the water. The vinegar will bind the egg so it will contain itself.
Gently simmer the eggs for 4 minutes, or until desired doneness.
Meanwhile, in another saucepan, warm the 3 cups of water with 1/4 teaspoon of salt and bring the the boil. While stirring add the grits. Lower the heat and cover. Cook for 5 minutes, stirring occasionally until thickened.
Divide the grits between 4 bowls, sprinkle the spinach leaves on top, add the egg. Finish the dish with the sliced scallion, a few drops of sesame oil and a sprinkling of smoked salt.
Notes
A double batch of grits can be made and refrigerated to be reheated another day. Use within 3 days.
Personal note: I sometimes make my grits in my rice cooker. This relieves me of having to watch the pot and I find it easier to clean than a pan.
A Stack of Dishes http://www.astackofdishes.com/