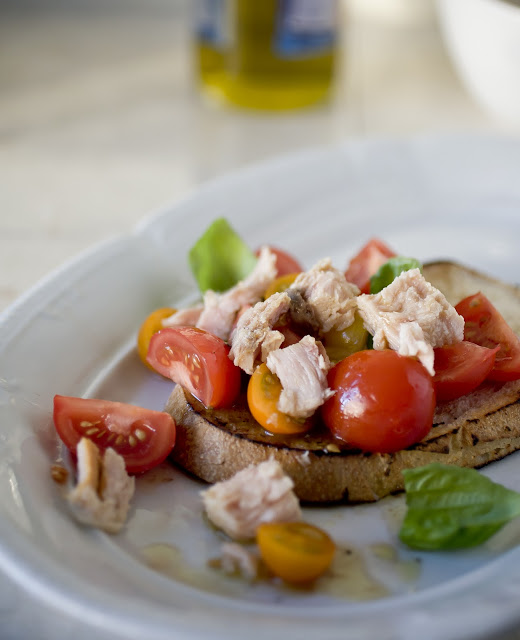 Because it's Summer, because we need easy meals, because the basic ingredients are just so gorgeous on their own that they don't need a lot of muss and fuss to make a satisfying meal. That's why I am presenting this sandwich.
Back in the days when I was working full time in the kitchen and the kids were little I always kept stacks of tinned tuna in the cupboard for last minute tuna salad sandwiches. Trust me, they were a lifesaver and staved off many a lightheaded energy drop.
But now I'm not juggling so many plates ( only A Stack of Dishes- Ha!) and I can sit down in at my table in my sunny window and enjoy my lunch. I am truly enjoying the spoils of my free time. I have to say, a compilation of ingredients taste far better than a "throw together" somehow.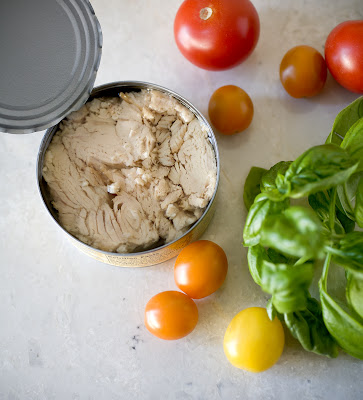 Though this is meal can be beautifully made with tuna right off the grill, a good quality canned tuna in oil is wonderful. Just go for the best you can find- spend a few shekels extra- you deserve it.
The anchovies in the dressing are not overwhelming- so fear not! please don't shy away from giving this a try if that's your reason. The fine fish breaks down into the dressing and you hardly know it's there, except for it's exquisite and delicate flavor.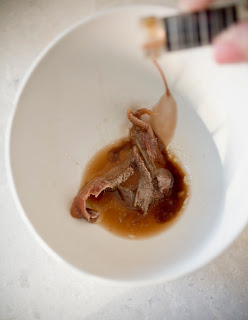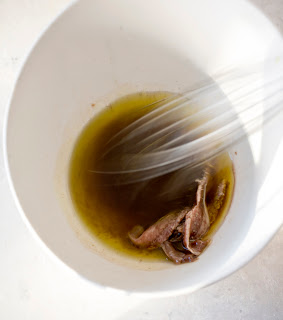 In order to conserve space in my tiny (read: teeny tiny) kitchen, I have done away with my trusty toaster oven. It's amazing to me that I can live without it when I used to turn that baby on at least twice a day. In addition to the feeling from the satisfying lack of burning unnecessary electricity, my toast and toasted things consumption has not suffered one bit.
I mostly rely on my stove top grill and toast my bread right on top. I even am known to toast bread directly over the flame with a set of long tongs, which is what I did here. Got me a nice char going there in seconds flat. Tasty too.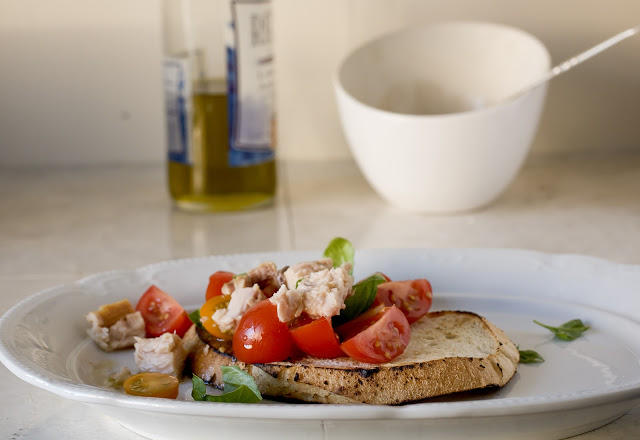 The best part of the simple sandwich is the vinegary, fish laced dressing that soaked into the bread. It complimented the tuna rather than competed with it, and it had enough oomph to add brightness to the tomatoes too.
The days are at their longest now. I hope you get to take some time to enjoy the sunlight and the hum and of world as it filters in through screened windows. Enjoy!
Open faced Tuna Sandwich with Anchovy Dressing
serves one hungry person
1 can high quality chunk tuna in oil
generous handful of cherry tomatoes
several leaves of fresh basil, torn
1 large slice of sourdough bread, toasted
3 anchovies
.33c red wine vinegar
.25 c fruity olive oil
S&P
Do I really need to tell you what to do here? Toast the bread, dice the tomatoes, tear the basil.
In a separate bowl whisk together the dressing ingredients, taking care to break up the anchovies.
Pile all the goodies onto the toast and drizzle generously with the dressing.
Now find a comfortable spot- like on your porch where you never sit, or in a sunny window, or at the table with a cloth napkin. Just a sweet calm place to relax and enjoy the simplest and best things in the world.
______________________________________
Thank you for coming by and reading my recipes.
I would love to hear how you are sharing with your friends, or any other stories you want to share with me.
If you have any questions or just want to say Hi, Please send me a note, and I look forward to replying.