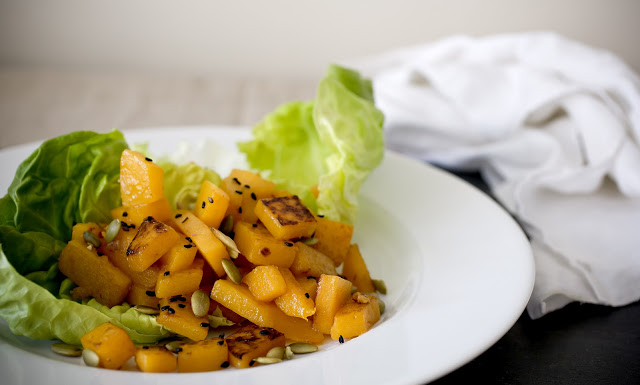 Happy First Day of Spring!! So you're probably wondering why I made butternut squash- such a Fall/Wintery thing, to eat on what has turned out to be one of the most beautiful days yet. Well I guess because I never felt that Winter really arrived and I still had time to get around to making some nutty squash. When I saw the calendar this morning I said, Wait! Wait! *sigh*
I've been having a hankering for squash the last week or so and just hadn't gotten to it. Until now. So there.
But here is my spin- remember back in January when you sternly looked yourself in the mirror and said- Yes! This year I am going to eat healthier and lose a few? Well, consider this a new first, and this dish is a fantastic place to start.
I diced up a half a squash (loving that they sell them peeled and in halves around here) and gave it a quick, high heat sauté with a nice hunk of garlic and then tossed it all with some pepitas and black sesame seeds.
I've got a little trick for making the cubes tender without the mush. I first put a nice sear on the squash and then right into the pan tossed in a few tablespoons of water and covered the pan with a lid. The steam cooked the squash through and brought out the nutty buttery taste. After the water evaporated just another minute directly on the heat and I was good to go.
Originally I made a thyme balsamic molasses to go with it, but really just liked the straightforward earthy taste of the squash.
Serve this dish warm over tender Bibb lettuce leaves and enjoy, and be content that you've done yourself some good.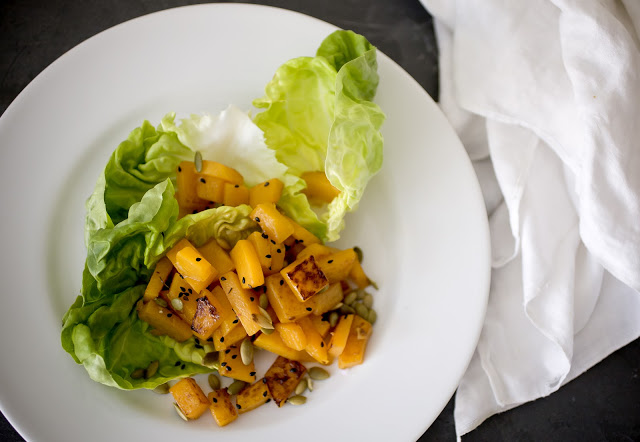 Pan Roasted Butternut Squash Salad with Seeds
serves 4 as a main salad or 6-8 as a side dish
.5 med/large butternut squash, peeled and diced
2 cloves garlic, smashed and minced
2T olive oil
1T black sesame seeds
small handful of pepitas, roasted and unsalted
S & P
Whole Bibb lettuce leaves from 1 head, cleaned and dried




In large frying pan heat oil on medium high. 


Add garlic and sautee for 2 minutes to release the flavor into the oil. Take care not to burn or brown the garlic.


Toss in the squash and stir to coat with oil and garlic. Then let it sit for 2-3 mins to get a sear on the cubes.


Toss and let cook another 2-3 mins as before.


Add 2T of water into pan and cover with lid. It will sputter and steam, which is what you want.


After about a minute remove lid and allow any remaining water to cook off. Then gently toss the squash for a few more seconds before serving.


Spoon warm squash over the lettuce leaves and sprinkle with black sesame seeds and pepitas.


Season to taste with S & P