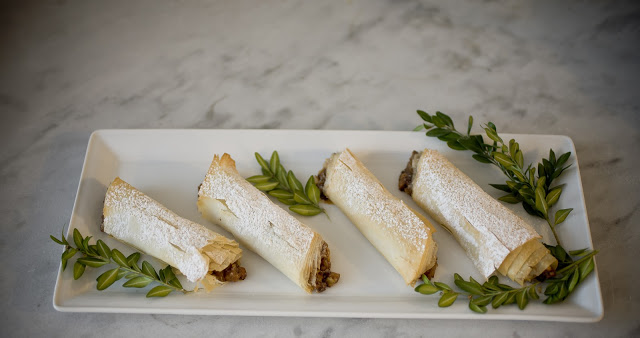 This was fun. I've had this idea to do a mini Buche de Noel rattling around in my head for awhile now. I spent the better part of an afternoon working out the details. Aren't they just SO cute??? and frightfully delicious too.
Traditionally I make the classic Buche de Noel cake every year for my holiday table. I vary the insides but typically it's a vanilla sponge cake with a chocolate mousse filling. The outside is covered in chocolate icing and sculpted to look like a log. I would make gum paste holly leaves and marzipan mushrooms to decorate it. All that sprinkled with a dusting of powdered sugar.
Not a thing wrong with any of that- it's just that I wanted to try something different.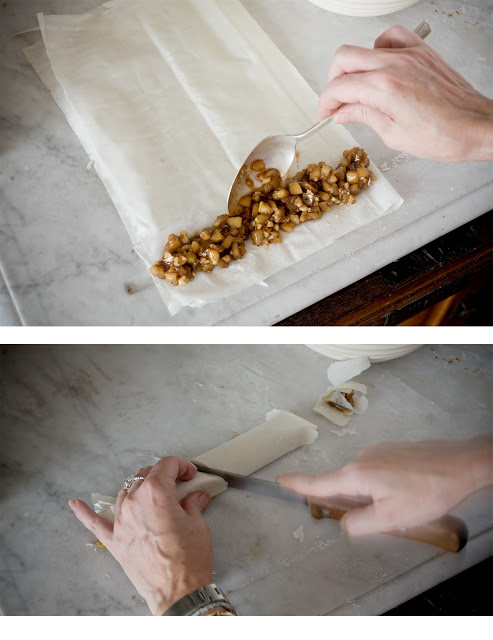 I got to thinking that the papery layers of Filo dough could be made to look like a shaggy bark- So maybe this is more of a Birch tree bark and not such a deep brown one, but you'll work with me on that, right? I made cuts and snips in the dough on my various attempts and this is what I came up with.
The recipe is a Bourbon laced browned butter apple and walnut filling, inside layers of crunchy dough on the outside. The first batch turned out to have too much pastry and too much bite to contend with in order to get to the sweet center. I played around with proportions and thicknesses and came up with what I felt was a great balance. Lots of lovely crunch of the delicate layers on the outside to the right amount of sweet soft warm filling.
So maybe they're more of a shaggy mini apple strudel if you really want to get technical, but I believe in the magic of Christmas, and my imagination is my best toy. You are welcome to call them whatever you wish- either way, they'll make a great addition to any dessert table.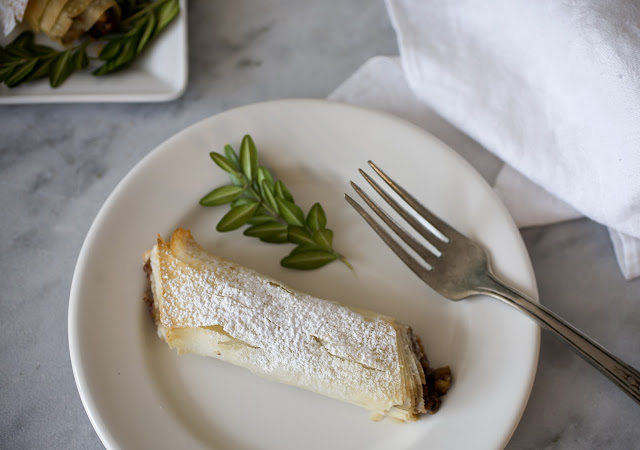 Petite Buche de Noel
You can premake the rolls and store them unbaked in the freezer until needed, when you can put them directly into the oven from the cold. They are great on their own, but a sauce of creme anglaise on the side is a nice touch. If you're not into the boozy aspect of the dessert you can simply omit.
makes 6 5″ buche
2 large granny smith apples, peeled and fine diced
.5c walnuts, toasted and chopped
2T sweet butter
2T bourbon or calvados (optional)
3T sugar
2T flour
pinch of salt
3 sheets of filo dough
powdered sugar to decorate
Preheat oven to 350˚ and prepare a baking sheet, either greased or lined with paper
In a large sautee pan, warm the butter over medium heat until the butter browns. 
Add the apples, sugar and bourbon and sautee for a quick 2 minutes. You want the apples half cooked, not turned to mush.
Remove from the heat and transfer to bowl, reserving the pan. Sprinkle flour over the mixture and gently toss to incorporate
Lay one sheet of filo dough out and spray lightly with cooking spray. Fold in half bringing two short ends together. Spray the dough again.
At the bottom of the rectangle lay down an even 1″ layer of filling, or a third of the mixture, along entire length of the dough. 
Loosely roll up the filling. Trim one end on an angle, then cut in the center on an angle. 
With the sharp tip of a knife, make a series of small cuts in the outer layers of the dough, especially starting from the outer edge. Carefully roll each piece in the reserved sugar/butter that remains in the cooking pan, then set onto the baking sheet.
Repeat this process 2 more times for a total of 6 rolls.
Bake for approx 25 mins in the center of the oven. Allow to cool on a rack for 10 mins, then sprinkle with powdered sugar and serve.