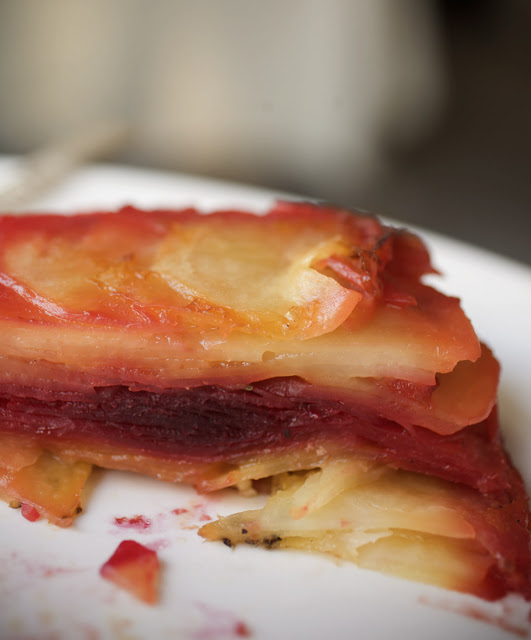 Oh my dear readers, how I have missed you. It has been an unusual Summer with traveling and preparing my apartment to be sold. The end of the days leave me in a heap, hardly wanting to cook, let alone shoot.
But now the grind is easing up and I am getting my verve back at the stove. The drier, cooler temps also help tremendously.
And so, the first creation out of the kitchen comes this gratin. I am a bit proud of myself as this is of my own making. A bit of inspiration from here and there and thus we have it. Beautiful isn't it? and remarkably delicious as well. I can't wait now to have a dinner party, I think this would make a remarkable talking point.
I made this in a smallish ramekin/souffle dish. 4″ in diameter to be exact. I am cooking for one these days as my fiancee is away at our home in Louisiana and remain behind in NYC until the apartment sells. So no need for anything larger. Half for today, half for tomorrow.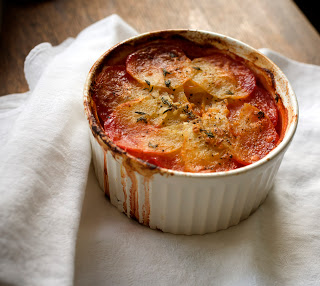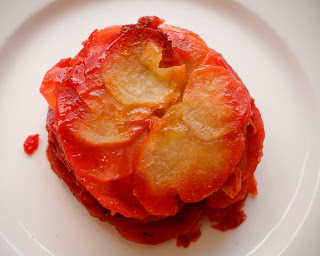 Potato Red Beet Gratin with Goat Cheese
2 medium red beets, peeled
2 medium potatoes, peeled
1 clove garlic, rough chopped
2oz goat cheese, chevre
fresh thyme leaves
3/4 c milk
S & P to taste
Oven at 35o˚
First I prepared the dish by greasing it up with some oil.
On a mandeline I first sliced the potatoes into very thin slices. I layered half of them along the bottom of the dish interspersing thyme, s & p
Then on the same setting I sliced up the raw beets and layered them on top of the potatoes, trying to keep an even layer and not allowing them to pile too much in the center.
Finishing off the dish with the rest of the potatoes, thyme and seasoning.
In the blender I placed the cheese, milk and garlic and gave it a healthy whiz. 
Carefully, allowing the liquid to seep around the slices, I poured the milk mixture to the rim.
Into the oven it went with a light cover of foil to start out with.
After about 40 mins I removed the foil and baked for another 20 mins or so until the top was  browned and the juices had been absorbed into the potatoes and a fork pierced through the center confirmed doneness.
After removing it from the oven I let it sit for about 20 mins, then turned it out onto a dish by flipping it over.