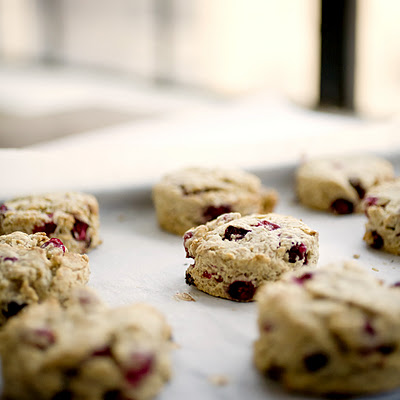 As I have been packing up all my various china (and mind you, there is a quite a bit of it) I am reminded of my days when I would have friends over for High Tea. This was back in the early 90's when Victoriana was the rage. For those parties I made teeny cucumber sandwiches, bitty raspberry tartlets and, of course, cream scones. We would gather all lady like and I would set out a spread, all served on pretty little plates, with delicate cups and saucers, silver trays and lace linen napkins. Mind you, this was in my funky railroad East Village apartment.
Those were the days…
I'm a big fan of the scone. Not too sweet, not too buttery and a mouthful that requires huge slugs of tea or coffee to wash it down. When I first moved to NYC I lived off of them. I was a darkroom hack in those days just out of art school, with student loans and no money. From the Korean deli on the corner I could buy a huge boulder of a scone for a buck, and for another 75 cents get a giant cup of coffee. There was always a lump of scone sitting at my bench slowly getting nibbled away, keeping me company in the dark.
Yesterday I had a hankering for a healthier oat version. Something that I could grab on the way to the gym and not feel guilty for it. Something that would nourish me mid afternoon after a few hours of packing.
I started out with a recipe that I found in
Breakfast, Lunch, Tea by Rose Bakery
– but that was only a guideline. I added in wheat germ, flax seed oil and protein powder. The recipe calls for whole wheat flour and a smattering of rolled oats and I exchanged the butter for vegetable oil. I tossed in some cranberries at the last second.
The result was a hearty scone that in my opinion could have used a bit more milk. Lovely though. These will not win any culinary awards for scone of the year, but considering the power packed ingredients, these are wonderful.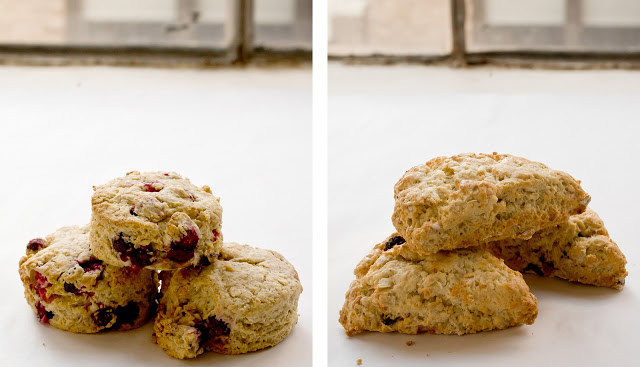 The second batch was a recipe I took from my old cookbook Simply Scones, originally printed in '88. I made their Oat Currant Scones, using raisins in lieu of currants, oil instead of butter, and milk instead of heavy cream.
The consistency was more right on and they baked up the way a scone should. Honestly, I think there were both pretty close. You can see from the photo below the crumb was pretty much the same. Using oil made them a little denser than they would have been had I used butter, but again, a healthier version was the goal here and with that in mind, these were great.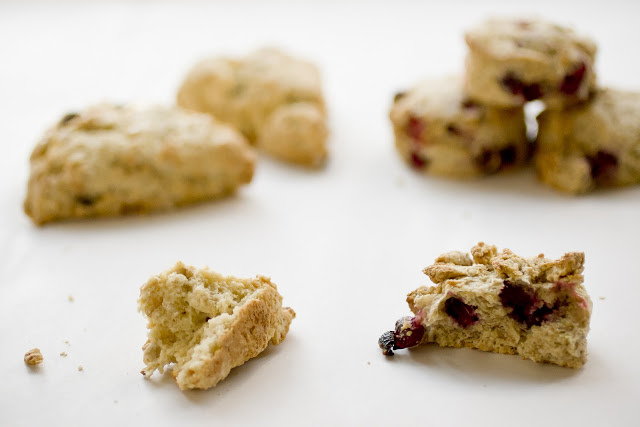 Whole Wheat Oat Power Scone
adapted from Breakfast Lunch Tea
makes 12 2″ scones
1.75 c AP flour
.5c whole wheat flour
.5c rolled oats
.25c wheat germ
1 scoop protein powder
1 heaped T bp
.5t salt
.25c sugar
2T flax seed oil
.75c vegetable oil
6T milk
2c fresh cranberries
Oven set to 400˚
Mix flours, wheat germ, protein powder, BP, salt and sugar into a bowl and toss to combine. Toss in Cranberries
Stir in oils and mix with hands to incorporate into flour. This will be mealy and lumpy.
Add the milk and swiftly, carefully pull the dough together. Turn out onto work table dusted with flour, and give a turn or three kneading the scone.
Pat into 1.5″ thick mass and cut out 2″ scones and place on paper lined baking sheet.
Glaze with a little milk or beaten egg if desired and bake for 20-25 mins.
Raisin Oat Scones
adapted from Simply Scones
makes 8 wedges
2c AP flour
1c rolled oats
.25c sugar
1T bp
.5t salt
.25t cream of tartar
.5c milk
.5c vegetable oil
2 large eggs, beaten
2 large handfuls of raisins
Oven set to 400˚
In large bowl combine dry ingredients.
Add in oil and work in with fingers to get a lumpy mealy texture.
Add in milk and eggs, give a turn or two then toss in raisins. Pull dough together, turn out onto floured worktable.
Pat into an 8″ diameter circle. But into 8 wedges and place onto baking sheet.
Bake 15-20 mins