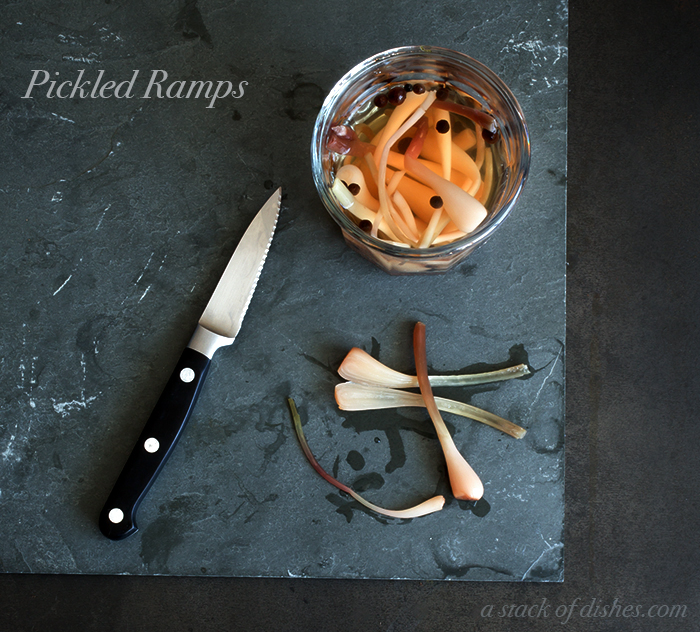 Help me for a second- What movie was it where the lead actor, a fading comedian, was talking about how to be funny? "Pickles!", he cried, "Pickles is a funny word!".
The funny thing about pickles for me, is I have this strange- like a lot/like not so much- relationship with them. When I was a kid I used to love pickles. I could find delight in an afternoon snack of cold dill spears straight out of the jar while watching Zoom! on TV. I mean, I could practically plow through a whole jar in one sitting. The real pickle lover in our family though is my eldest daughter, Olivia- it's family lore.
When Olivia was a toddler her Grandmother took her shopping at the supermarket in our small town. The deli department would have a bin of brining pickles- the big honking whole ones. The first stop was to that bin, where Olivia would be handed a deli paper wrapped pickle, which she would happily gnaw on for the duration of the excursion.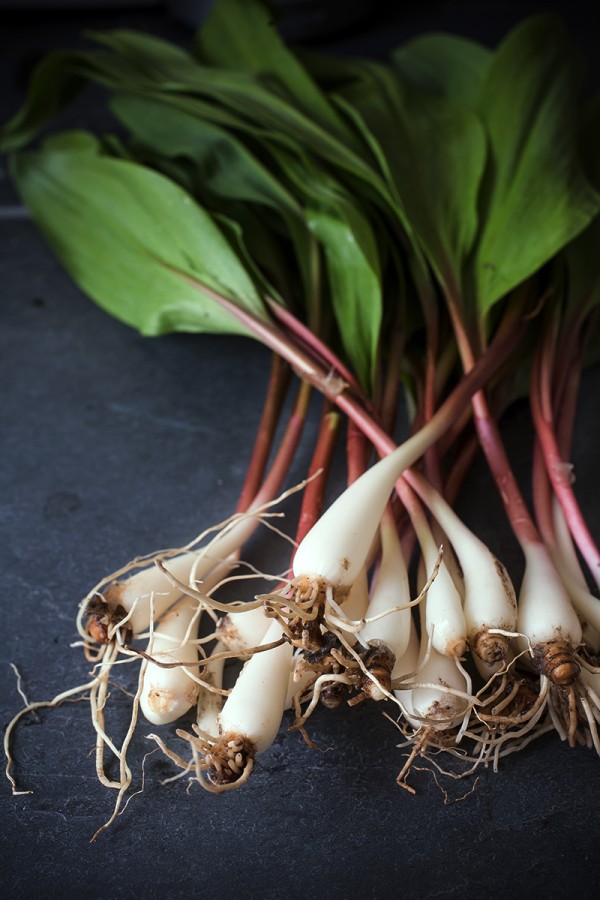 Though I rarely will do it myself, when a slice of pickle is slipped into my sandwich I am always delighted. The acidic, salty, slightly sweet taste of a pickle is a brightener that I really enjoy. So why don't I eat them more often? No idea. Maybe I'll start now.
The ramps are beginning to make their appearance in the farmer's markets in all their Spring glory. The first time I served them at an Easter meal, some 10 years ago, the result was a "Who's on First" sort of conversation.
What are these Gail? Ramps. What? Ramps… What?..Ramps, they are a wild leek. A What? Ramps- R. A. M. P. – Ramp.
It was exhausting.
These days they are prolific enough that we don't have that conversation much anymore. What we do have are more and more recipes popping up using them.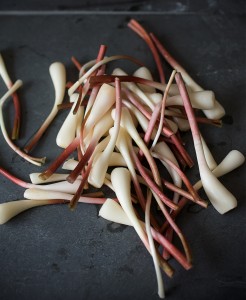 The beauty of this tender allium, is that the whole thing is edible and delicious. The bulbs have a soft onion taste the way a leek would, but are far more tender, making them lovely to toss into a pasta or salad. The greens are also delightfully scented and flavored. You can use them the way you would any leafy herb to add some pungency to a dish.
Ramps are not in season long, a few weeks depending on the weather. They're not inexpensive either, so it's best to make the most of them while you can.
This is a quick pickle recipe that takes no time to make. Once you toss it all together, you only need to give it a day or two until you can enjoy them. They also keep well. I've had a jar in the back of my fridge for a year and they are just lovely-
Let's see if this batch lasts that long.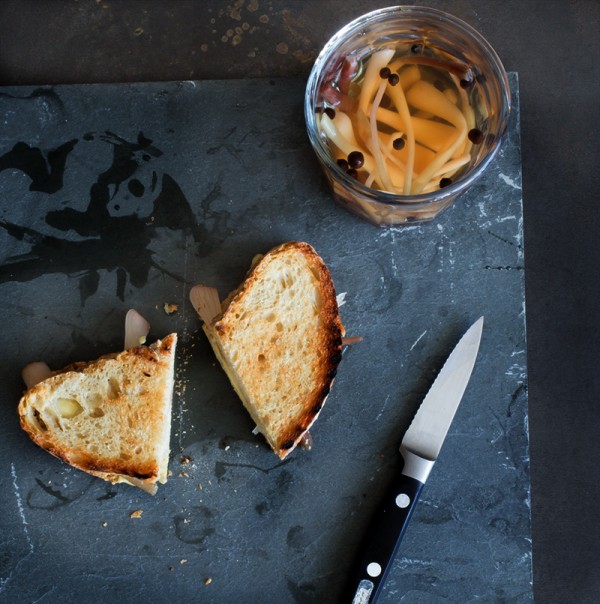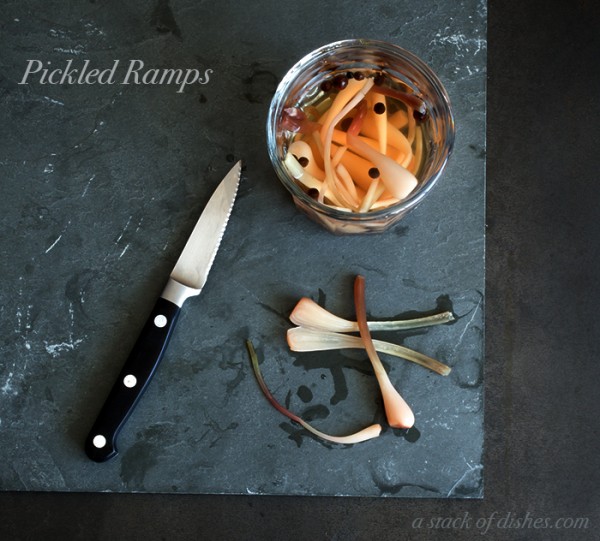 Quick Pickled Ramps
2013-04-24 06:14:23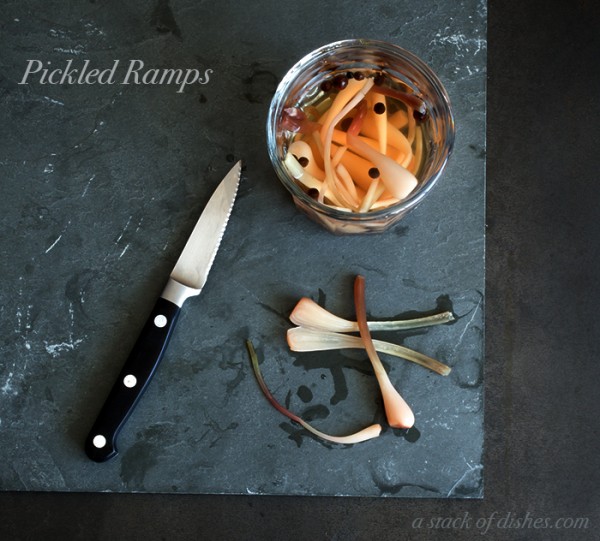 A simple quick pickling recipe that only takes a day or marinating before you can enjoy them. It's a good recipe for other tender vegetables too. Makes 2-3 jars of pickles.
Nutrition Facts
Amount Per Serving
* Percent Daily Values are based on a 2,000 calorie diet. Your Daily Values may be higher or lower depending on your calorie needs.
Ingredients
2 bunches of ramps~ about 40 stems
2 cups of white wine vinegar
2/3 cups sugar
1 Tablespoon black peppercorns
1 Tablespoons juniper berries
1 teaspoon salt
Sterilized jars
Instructions
Wash the ramps and trim the root ends and the first filmy layer from the bulb.
Trim the bulb ends off up to where the leaf starts. Save the greens for another dish.
Warm the vinegar, sugar, spices and salt in a saucepan and bring to the boil. Turn off and allow the brine to steep until cool, about 20 minutes.
Reheat the brine to a simmer. Blanch the ramps in the hot brine for about 30 seconds. They will turn a bright beautiful pink color. Remove the ramps and divide between your jars- keeping them covered.
Allow the brine to cool again for 10-15 minutes, then pour the brine over the ramps and cover.
That's it- now just let them stew for a day or two before you dig in.
Notes
These are refrigerator pickles and are not meant to be "put up" in the traditional sense. Please keep them cold until ready to eat them.
The brine is also a wonderous thing that is wonderful as the acid in a salad dressing or other recipes.
A Stack of Dishes http://www.astackofdishes.com/