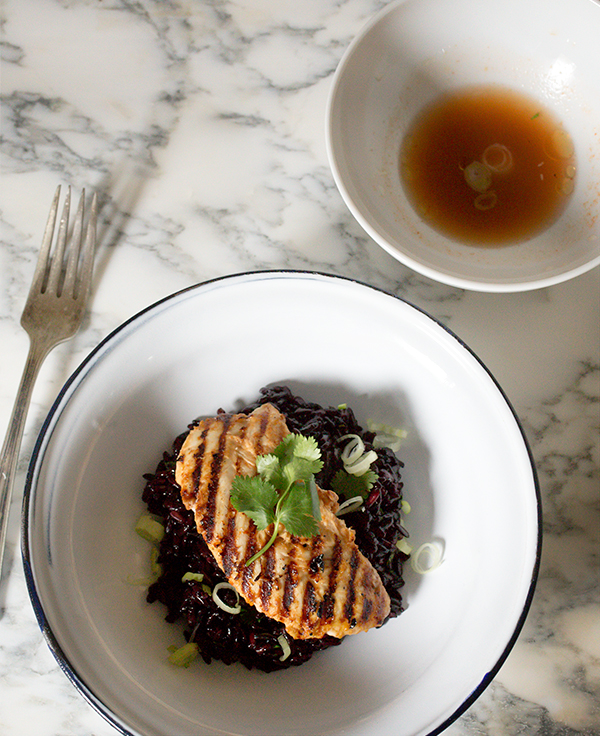 For those of you keeping track you might have thought I fell off the face of the earth. In many ways I have, but for good reasons.
Much of my time lately has been devoted to developing A Healthy Hunger. The work on the new business has been engrossing with little financial compensation, but the soul satisfaction is beyond measure. It means so much to me to help people to learn to love food, love to cook, and eat for a better, healthier life.
Since launching the business about 6 months ago, the tribe of members is steadily expanding. Recently I started getting my first feedback from those following my menus. Dr's reports and blood tests have come back greatly improved! Cholesterol down! Blood Sugars more stable!
Yes. It works. Eating well will impact you positively.
The other feedback is that cooking is not so terrible, and though some of the recipes are made with unfamiliar ingredients (tempeh? quinoa?), it's all easy to prepare and delicious. Eating well is enjoyable. Doable. And beneficial.
Needless to say I cannot begin to tell you how tickled I am. Seriously- over the moon and beyond! This was the plan. To demystify good food and good food preparation.
In a few weeks I will be launching on A Healthy Hunger a 3 day challenge for Clean Eating. I know it's hard during the summer, with so much socializing, to eat healthily- so what about focusing on excellent eating for 3 days of the week? Sounds doable right?
I'll provide you with recipes for breakfast, lunch and dinner that your tastebuds will love and your body will appreciate. Think about it. Get your brain around it. You can do this, we'll do it together. No charge, my whole hearted gift to you.
You're going to love it, and love the way you feel.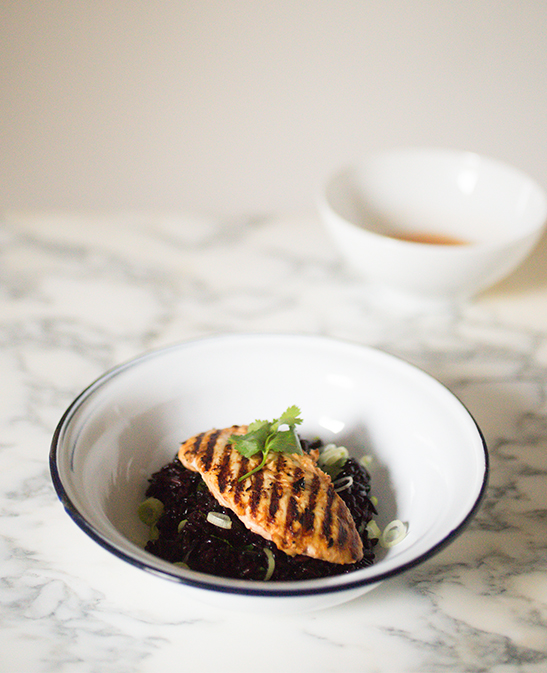 In order not to miss this free challenge, head on over to A Healthy Hunger and sign up for the mailing list. You'll get the news in your mailbox the moment it hits the airwaves.
I'm excited about this- I'm looking forward to you joining me.
Today I made you a delicious (AND healthy) grilled chicken that is marinated in yogurt and red curry paste. This lends a zing and a tang to the grilled chicken like no other. It's not spicy, just zingy. The rice is chewy black rice that is scented with ginger, cilantro and scallions. It's the kind of fragrant pilaf you would be happy doing a face plant into. It completely rocks the house.
Thanks for your patience all. I'll try and be around more often. My heart is always there.
You can find red curry paste in the Asian, or Thai, section of your market, or you may purchase Red Curry Paste
here. I use the Mae Ploy brand prefer it. You may also purchase the Black Rice
here. Black rice is high in antioxidants and has a chew texture that is really wonderful. If you cannot get your hands on any, please substitute with brown rice or another grain of your choice.
**And don't forget to join the mailing list at A Healthy Hunger for your FREE Clean Eating 3 day challenge**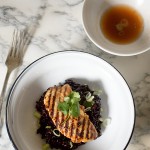 Red Curry Chicken with Gingered Black Rice
2014-07-31 15:50:54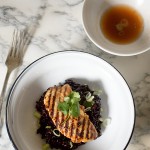 Nutrition Facts
Amount Per Serving
* Percent Daily Values are based on a 2,000 calorie diet. Your Daily Values may be higher or lower depending on your calorie needs.
Ingredients
2 tablespoons red curry paste, + 1 teaspoon
1 cup non fat plain yogurt
1 lb chicken tenders, tendon removed and pounded evenly
1.5 cup black rice (also known as forbidden rice)
1 tablespoons minced ginger
1/4 cup chopped cilantro
2 scallions, sliced
3 tablespoons fresh lime juice
1/2 teaspoon sugar
1 teaspoon toasted sesame oil
Instructions
In a medium non reactive bowl, stir the curry paste and yogurt together. Add the chicken and toss to evenly coat with the marinade. Set aside for 15 minutes.
In a medium saucepan combine the rice with 3 cups of water and a generous pinch of salt. Bring to a boil, then reduce to a simmer, cover and cook until the water is absorbed and the rice is tender. About 20 minutes.
Make the side sauce. In a small bowl combine the lime juice, teaspoon of curry paste, sugar and sesame oil and stir to thoroughly combine. Set aside.
After the rice has been cooking for 15 minutes, warm a stove top grill over medium high heat and prepare with cooking spray. When the pan is hot, remove the chicken from the marinade, roughly scraping off the marinade, and grill for 3 minutes each side, or until cooked through.
While the rice is still warm, add the ginger and cilantro and stir. Season with salt to taste.
Right before serving add the scallions to the rice and top with the chicken.
Drizzle the sauce over the chicken and serve.
Adapted from Inspired by Donna Hay
Adapted from Inspired by Donna Hay
A Stack of Dishes http://www.astackofdishes.com/