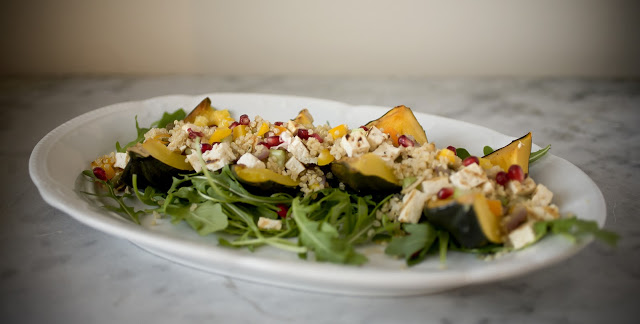 Welcome to the New Year! I too have joined the masses of the "New Year, new me" campaign. I will not bore you with my enthusiastic promises and misty eyed visions of the improved me- but rather I wanted to share with you my new approach.
Are you like me? I get all jazzed up and rally myself to take on my new improved way of life. I start quick out of the box, full of determination and vigor, and then in short order start stumbling and tripping, and eventually face plant into a heap. The result is another year goes by and nothing has changed. *sigh*
So now that I know what doesn't work, I decided to try a new approach. The truth be told I've been incorporating my new concept since my last birthday, 2 months ago, and it's been working very well. The inspiration for this really came from my pal, Winnie, from Healthy Green Kitchen. The idea is not to attempt a total makeover- but to focus on one small positive thing I can do for myself, at least once a week. If I can add one positive small shift a week, by the end of the year I would have made 52 easy and gentle improvements. Isn't that an amazing thought?!!
I say banish self control! Do away with the struggle and the guilt!
*Just do one small good and nice thing for yourself a week* Now isn't that so much nicer? And even if I don't compile 52 changes, at least I'm moving in the right direction.
To give an example: I have reduced the amount of sweeteners in my latte and drinks by a bunch. No real science, I've just dialed it down by a small amount and I continue to do that each week. The result is I have lowered my sweetness threshold without my really noticing. I'm a little concerned about putting chemicals into my body, as well as natural sugar, but I really love sweet so much! So a smidge of change over time and now I am at about half of what I was consuming 2 months ago.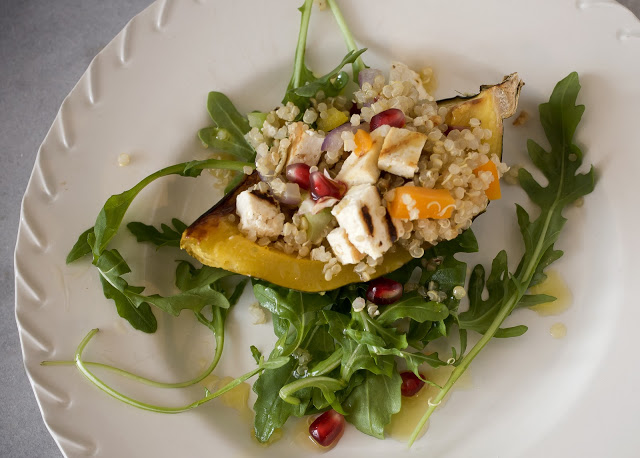 Another small change I've made is to eat one or two more pieces of fruit a week- in my case specifically, citrus. In the past I would run out and fill a beautiful bowl of fruited bounty, all gung-ho about it. The result would be a slow degradation of my display into a wrinkly and mossy science project. The worst part is the double guilt that the sad display taunts me with- both the failed attempt at my new "way" and the terrible waste of good food.
Instead I've taken to buying one or two oranges and then I eat them! I don't keep them in a pretty bowl on the counter, because it turns out I like mine cold. I perch them on the shelf in the fridge so they are right there when I open the door. This way, when I go foraging for that afternoon pick-me-up snack, my orange is right there for the grabbing.
They say that it takes 3 weeks to create a new habit and I can attest that this is true for me.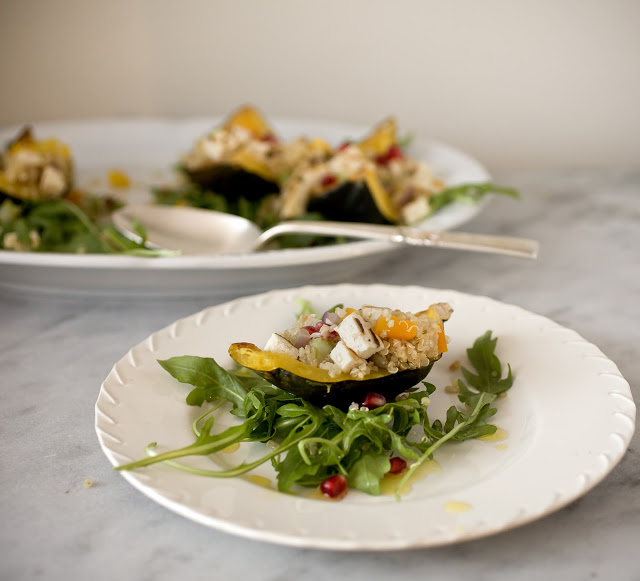 The recipe I have for you today is a delicious and healthy meatless meal. I love this dish and often make several at a time and freeze them. They reheat beautifully. The squash is Vitamin A rich, there is great protein in the quinoa and tofu, and there are healthy complex carbs and lovely fiber.
I've gotten word back that not everyone is keen on quinoa or can readily find it. Feel free to switch it with Amaranth- HA! just kidding-That's another grain I'll be getting to in the near future- You can exchange any other grain or rice that you prefer, and leftovers are perfect.
Roasted Acorn Squash with Grilled Tofu and Quinoa
This dish looks complicated but it really is not. Make extra and freeze for another day.
serves 6
3 medium sized acorn squash
2c of cooked quinoa, or other grain of choice
half a package of firm tofu
1 stalk of celery, diced
1 clove garlic, minced
.25c red onion, diced
1 orange pepper, diced
6 handfuls of baby arugula
.25c pomegranate arils 
3T fresh lemon juice
.5c olive oil
S&P
and oil to sautee
Preheat oven to 350˚. Slice the squash in half, scrape out the seeds. Lightly coat the flesh with olive oil and sprinkle generously with salt.
Place squash face down on a lined baking sheet and roast until the skin looks a little wrinkly and the flesh is soft. Depending on the size of the squash this should take about 35-40 minutes. When cool slice into quarters- you will have 12 pieces in all.
Remove tofu from the package and place onto a clean kitchen towel and press firmly to release some of the moisture. You can also place a plate on top of the tofu with a heavy object and leave for a few minutes to press out the liquid.
Heat a grill pan and lightly oil. Slice the tofu into quarter inch slices and grill on each side. Remove from the heat and cut into small dice.
In a sautee pan warm some oil on medium high heat. Add the garlic and sautee for 2-3 minutes to release the fragrance. Add the onions, celery and peppers and sautee for just another few minutes leaving the vegetables tender crisp.
Transfer the vegetables and the tofu into a large bowl and add the quinoa. Gently stir to combine. Add S&P to taste.
Mix the lemon juice and oil to make a dressing. Add a few tablespoons into the quinoa mixture then use the rest to dress the arugula.
Lay down a nice layer of arugula for each serving, top with the squash and then fill with the quinoa. Finally sprinkle the pomegranate arils over the top and serve 2 quarters per person.