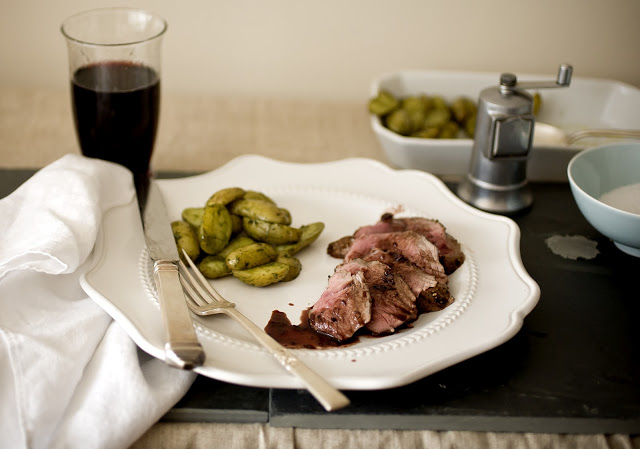 I am so happy to share with you another of my spoils from my visit to Gosling Pond B&B last weekend.
Late Saturday afternoon Kate brought me over to Fairy Tale Farm to meet her friend Jen. Nestled in the hills is the sweetest farm one could imagine. In a sloped and rolling yard, that is bordered by a stone wall (that Jen built herself) roams chickens, rooster, peacocks, guinea fowl and a very friendly turkey named Frank. In fact, he quite startled me by walking right up to me. He's got quite the plumage reminiscent of an Indian headdress, and I couldn't help but think of him as being on constant parade. Also on the farm there is Sally the goat, Biggie the boar (sacked out and snoring in his stall), and a horse who's name I didn't catch.
When we first arrived the peacock was displaying his gorgeous tail, while the peahen was on the other side of the wall peeking over. The greens and blues of his feathers were stunning even on that overcast afternoon.
In addition to growing and selling gorgeous produce in the warmer months, Jen also sells gorgeous eggs from her chickens. On the farm are several varieties of hens, and in the chick pen, were a new batch of even more varieties. The different breeds lay different colored eggs, enabling Jen to put together a stunning pastel array into her dozens.
It's these lovely eggs that Kate provides to her guests each morning. Pretty bowls of pale blues, greens and tan eggs for breakfast. I've got a nice batch of those too- so look for a post (or two) soon using those.
But Jen doesn't raise lamb, this meat comes from another friend's farm down the road that Jen had got in trade. During our conversation about the politics of sustainable farming and the state of the farming community in their area, the subject came up that I loved lamb. Jen jumped up and pulled this piece out of the freezer for me and generously offered it as a gift. I couldn't have been more thrilled.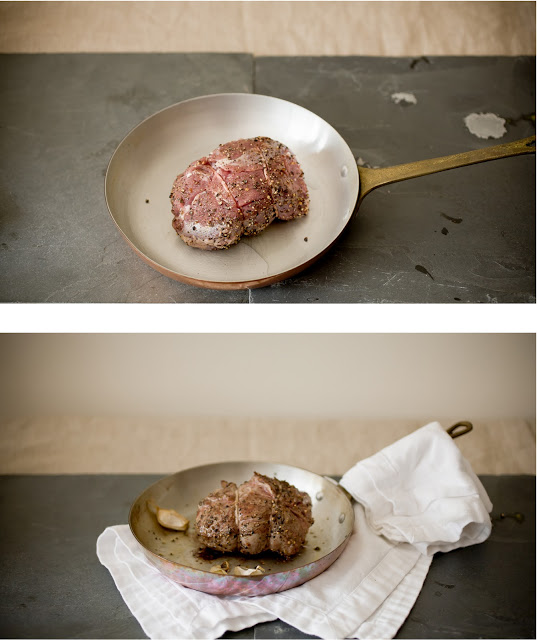 This is a super simple recipe that allowed the flavor of the meat to shine. This lamb is free roaming and super tender, and only a slight hint of gaminess. As an aside, I happen to love gamey lamb, but most in these parts prefer a neutral taste. As a result, much lamb is cultivated to appeal to that profile. As lamb goes, this was spectacular.
I made a quick warm fingerling potato with pesto for the side and washed it all down with a Chianti. As I sat at my table, looking out over my NYC view, I could only dream of going back up to see Kate when the fields are producing to gather more delights for my kitchen, and support all the farmers, to whom we all should be grateful.
Roasted Lamb with Balsamic Vinegar and Red Wine Jus
1 lamb roast (mine was a baby .75#)
cracked fresh black pepper and salt
scattering of garlic cloves- left in skins
healthy splash of balsamic vinegar
healthier splash of red wine
Sorry for the vague amounts, but this really needs to be done to taste.
Preheat oven to 425˚
Crack pepper onto a cutting board and add salt. Roll the meat in the mixture to coat.
In a pan you can place in the oven, warm some oil until almost smoking.
Add the meat and sear on all sides. There are differing opinions on this step. There is the opinion that searing retains the juiciness of the meat, not sure if that's true or not, but I like the umami taste of seared meat.
Toss the garlic cloves into the pan and toss the whole thing into the oven. I used 4 cloves for this dish, but the more the merrier. If you don't use them for this sauce, roasted garlic is great to just have on hand.
Roast for approx 12mins/pound for medium rare. I test by touch. When poked there should be some springiness to the meat but not bouncy. This is a practiced skill, my advice is to practice often.
When done remove the meat from the pan and set aside to rest while you make the pan sauce.
Deglaze the pan with some red wine, I probably used about a 2/3 cup. Scrape all the bits off the bottom. Squeeze the garlic out of the papers and mash into a paste. Add it to the sauce. Allow this to simmer for a minute or two.
Then add in the vinegar. I used about 3T and tasted it for balance. You want some acidity for brightness, but not to the point of making your nose twitch.
Allow the sauce to reduce for a few minutes and serve hot over slices of the lamb.