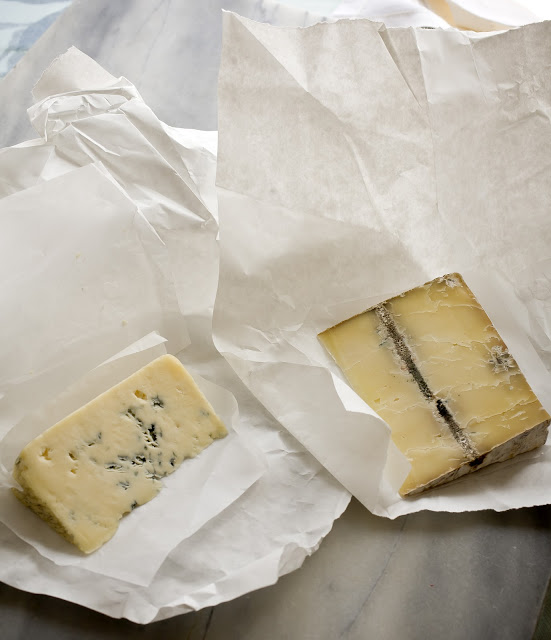 Rogue Creamery Smoked Blue and Roelli Cheese Dunbarton Blue (Cheddar Blue mix)
Right before I headed out to Portland for the IFBC conference, I was roaming around the Flat Iron District and got drawn into Beechers Cheese Shop like a magnet to metal. It's a cheese lover's play pen. At every turn is a gorgeous case full of delights, crackers, jams, books and displays. Wonderland! And in the back is a take out section for way too awesome grilled cheese sandwiches. I've been in before and walked out in bliss with a perfectly crusty hot gooey grilled cheddar with fig jam. Had you been able to see the look on my face you would have thought me tranced- which I was.
I had just come from the Union Square Farmer's Market, which is only steps away, with a cache of New Jersey beefsteak tomatoes and a few yellow ones too. Man do I love August's bounty. I've been trying to slim down a tad, so standing amongst rows of delectable cheeses is extremely dangerous.
I decided to then just innocently do a little reconnaissance, you know, for FUTURE posts, and then just like that- I became overcome with lust. My little eye spied a gorgeous cheese from Oregon- the above pictured Rogue Creamery Smoked Blue. After a small tease of a taste, I had to have a chunk. While standing at the counter I overheard another cheese fool wax poetically about the Dunbarton Blue, which is not only beautiful like a watercolor, but remarkable in ways I promises to explain in an upcoming post.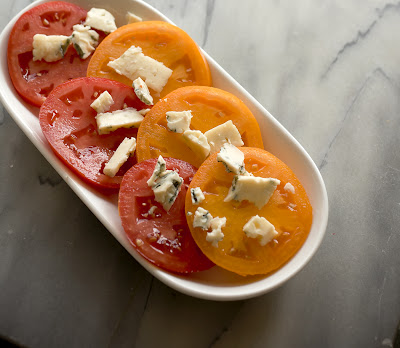 Tomatoes and Cheese ready for the broiler
What was even MORE remarkable though, was just a few days later, during a speed tasting even at the IFBC conference- who came ambling over to our table, but one of the owners of Rogue Creamery with this EXACT same cheese! Such a sweet woman, who so sweetly and quietly promoted her cheese, that I had to jump up and start blathering away about it (my NYer comes out at the most interesting of moments). I think I startled her a little bit- but seriously- this is good stuff and and should NOT be underplayed in my opinion.
Presenting the Smoked Blue Cheese
I'm a bit of a sucker for coincidences- so I took this as a sign from the heavens that this cheese and I are meant to be. I know this is a silly statement- but in a way, it's very true, and I am grateful.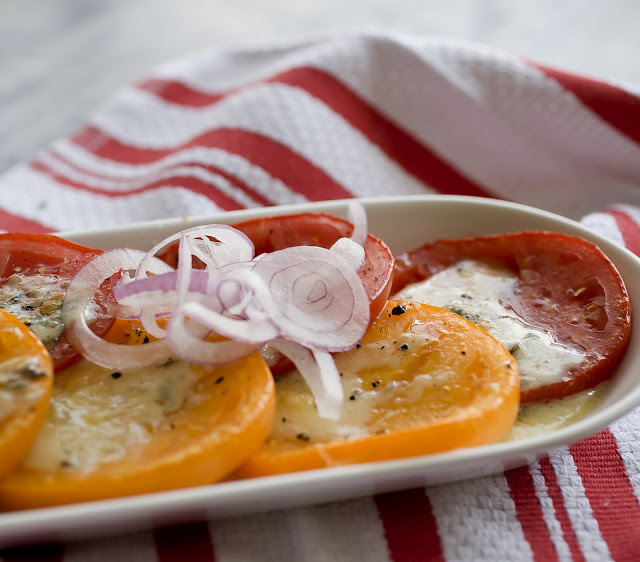 I think what's best about this story is that it's just affirms for me that the good things in life are not that complicated. Once I stopped putting things off, or restraining myself for made up reasons- that the goodness began to generate it's own natural flow.
One of my favorite quotes about success is: "Success is when opportunity meets preparedness". I've always attributed this to the work place, but I am being reminded on a daily basis, in myriads of small ways, that successes are all around us.
I used to be very successful in business, and had all the attributes that come with that- but I didn't have these quiet, soul fulfilling moments. What's even more exciting is that they come one after the other! I don't seek them out, I have no intentions when I walk out the door, or click on a new blog, or start a conversation while standing on a line somewhere- but the riches are spilling out all around me constantly.
After returning home with my tomatoes and cheese I set about making this simple afternoon treat. Great on it's own or as a side dish, but I think it's also great to serve with cocktails or a glass of wine.
I simply sliced my tomatoes nice and thickly, sprinkled them with some of the cheese and ran it under the broiler for a few minutes- just to warm and sweeten the tomatoes, and melt the cheese. A quick sprinkle of flaked salt and a grind of pepper went down before topping it all off with some paper thin sliced red onion.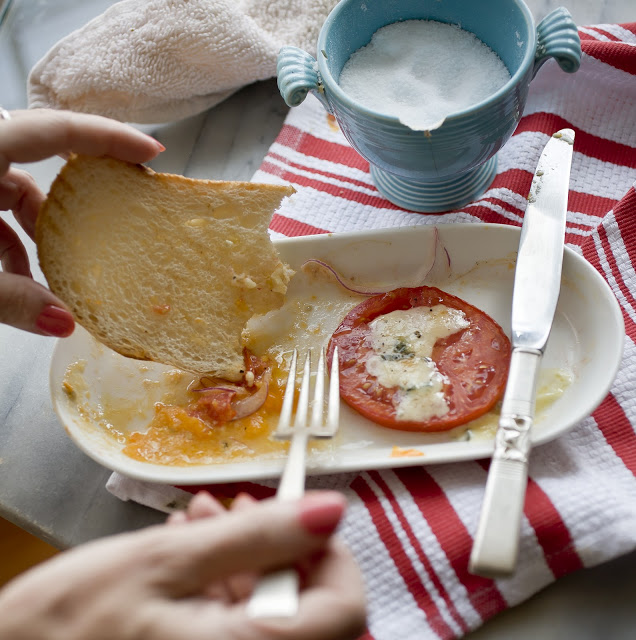 Delving into serendipitous bounty.
I hope these little magical moments happen for you. I want this to happen for you. As the school year begins and we start hurtling toward the end of the calendar year- my wish is that we are able to enjoy these moments of joy and deliciousness.