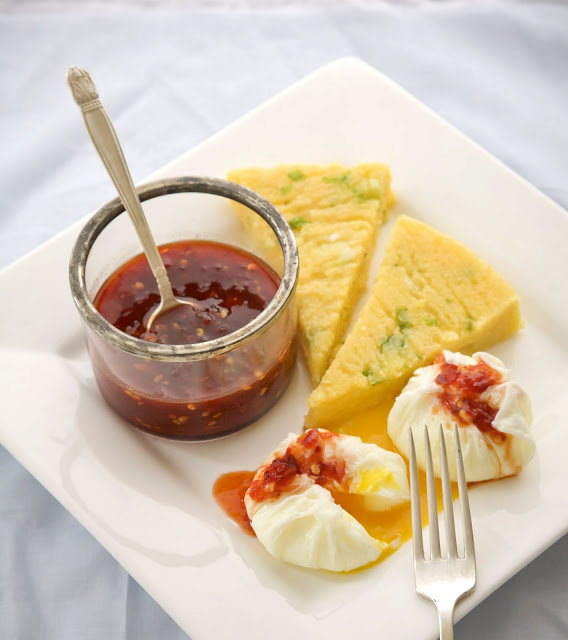 Ruffled eggs with Hot Sauce and Scallion Polenta

Yesterday I felt compelled to make a fresh batch of chili sauce. I promise the recipe tomorrow- but looking at that beautiful sauce I couldn't help thinking about putting it over poached eggs.

Dorie Greenspan posted

this

recipe for this method of making beautiful poached eggs and I decided to give it a try.

They are not difficult to make and I just love how they come out looking like little parcels. The beautiful folds are so gorgeous and are just perfect for giving the chili sauce something to cling to.

A fun and easy little twist that just started my day out with a present! It's going to be a great day!!

Ruffle Poached Eggs and Scallion Polenta

 

First make the polenta. My trick is to make it in a rice cooker. Not only do I not have to monitor it, but the clean up is fantastically easy.

 

Just follow the directions to make polenta- about 4c worth, and then at the end stir in 2 chopped scallion. Turn the hot polenta onto a dish or lined baking tray and allow to cool before cutting. While the polenta was cooling I tackled the eggs.

 

For the eggs start with two pieces of plastic wrap and lightly oil. You may use butter here if you like. Dorie talks about sticking herbs and spices to the wrap before adding the egg, sounds like an interesting idea for another day.

 

I placed the plastic into a ramekin and then cracked the egg into them. I then cinched up the bundle and gave it a tight twist at the top.

 

In a pot of water on simmer I gently lowered in the sacks. I let them set up for about 30 seconds before letting the wrap go into the water. For nicely poached eggs I cooked them for 4 1/2 minutes.

 

With a slotted spoon I pulled out the packets and carefully unwrapped the eggs. With the spoon I rolled the poached eggs onto the spoon and then onto the plate.

 

The hot chili with the eggs along with the corn-y polenta and scallions was heaven.