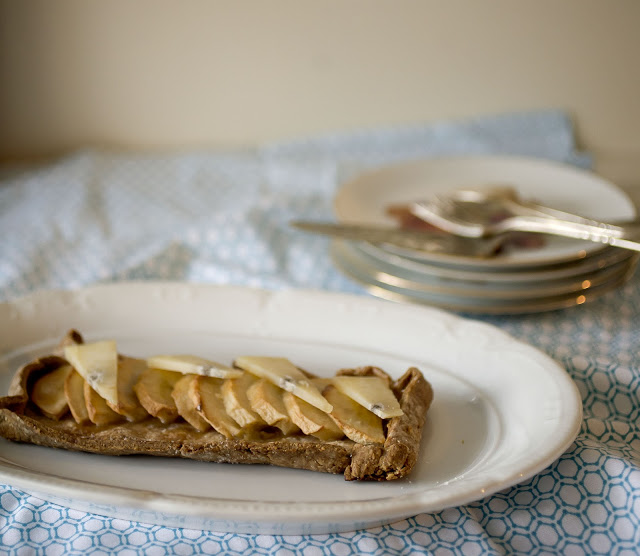 Apple Tart with slices of Roelli Cheese Dunbarton Blue- a cheddar Blue combination.
I'm not trying to rush Fall by baking with apples, I just had to create a vehicle for this gorgeous cheddar/blue cheese that I found. I may be crazy but I just think this cheese is gorgeous! It has a beautiful ombre golden color with an interesting and striking line of moldy blue cheese running through. It is of the earth, something created in time with an artisanal hand- a creation. If this was granite I would use it on my countertops.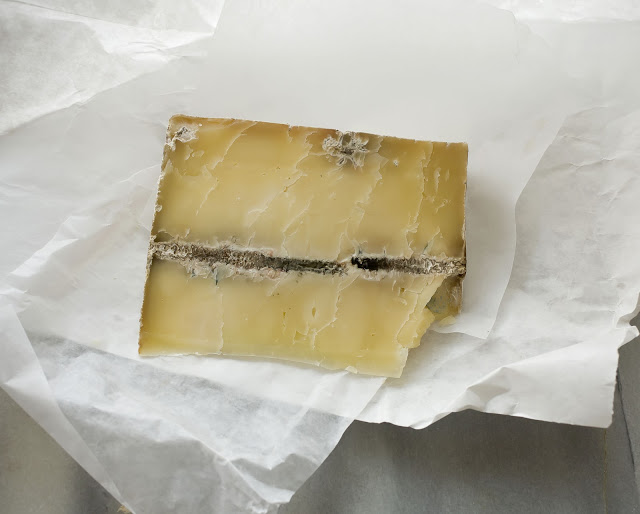 Roelli Cheese is located in Wisconsin, the land of dairy and cheese. The family heralds from Switzerland and for years produced high production cheeses of little note. In 2006 the newer generation took on the challenge of creating small production artisanal cheeses and experimenting with different and exciting combinations- this is one of them.  The cheeses are handmade and spend 4 months in the creamery's underground cellar to mature. The gorgeous blue vein comes from an inoculation of Penicillium roqueforti, which is introduced a week into the the aging process.
The result is a dense cheddar with a gorgeous earthy quality. It's not the sharp variety you find in mass plastic packs at the market, but rather it's meaty and woodsy, it's toothsome and delicately aromatic. The blue adds just a fine layer of muskiness to the cheese, which makes a flavor profile that is pure genius.
What got me to make an apple tart had to with with the fact that my Dad has been on my mind a lot lately. He passed almost 4 years ago now, and from time to time I just miss him. He comes around in my thoughts and sits on my shoulder and just hangs with me for a time. This was one of those weeks where he has been my ethereal companion. He was the one that got me thinking about an apple tart.
Phil could get into his sweets. He would deny it, but I remember many a morning watching him eat Entenmen's coffee crumb cake with a pat of butter on each bite. Remarkably he did not die with high cholesterol, in fact he never had a cholesterol problem and tended to be too lean. A fact that I still find to be astonishing. Those genes I did not inherit, (I have my Mother's Latina hips).
Dad liked apple pie fine, but he liked his with a slice of cheddar cheese on top. Something I never, I mean NEVER, understood as a kid. Ice cream- sure! but cheese? A sweet should have a sweet, no? Not a savory! As you can see I've come around.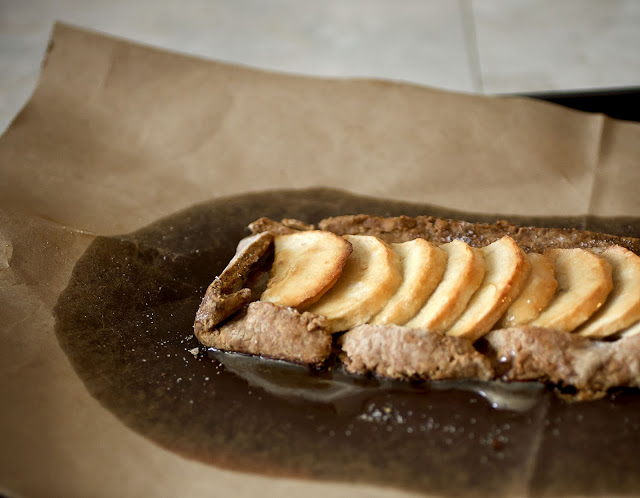 The tart out of the oven and glazed while still warm.
Typically I make a nice old fashioned crust. In the old days when there was Crisco in my kitchen, I would have used that. I really can't recommend it as a nutritionist, but it does make the flakiest crust. As always I tilt more to the healthier, so I did a little research to find a "better" crust. I landed on Eating Well's site to this recipe which uses a little canola oil and low-fat sour cream, which lowers the saturated fat level and reduces the calories by 60%. This recipe also exchanges a little whole wheat flour for the white. Not bad- and the crust was quite enjoyable.
I won't kid you, it does not rival the classic, but but it yielded a satisfying crunch and texture. The whole wheat is also a better foil to the cheese, and the caramel in the dulce de leche. A full on whole wheat crust can be too tough for me, I found this to be a healthy happy medium.
The tart is pretty easy to make. The crust is rolled out and hand rough formed. To be a good ecologist, I place mine on recycled brown paper bag "parchment".  Layers of apples march down the middle, and then a healthy sprinkling of sugar and a few dots of butter get layered on top.  Then into the oven it goes.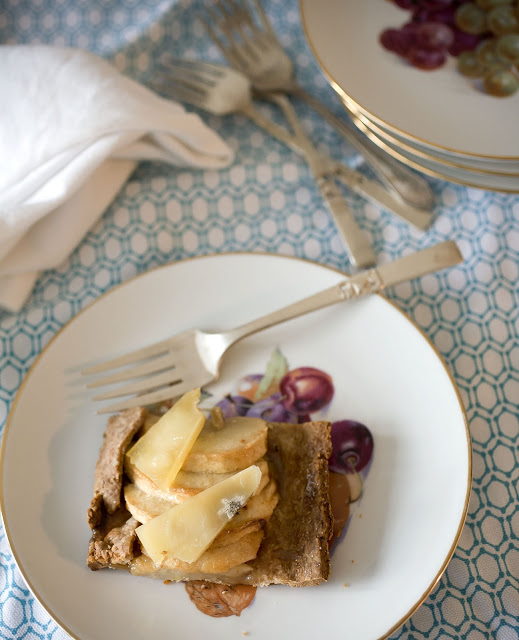 A slice of apple tart with the gorgeous cheddar-blue on top
Phil would have liked this recipe. He pretty much liked hippie versions of things, and the crust makes this tart read this way. He could poo-poo desserts, claiming the evils of sugar, but I can imagine him having at least 2 slices. Probably with extra cheese. It's that good.
Rustic Apple Tart with Dulce de Leche Glaze
makes two tarts, serves 8
This is as simple as they get. Choose a good baking apple that is tart with good body, and don't skimp on the sugar on the apples either- it's one of the best parts.
1 recipe for Healthy Whole Wheat Crust, found here
2 large baking apples, peeled and sliced into .25″ half rounds
1c granulated sugar
2T butter, diced
3T dulce de leche, my recipe can be found here
.25# Dunbarton Blue, that can be ordered here
Preheat oven to 425˚
Roll out the dough into two 6″ x 12″ strips and place onto lined baking sheet.
Lay down the apples, then sprinkle tops with sugar and dot evenly with the butter.
Crimp the sides of the tarts in to finish.
Bake for approximately 30 mins- keeping an eye on the apples. 
Remove from the oven and allow to cool for 5 minutes.
Prepare dulce de leche glaze by adding 1t of water and stirring smooth. Brush glaze over the apples.
Once completely cool, slice the cheese and lay on top of the tart and serve.
Best served and room temperature.