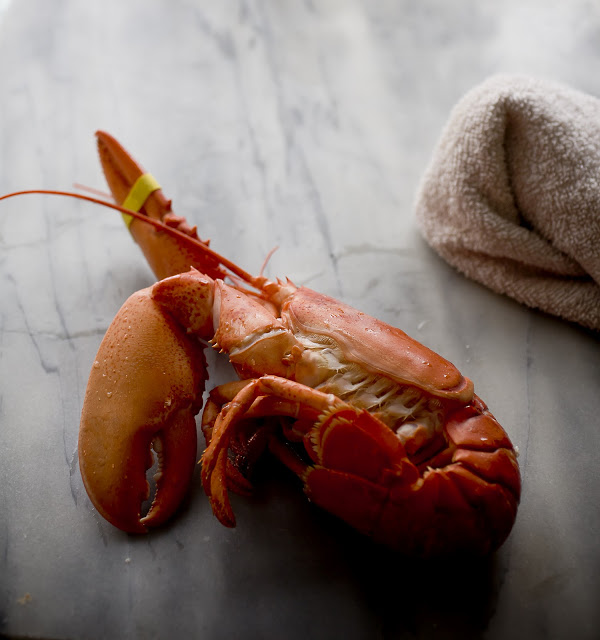 I've been reading all summer about the bountiful harvest of Maine lobsters- and it's been killing me. Since I've been on the road so much, I haven't had the chance to get my hands on any!!! Finally….Finally! I had the time and logistics to make a purchase.
Since last summer I've been hankering for a lobster roll. One of the magazines around here did a story on the best lobster rolls in NYC and it's been on my mind ever since. Sure- we can get lobsters all year round- but it, well…. just didn't seem right to eat a lobster roll without leaves on the trees.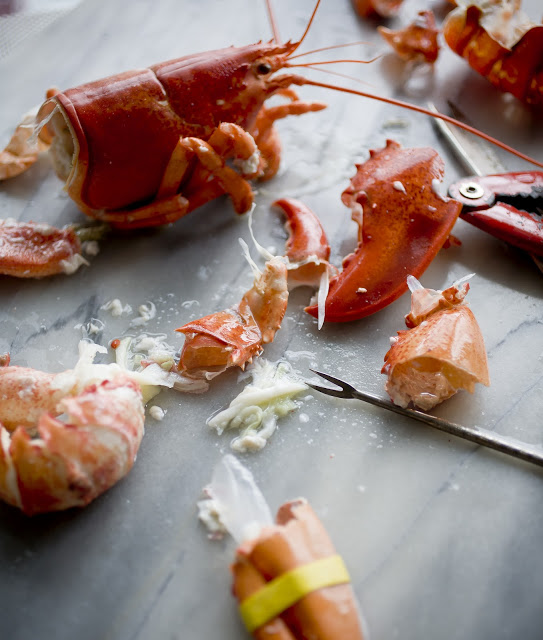 So on Saturday I was in the neighborhood of my favorite fish monger and for cheap, chose me a beauty, and lugged him home.
But the crazy thing is that when I finally got home I didn't want a lobster roll- I wanted something schmancier. Not sure why exactly, I guess because I thought this lobster was just so beautiful I wanted to do him justice. I shouldn't get like that, I mean, I've steamed and eaten a boatload of lobster in my days- maybe because it was just the two of us?
I steamed him up the night before and let the whole thing chill overnight. Meanwhile I mulled over my options.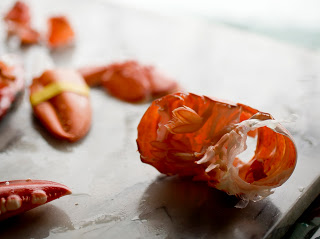 Lobster is a rich meat and needs a substantial sauce to go with it. The classic melted butter is case in point. I thought about making a handmade mayonnaise which I could make tangy and ethereal, almost like a sabayon- and that lead me to aioli- which lead me to an oil, rather than a mayonnaise.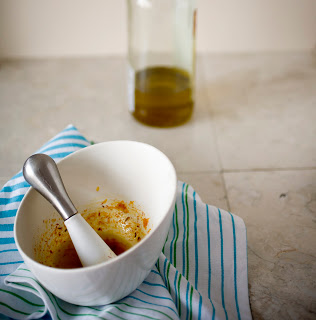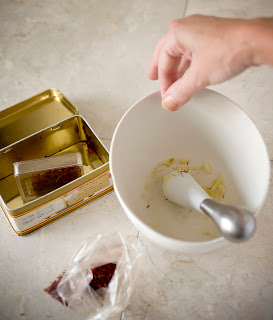 I mashed up a clove of garlic and crushed in a healthy pinch of saffron, then drizzled in just a small bit of olive oil and made a gorgeous orange-y yellow paste. Then I added a bit more oil, and a pinch of salt, and let it rest a bit to mellow.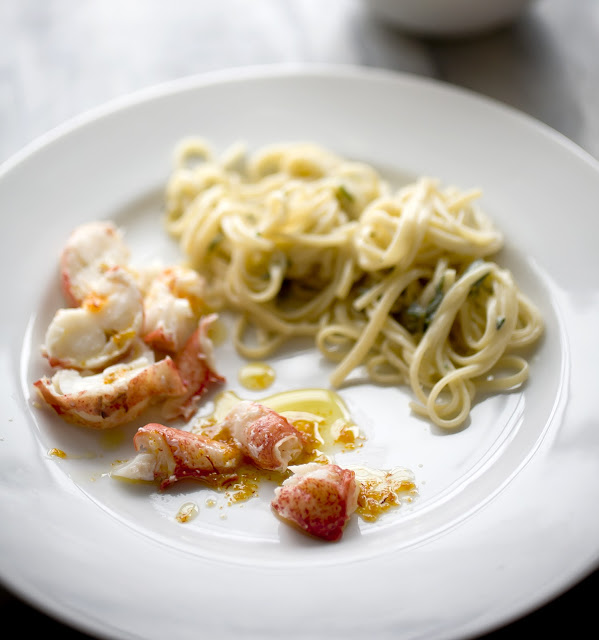 To accompany the earthy and low tone lobster, I made a fine linguini, tossed in some fresh chopped basil, a healthy grind of black pepper and a dollop of mascarpone. A little bit of pasta water added in spoon by spoon was all it needed to make a creamy sauce. It had the strength to partner with the lobster and the basil added the top note of freshness that the plate needed.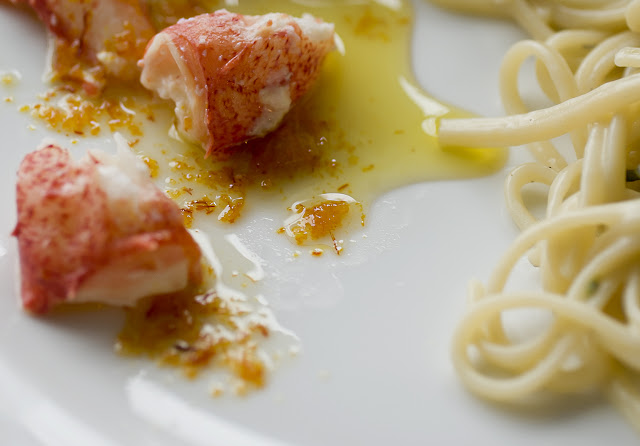 Can I tell you what? This-dish-is-DEEEEELICIOUS! The kind of delicious that you want to bang on neighbor's doors and make them take a bite. The kind of delicious that you should really be planning an evening around it- especially a romantic one.
The kitchen smelled of saffron and garlic, and the always alluring, basil- and then the taste Oooooohhh…. sensual on all levels.
Now go grab a lobster- and your lover- and make a memorable meal. Then please, please, write me back and tell you about it. My love is 1500 miles away right now- I would appreciate the vicarious thrill.
Saffron Aioli Lobster and Creamy Basil Linguini
serves 2
2- 1.25-1.5# lobsters
1 clove fresh garlic
generous pinch of saffron
.25 c olive oil
S&P
5oz fine linguini- dried
3T fine chopped fresh basil
3T mascarpone or creme fraiche
reserved pasta water (put aside a cup, you won't need it all)
S&P
I served my lobster cool/room temperature, but this can me made hot and just keep a bowl of the aioli oil on the side for dipping.
To be just a little humane, I put my lobster in the freezer for about an hour to lull him to never never land. I get a little freaky about active lobsters being plunked into a pot. 
In a large pot with a lid, bring 1.5″ of water to the boil. Add the lobster and cover the pot. Steam for 7 then turn off the heat and let sit for 2 more mins. DO NOT overcook your lobster. I find this method of gentle cooking at the end yields more tender meat and prevents over cooking.
Remove the lobsters and let cool a few minutes before breaking apart.
In a pestle, crush a clove of garlic into a rough paste, add the saffron, a T or so of oil and salt and pound into a creamy paste. Then add remaining oil and stir to combine. Allow to sit for at least 20 mins.
__________
For the pasta- cook the pasta to al dente, approximately 7 minutes, drain- reserving a cup of cooking water, rinse quickly and toss with a glug of olive oil.
In a large bowl put the mascarpone and basil, S&P and enough pasta water to mix it all into a creamy sauce. Then simply toss in the pasta.
Enjoy!!!