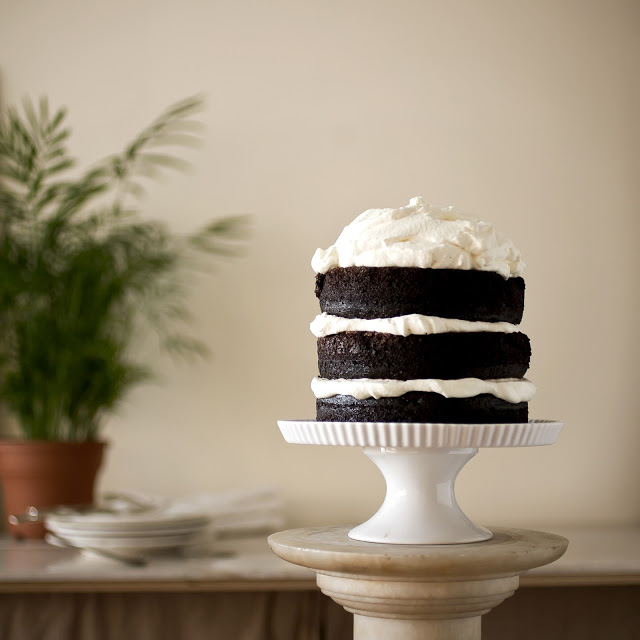 Dark chocolate birthday cake
If's official, I am over the hill- and I will be honest, I am loving the view from up here! Last week heralded a demi-century of loops around the sun. Of course this is mind boggling for a woman who still has conviction that she is 25 years old- but now that I've passed the mark- I think it's pretty awesome.
This past year has been especially wonderful and all indications are that this trend will continue. Thank you to everyone who has supported this blog. It has given back to me in ways that I never have imagined and that just tickles me to no end. I really love writing and cooking, and I promise I will be around for awhile.
The big announcement that I alluded to in my last post is that the very day before my birthday SAVEUR magazine chose me as one of their "
Sites We Love
" (!!!!)
Nov 8, 2012
Sites We Love: A Stack of Dishes
Gorgeous photos? Check. Engaging writing? Check. Seriously inspiring recipes, tips, and culinary curiosity? Check, check, and check. The best food blogs all seem to have a lot in common—but what separates them out are the strong personalities behind them. In our Sites We Love series, we sit down with some of our favorite bloggers to find out how they do it—and why it's as much fun for them as it is for us.
Needless to say I am overjoyed and over the moon!!!! I am humbled to be in such astute and talented company as well. I did not see this coming, and it will certainly go down in history as one of the dandiest birthday presents ever!
Unfortunately I am having trouble with the code for the badge, so I will have that up soon as we sort out the glitch.
I am making dinner tonight for another Scorpio pal of mine and so we are having my favorite chocolate cake. For those who have tasted my chocolate wedding cake, I regret to inform you that this is not the same recipe (sorry, trade secret), but this version is pretty close and sensational. Rather than icing I whipped up some sweetened whipped cream, which is a fantastic foil to this dark rich cake.
Dark Chocolate Cake
3 tiered 9″ cake, enough for 15 servings
2c boiling water
1c unsweetened cocoa powder
2.75 c all purpose flour
2t baking soda
.5t baking powder
.5t salt
1c unsalted butter, room temperature
2.25c sugar
4 large eggs, room temperature
1.5t vanilla
Preheat oven to 350˚. Grease and flour 3 9″ pans and set aside.
In the bowl of an electric mixer, combine the butter and sugar and beat moderately until light and fluffy. Do NOT minimize this step. 
Add eggs one and a time on low and stir until incorporated. It will look grainy and mucky. Stir in the vanilla.
In large mixing bowl, combine the flour, cocoa powder, bs, bp and salt and stir to combine.
Add the egg/butter mixture into the bowl, then add the hot water in 3 stages and stir smooth.
Divide the batter evenly between the pans and bake until the centers spring back from the touch.
The average baking time is 30 mins- but please don't go by that. The best rule of thumb I can give you, is when you start to smell the cake it's "getting there". Alternatively, at 20 minutes check on it every few minutes until it's done. 
Please don't over bake this yummy cake.
Cool completely before frosting with whipped cream.