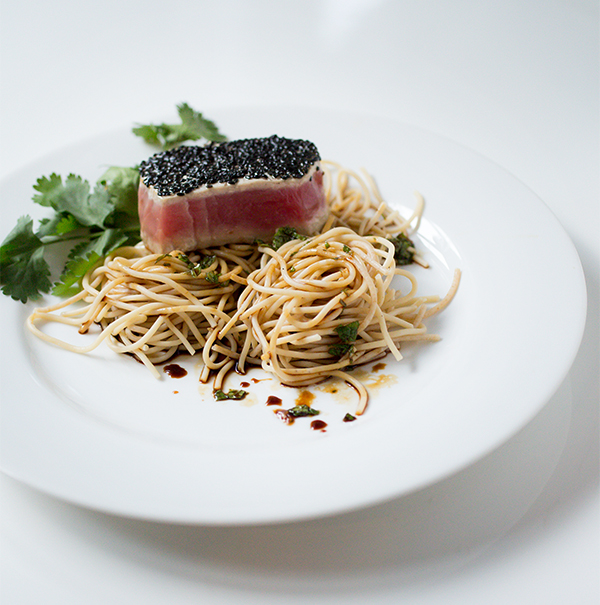 Many years ago the New York Times had one of their food writers (Craig Claiborne?) perform an interesting series. Once a week he would randomly knock on an unknowing NYer's door and prepare a spectacular meal using only the ingredients in the larder at that moment.
When I first heard of this I thought, What fun! What an interesting challenge! However, the series did not last long because, alas, most people do not keep much other than pasta and champagne in their small New York apartments. I don't recall any of the meals that were produced. What I do remember is that they were more than I would have imagined- simple but still somewhat profound.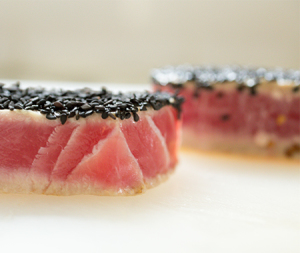 This dish was a mid-week event. It had been a hard day that warranted a rejuvenating meal, preferably one with little effort. A quick rummaging around in the fridge produced some leftover noodles from family card night and a bag of cilantro. In the freezer were sealed packs of tuna that I had been shifting around for the last few months that needed just a few minutes of thawing. Once all that was pulled out onto the counter, I then took a quick jaunt out to the yard for some mint and basil from my still blossoming pots.
And there you go. Something divine with what was on hand. Yeah, I know, I keep things around that many don't. I'm guilty of hoarding exotic ingredients such as the black sesame seeds- but that's my tweak. Use whatever you have on hand. Dried herbs mixed with oil is also wonderful as a crust on fish or chicken, and by the way, this sauce over noodles with the remnants of that rotisserie chicken is pretty awesome too.
Even with modest ingredients and little time to prepare, making food to be shared always brings out the best in all aspects. I say this because it can be terrifying to invite a friend or two over with little forethought or preparation, but as you know, it's not just delicious food on a plate that makes the meal, it's the communion and circle of sharing around a table. And besides, just throw in that bottle of champagne and you'll really have a party!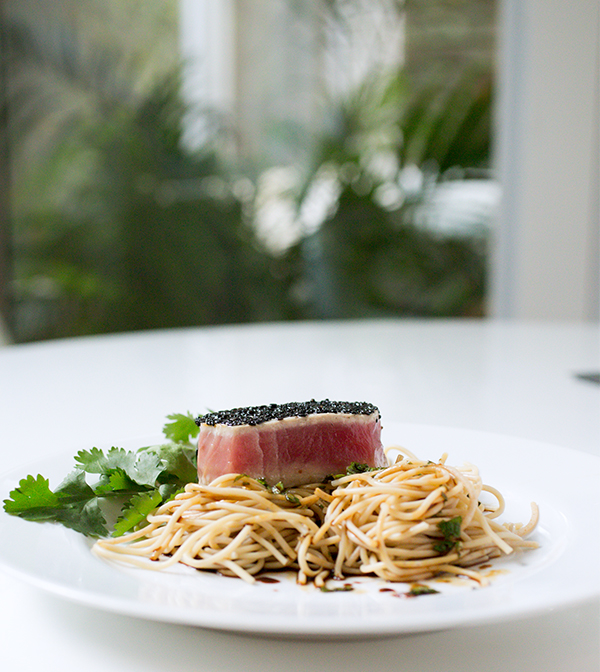 Please, I'm curious to know- What is your last minute throw together meal for friends?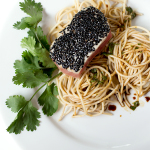 Seared Tuna with Coriander Mint Noodles
2014-11-11 04:25:32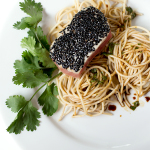 Nutrition Facts
Amount Per Serving
* Percent Daily Values are based on a 2,000 calorie diet. Your Daily Values may be higher or lower depending on your calorie needs.
Ingredients
1 lb fresh or frozen tuna
1/4 cup black sesame seeds (regular are ok too)
8 oz spaghetti
1/2 cup cilantro, minced
1/3 cup fresh basil, minced
1/2 cup fresh mint, minced
2 tablespoons fresh lime juice
2 tablespoons soy sauce
2 tablespoons honey
1 tablespoon toasted sesame oil
Instructions
Wash the fish and pat dry. Place seeds on a small plate and press the tuna into the seeds. Set aside.
Bring a large pot of water to boil with a generous pinch of salt. Cook the noodles until done, 12-15 minutes. Drain and rinse.
Warm a cast iron pan over medium high heat and add 1 tablespoon grape seed oil and coat pan. Sear the tuna for 1-2 minutes on each side until a thin layer of fish is cooked and the seeds are toasted. Set aside.
In a small bowl combine the lime juice, cilantro, mint, basil soy, honey and sesame oil and whisk to combine.
Arrange noodles onto 4 plates, add the tuna and spoon sauce over each plate and serve.
Notes
You may substitute other fish here- salmon, shrimp, etc.
A Stack of Dishes http://www.astackofdishes.com/