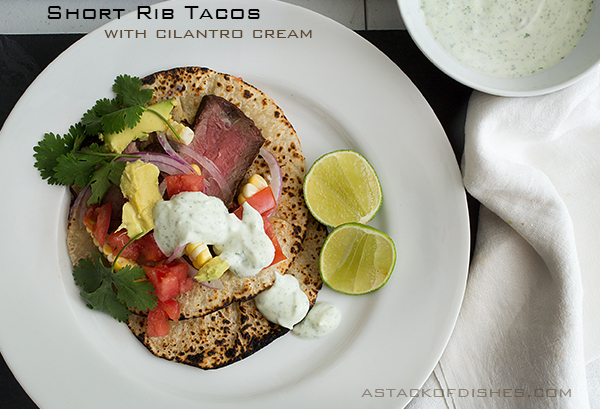 What you are witnessing is the spoils of over grilling- Next day Short Rib Tacos served with crisp fresh garden vegetables. To sparkle things up I whipped up a refreshing and light cilantro lime cream, which for such low calories offered a flavor punch and delightful creaminess.
Earlier this week we had some friends over and we made up my Korean BBQ'd short ribs. Since we are cooking over charcoal I try to make the most out of the effort and often over grill. Cold smoky meats the next day on a salad is summertime heaven to me. It's also quick and easy pickin's, which means more time to run off and play, and less time over a sink or cutting board.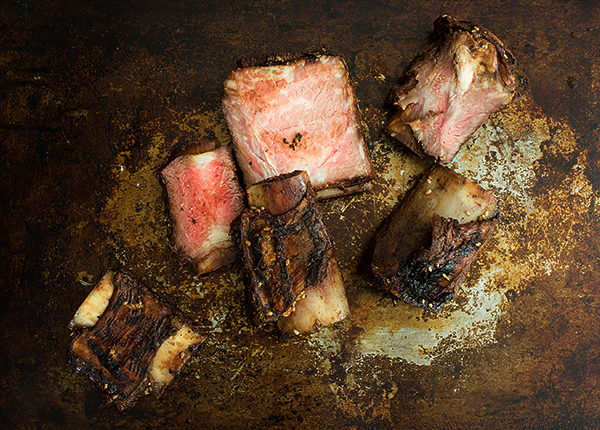 Short ribs can have some chew on them, but sliced thinly they were lovely in these tacos.
There is a fairly large Mexican community here and a surprising supply of produce and ingredients (read: cactus and many chilis). At my nearby supermarket they sell fresh hand made flour tortillas. Each one is rough and irregular and slightly dense. After some toasting over the flame of my stove, they are are soft and pliable and not at all floury like the mass produced versions.
I heart them.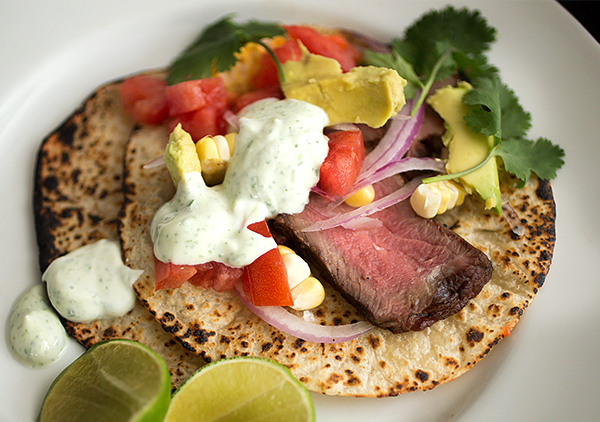 The real magic of this meal is in the cilantro lime cream. Using nonfat Greek yogurt as a base, the cilantro and lime add the depth of flavor and synergistic coolness that spicy food begs as a compliment. It's thick and delicious and so so flavorful. I made no complaints of having to lick the drips off my fingers. With no added fats and a snap to make, I quickly made up another batch to spread over tomorrow sandwich- whatever that may be.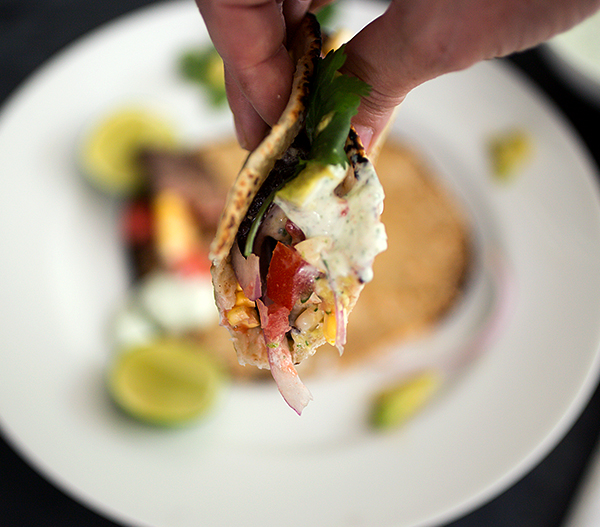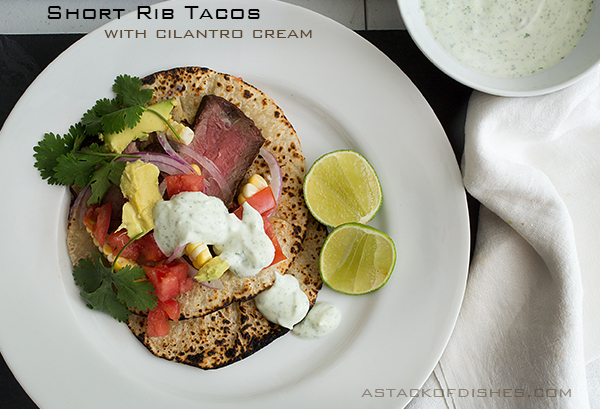 Next Day Short Rib Tacos with Cilantro Lime Cream
2013-07-10 10:38:22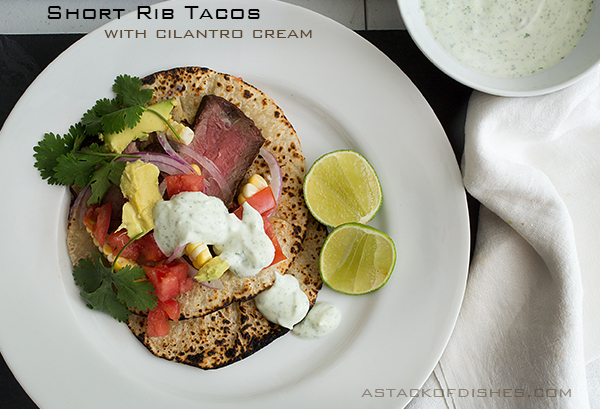 The magic is in the cream. Use it on anything grilled: fish, chicken, and of course, beef.
Nutrition Facts
Amount Per Serving
* Percent Daily Values are based on a 2,000 calorie diet. Your Daily Values may be higher or lower depending on your calorie needs.
Ingredients
1 pound of grilled leftover meats: chicken, beef, or even fish
1 cup nonfat plain Greek Yogurt
1 cup of chopped cilantro- stems and leaves
Zest and juice of one lime
1/4 teaspoon salt
1/8 teaspoon pepper
1 teaspoon minced jalapeño- optional
2 cups diced tomatoes
1 cup diced red onion
2 cups fresh corn kernels
1 avocado, cut into small chunks
8- 6" flour tortillas
Lime slices to serve
Instructions
Slice meats into bite sized pieces.
In a food processor combine yogurt, cilantro, lime zest and juice, S & P and jalapeno if you're using it. Blend until smooth. If too thick you may thin with either a little milk or water.
I prefer to toast my tortillas before eating them. Either toast in a dry skillet, on a grill, or in a toaster.
To assemble: place some meat down the middle and add your vegetables. Finish with the cilantro lime cream and a nice squeeze of fresh lime juice.
Notes
I did not add any heat to this dish. You may opt to add some jalapeno to the cilantro lime cream, or slash some hot sauce on your meats. It's all good.
A Stack of Dishes http://www.astackofdishes.com/