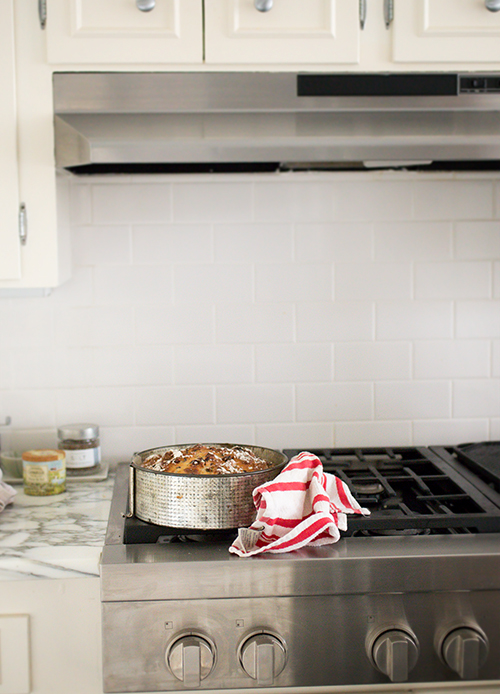 Oh the magic that is St Patrick's Day! For me as a young adult it meant standing out in a miserably rainy and cold afternoon watching a parade of kilt wearers while bathed in the warmth and glow of Irish Whiskey. There is nothing like frozen toes while your cheeks blaze with an alcoholic glow. This experience, for an Irishman, is a quintessential metaphor for how life is lived. So much fun, while pretty much hitting yourself over the head with a hammer. Celebration and Struggle. Gotta love it.
The Watson Clan harkens back to Galway. I had always believed as a child that I had some Welsh and English blood in me, but it turns out that we are all a bunch of Irishmen.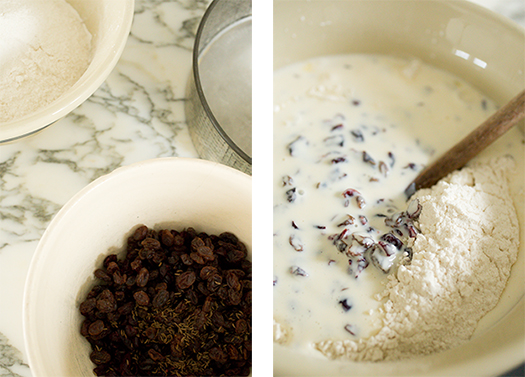 In honor of my heritage I decided to bake up a batch of Irish Soda Bread- which like too many things- turns out to be more of an American invention rather than something my rosy cheeked Great Grandmother would have made.
The fact that most Irishman were of limited resources (that being pretty much what they raised or grew themselves), meant that fancy things such as raisins, or caraway seeds were not readily available in the pantry. But I say Pishaw! to all that- If you're going to bend rules it can be for dried fruits- Green beer on the other hand is harder to swallow (pun most definitely intended).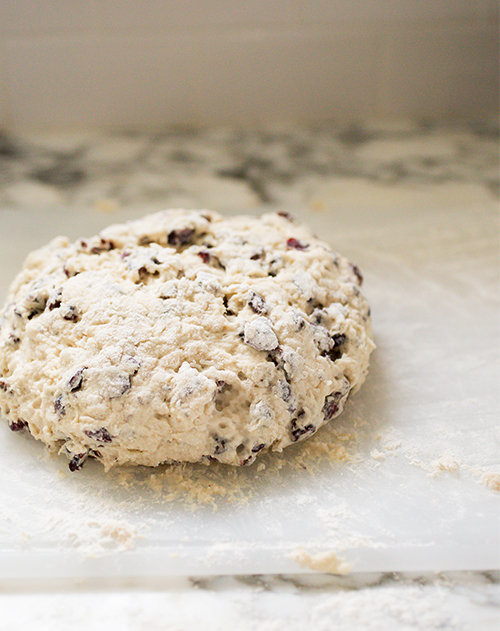 As I was removing the loaf from the oven, my 18 year old Texas raised nephew, Justin, walked into the kitchen. Always curious and eager to learn, he asked me what it was that I had made. Never having heard of Irish Soda Bread, it turned out to be a challenge to describe. Here's what I came up with:
"It's denser than a biscuit, but not as sweet as a scone. Not a bread, not a muffin…." To which he responded with baffled confusion, "Denser than a biscuit….?"
The poor dear. I have to say that his Yankee Aunt has exposed him to things he never even knew existed.
Naturally I made a few changes to this recipe to make it my own. As we are not big fans of raisins here, I used a mix of golden raisins and dried cranberries. The recipe I researched also called for sour cream. I used Greek yogurt in it's place and it worked perfectly.
The resulting bread is a lightly sweet, dense bread/cake/scone texture with the aromatics of caraway. The outside is crusty and crunchy, and the inside has a light delicious tang. The perfect thing with a cup of tea, or even a wee glass of whiskey- though it was meant to be eating with savory, and not as a sweet.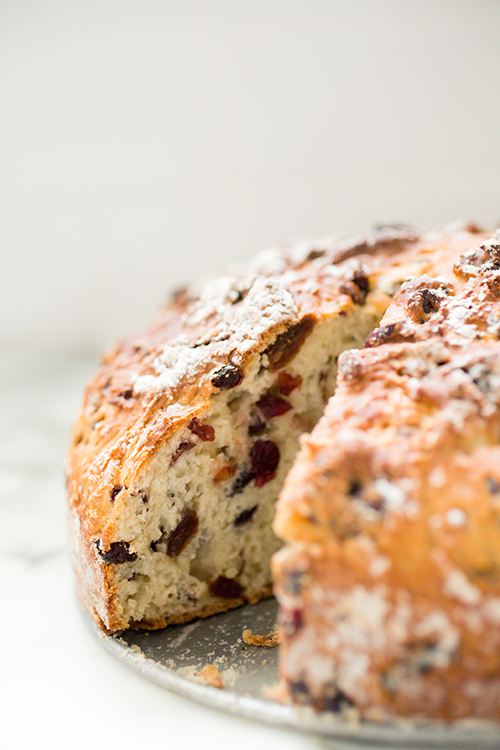 For some reason my dough was a bit wet, not that it made a difference in the end. Because of this I could not make the traditional cross cut on the top- intended to keep away the devilish spirits from the house.
The most important thing to remember when making this bread, is to handle it gently when mixing it together. Like a scone, the leavening relies mostly on the soda, which is sensitive to over handling. If you knead more than a few strokes you will end up with a lovely Irish hockey puck.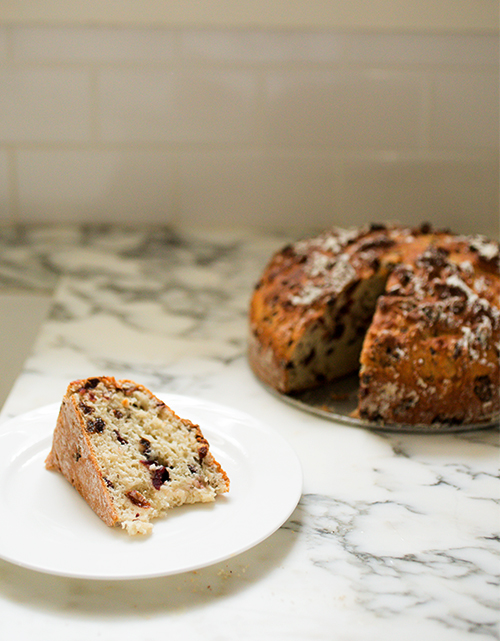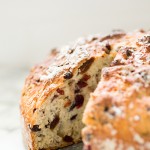 Gail Watson's Irish Soda Bread
2014-03-15 09:03:08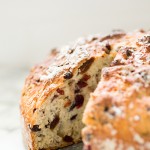 Not far off from the traditional, just a few modern touches.
Nutrition Facts
Amount Per Serving
* Percent Daily Values are based on a 2,000 calorie diet. Your Daily Values may be higher or lower depending on your calorie needs.
Ingredients
1/2 cup sugar
4 cups white flour
2 teaspoon baking powder
1 teaspoon baking soda
3/4 teaspoon salt
1 cup golden raisins
2 cups dried cranberries
1 tablespoon caraway seeds
2 large eggs
1 1/2 cup lowfat buttermilk
1 cup Plain 0% Green yogurt
Instructions
Preheat oven to 350˚ and prepare a 9" skillet or cake pan.
In a large bowl, combine the sugar, flour, baking powder, baking soda, and salt. Stir to incorporate.
In a second large bowl, combine the dried fruits, caraway seeds, eggs, buttermilk and yogurt. Stir smooth.
Pour the wet mixture into the dry, and using clean hands, mix and turn the dough in to a sticky mass. Turn out onto a floured board and gently knead a few strokes until you just feel some tension of the dough and it holds its shape.
Move the dough into the pan or skillet and, if you can, cut a cross on the top. Sprinkle with a splash of flour for looks, and bake until firm to the touch- an hour or more.
Notes
This bread does not keep well and should be eating within a day or three- though when a bit stale it makes lovely toast.
Irish Soda bread is often baked in a cast iron skillet, but a cake pan works just as well.
A Stack of Dishes http://www.astackofdishes.com/