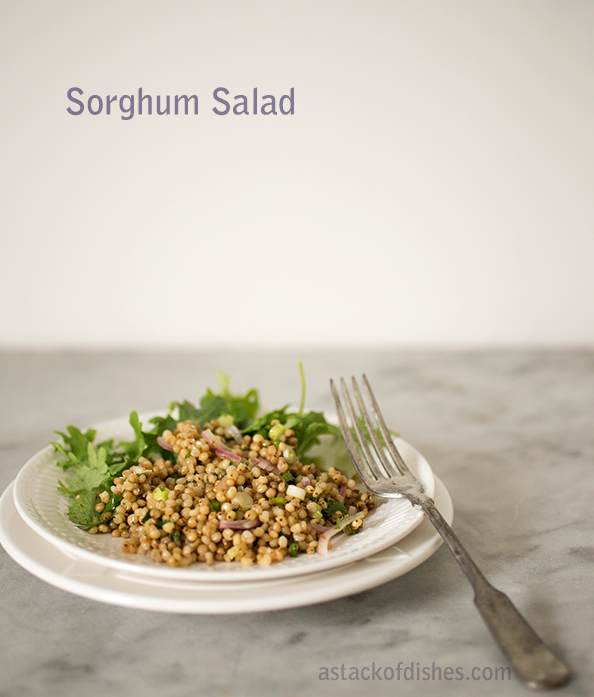 After a week in Seattle followed by a long weekend in NYC, I am now focused and determined to get down to some clean and healthy eating. This Sorghum Salad is a good start as it is a nutritional powerhouse and quite delicious.
Sorghum is an old grain that has great importance in poor countries in places like Africa, but it's not thought of as something that would make it onto the average American table- until now. I had always thought of sorghum as something they only made molasses with.
This gluten free grain has a chewy texture similar to wheat berries, but to my taste it's a little milder. It's versatile enough to use in a cold salad like this one, or exchange it for rice or couscous in warm dishes, even soups. The pearls are about the same size as Israeli couscous, but you get a whole lot of nutritional value for the same texture and feel. They're also gluten free for those looking for an alternative grain.
Sorghum may also be popped like popcorn, and it's wonderful!! The kernels are smaller and so make petite little puffs. As a result you can't eat them one by one with corn, but rather scoop them up by the handful. Fun! Since many folks can be sensitive to corn, this is a fantastic alternative.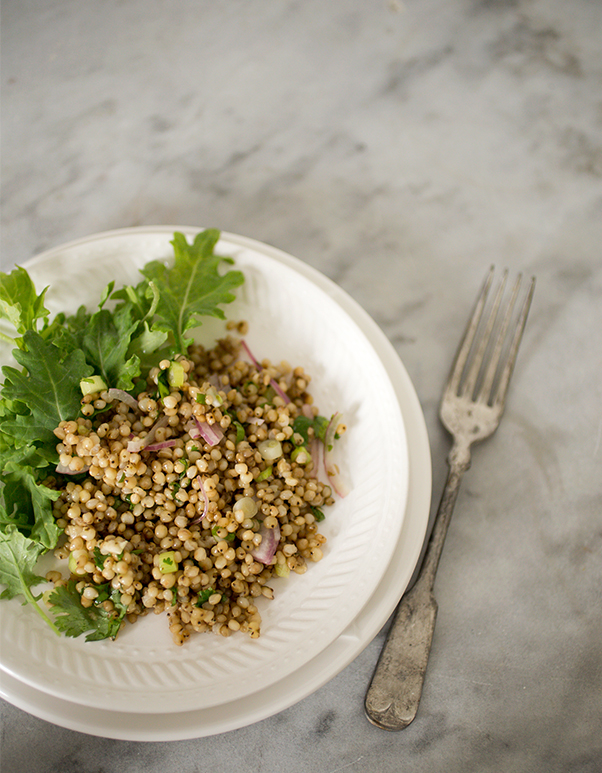 I was generously given some sorghum by Bob's Red Mill
at the International Food Bloggers Conference (IFBC) and was really looking forward to trying it. I really didn't know what to expect at first and I was delighted by how easy and yummy these are.
My secret to cooking whole grains (including wheat berries, quinoa and rice) is to put my rice cooker
to the task. I love to set up my rice cooker up earlier in the afternoon and just let her rip while I tend to other things. Once the grains are ready, I merely keep the warm as I prepare the rest of the meal.
I also recommend making a double batch. One for now and one to dip into for a chewy accent to salads or a side dish.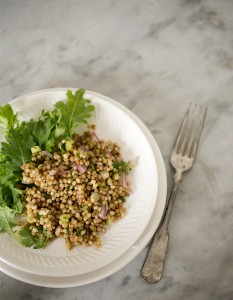 Sorghum Salad
2013-10-09 17:24:29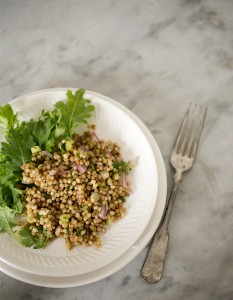 This nutritionally packed whole grain is delicious in this healthy salad.
Nutrition Facts
Amount Per Serving
* Percent Daily Values are based on a 2,000 calorie diet. Your Daily Values may be higher or lower depending on your calorie needs.
Ingredients
1 cup sorghum
3 cups water
1/2 teaspoon salt
2 tablespoons fresh lemon juice
1 teaspoon dijon mustard
1 clove garlic, finely minced
5 tablespoons olive oil
1 scallion, finely chopped
1/2 small red onion, finely sliced
grind of black pepper and salt to taste
4 cups baby kale leaves, or other greens
Instructions
In a large pot (or rice cooker), combine water, sorghum and salt and bring to a boil. Lower heat and simmer until the water is absorbed and the grains are tender- adding extra water if necessary. About 50 minutes of cooking time.
While the sorghum is cooking prepare the dressing
In a small bowl combine the lemon juice, mustard and garlic and stir. While continuing to stir, slowly add the olive oil to make a thick dressing.
After the sorghum is cooked, allow to cool until warm, about 5 minutes, then toss with the dressing, scallions, onion and kale leaves.
Notes
I recommend making a double batch to have on hand for a quick and delicious lunch.
A Stack of Dishes http://www.astackofdishes.com/