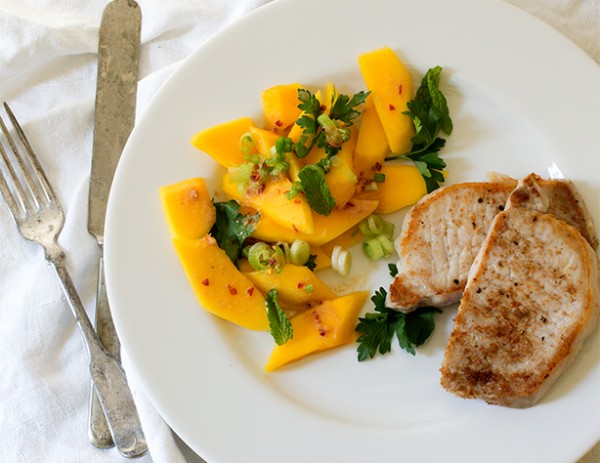 With the threat of the holidays upon us, I like to begin preparing for the season with some light eating.Here I made lean pork chops that I sprinkled with warm spices and then easily pan seared. The mango salad replaces the classic apple sauce. Fruits and pork just seem to go together, and this version offers with it some brightness and hot spice too.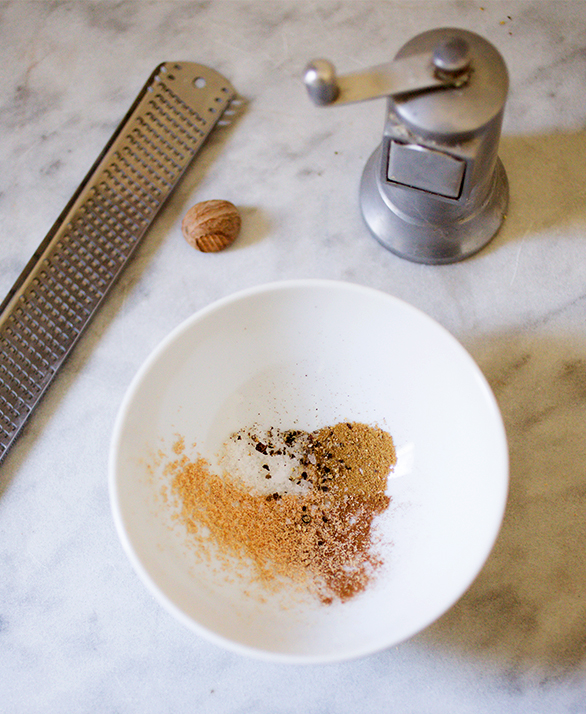 I find myself turning to pork more often as I am surely going to sprout feathers from all the chicken I tend to reach for. Pork is quite lean and most of what we get in the market has a neutral flavor profile, making it complimentary to spices and flavorings. Pork has been bred during the recent generations to accommodate the American palate, which is to say that we like neutral flavors as opposed to too gamey. As a result we don't see a variety of breeds offered at the butchers. Pork farming has become relatively homogenous.
Savvy chefs and food lovers have been seeking out small family farmers who have begun to cultivate lesser known breeds with more expansive flavor profiles. There is little romance on the factory farm- as you may have heard- so when given the chance, PLEASE seek out and support your local farmers. Aside from the joys of an expanded taste profile to choose from, we should be doing all we can to preserve and cultivate an array of breeds. Nature creates diversity, we should be protecting and nurturing it.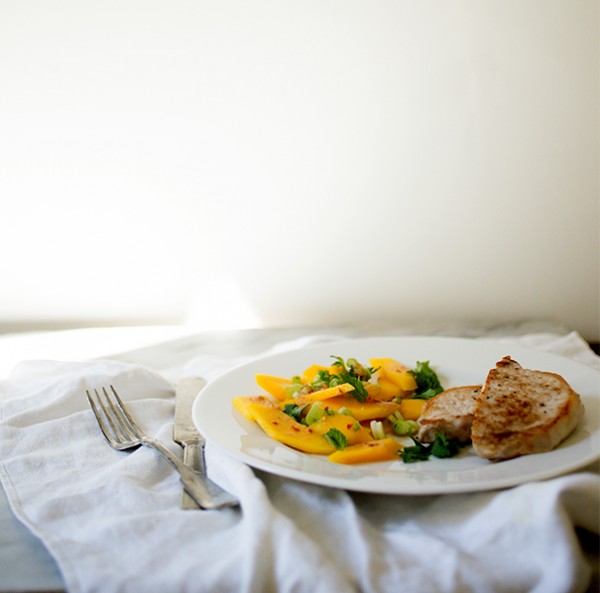 If you're so inclined, make a larger batch of the spice mix to keep on hand. The combo is great to rub onto chicken- if you happen to be one of those who has succumbed to the sprouted feathers.
Spiced Pork Chops with Mango Salad
2013-11-13 06:44:25
A mixture of warm spices is rubbed into the pork chops, then pan roasted. Mango salad replaces the traditional applesauce, and the chili adds some zing.
Nutrition Facts
Amount Per Serving
* Percent Daily Values are based on a 2,000 calorie diet. Your Daily Values may be higher or lower depending on your calorie needs.
Ingredients
1 lb of lean boneless pork chop, thinly sliced
1/4 teaspoon salt
1/4 teaspoon ground coriander
1/4 teaspoon freshly ground pepper
1/8 teaspoon ground cinnamon
1/8 teaspoon nutmeg (preferably freshly grated)
cooking spray
2 ripe mangos, chopped, about 2 cups
3 Tablespoons fresh lime juice
1 Tablespoon canola oil
1/2 teaspoon chili flakes
1/2 teaspoon salt
1 scallion sliced
1/2 cup mint leaves
Instructions
Rinse the pork and pat dry with paper towels.
In a small bowl combine the spices, then sprinkle evenly on both sides of the pork chops. Set aside to rest while making the mango salad.
In a medium bowl combine the lime juice, canola oil, chili and salt and stir thoroughly. Add the mango and toss. Set aside.
Heat a saute pan over medium high heat. Spray the pan with cooking spray then add the chops, cooking for 2-3 minutes on each side until done. No need to cook the chops to within an inch of their lives. A little pink is both healthy and delicious.
Divide the pork and mango salad between four plates, then sprinkle salad with scallions and mint, then serve.
Notes
Serve with some jasmine rice for a complete meal.
A Stack of Dishes http://www.astackofdishes.com/