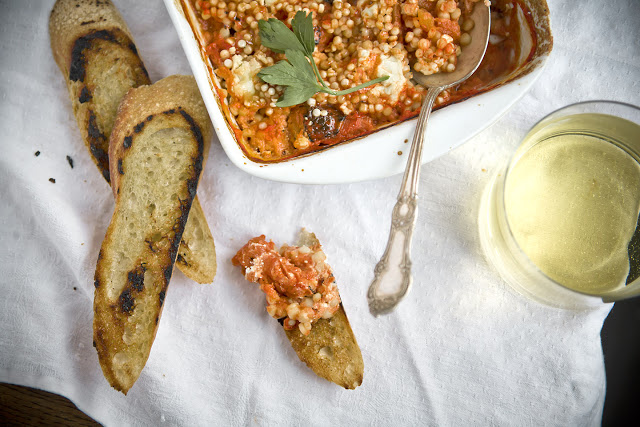 Roasted Tomatoes with Israeli Cous Cous and Goat Cheese

OK kids, this is my down and dirty super fabulous Sunday "It's been a long week and I'm gonna sit and watch me some serious TV" meal. So easy I'm not writing a recipe, I'm just gonna let her rip.

Take a 28 oz can of Fire Roasted tomatoes and pour into a medium sized backing dish (this is 8×11 or so). Crush tomatoes with fingers right in the pan. Conversely you can used chopped tomatoes. Mince up 3 cloves of garlic and stir in. Grind in some fresh black pepper. Scatter around 1c of Israeli cous cous, uncooked. Then top it off with goat cheese. You can use ricotta here, but the goat is better.

Slide into a preheated 350˚ oven for about 40 mins. It's ready when the liquid has been mostly absorbed and the cheese is beautifully browned. Sprinkle with some fruity olive oil and toss on some fresh parsley.

Serve with grill toasted baguettes that have been brushed with Olive Oil and a glass of crisp vegetal Sauvignon Blanc.

It's tangy, garlicy, sweet from the tomatoes- and the smokey crunchy oily toasts are divine.

The fiancee and I usually set the platter between us and dip in with the bread until it miraculously disappears (don't know how that happens, but it does, every time!)

That's it! One pan- leave it to soak- and call it a night.