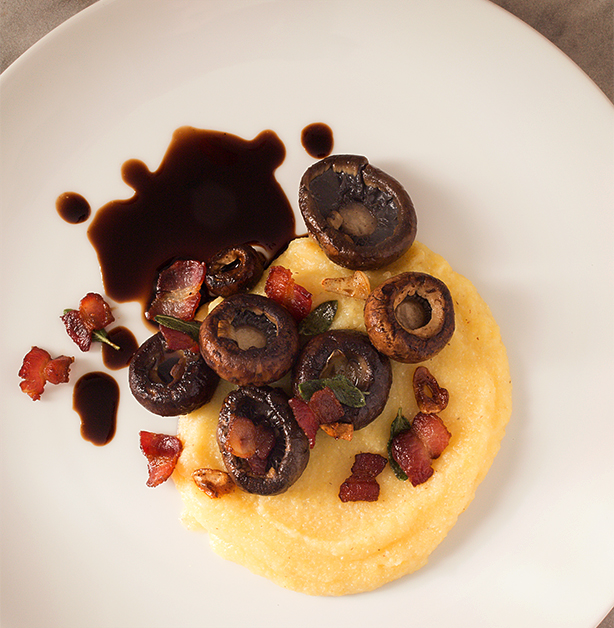 It's been a super hectic week as I've been furiously working on fleshing out the new website- A Healthy Hunger. As my loyal fans know, the new business is a menu subscription service for folks who want to improve their health with better eating. I offer a Clean Eating menu plan and a Diabetic Friendly menu plan.
I cannot begin to tell you how excited I am about this. First off it's just such a blast creating healthy menus. There is SO MUCH good food to be had that is also healthy for you. Of course my food style as experienced here will translate into AHH. No boring plain-o plain-o. Nothing horribly esoteric either, just beautiful, delicious and healthy eating. Sounds heavenly right??
With luck the final touches on the techy aspect of things will be complete by Tuesday and we can launch full bore. In the meantime you can swing on over there and take a poke around and see what you think. BTW- feel free to drop me a line with thoughts or insights. Good or bad, I would appreciate it. I really want this to be a successful resource for people, so any advice to help me stay on the mark would be much appreciated. Thanks!
Meanwhile, MY eating has been sporadic to say the least. Quick, simple comfort food, such as this creamy polenta, is what's fueling me right now. In another week I'll have reached cruising altitude, so I'll enjoy these indulgences for now.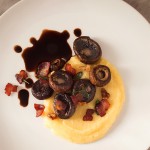 Creamy Polenta with Bacon and Sauteed Mushrooms
2013-11-16 14:37:24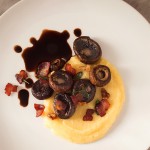 The smokey salty bacon and the vinegar just love the earthiness of the mushrooms. I ate mine with a luscious zinfandel. I highly recommend it.
Nutrition Facts
Amount Per Serving
* Percent Daily Values are based on a 2,000 calorie diet. Your Daily Values may be higher or lower depending on your calorie needs.
Ingredients
2 cups skim milk
2 cups water
1 cup polenta
1 teaspoon salt
several healthy grinds of black pepper
1 basked of cremini mushrooms (you can mix in other varieties, but this was the offering at my market this week)
2 slices bacon, diced
2 cloves garlic sliced
1/4 cup picked sage leaves
3 Tablespoons balsamic vinegar
salt and pepper to taste
Instructions
In a medium saucepan add the milk and stir in the polenta until smooth. Then turn on the heat to medium and add the water and salt. I find this method is best as preventing lumps and takes the flurry of activity over a hot flame out of the equation.
Simmer the polenta until thickened and cooked, about 10 minutes.
Meanwhile: in a saute pan, cook the bacon over medium heat until crispy and most of the fat is rendered. Remove the bacon and pour off excess grease, leaving about a tablespoon of fat in the pan.
Return the pan to a medium heat flame. Add the mushrooms top side down and cook for 3 minutes. Then turn over the mushrooms and add the sliced garlic. Cover and let cook for 3-5 more minutes, then remove the cover and add the sage and vinegar. Sprinkle with a generous pinch of salt and a grind of pepper.
Serve a portion of polenta onto one of four plates then place the mushrooms on top. Return the pan to the flame and reduce the vinegar sauce until thickened, about 2 minutes.
Sprinkle the mushrooms with bacon and drizzle with vinegar sage sauce.
Serve immediately.
Notes
A little shaved parmesan would be fantastic here- sadly my larder was bare. Add a hearty green salad and you've got an easy and complete meal.
A Stack of Dishes http://www.astackofdishes.com/