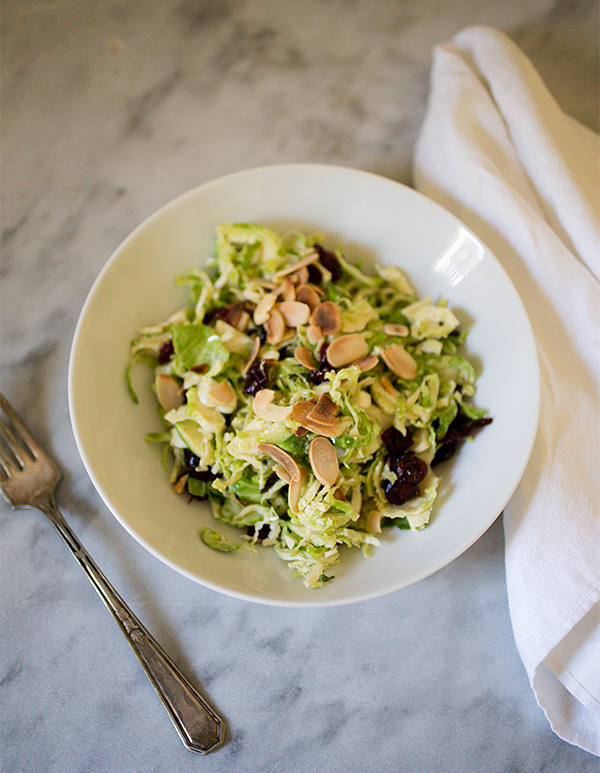 From time to time a vegetable can surprise you, and such is the case with this Shaved Brussel Sprout Salad. I am actually a huge fan of cooked sprouts, especially when they are given the chance to get caramelized on the outside, but raw never seemed reasonable.
Shave Brussel Sprout recipes have been cropping up, and so far there hasn't been one that I haven't liked. The sprouts are more tender than regular cabbage and they are neutral enough to take on the lovely taste of the dressing.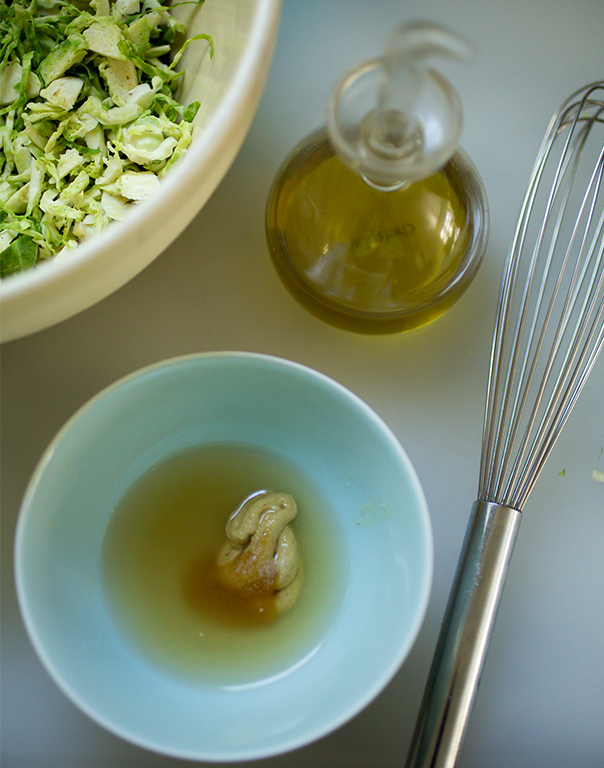 This version has become our go-to during the week salad. I purchased a stalk of sprouts and simply pluck off the number of nobs that I need and we're off and running. Simply stem, peel the outer leaves, and then shred away. The dried cranberries offer a nice chew and a tart sweetness which is perfection, and the toasted almonds a satisfying crunch.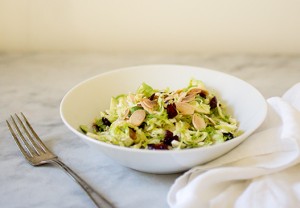 Shaved Brussel Sprout Salad
2013-11-07 16:10:37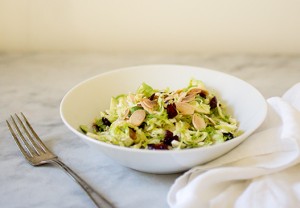 A healthy and delicious salad that you are guaranteed to fall in love with. Don't skip the dried cranberries, they offer the right sweet/tart flavor that the sprout leaves need.
Nutrition Facts
Amount Per Serving
* Percent Daily Values are based on a 2,000 calorie diet. Your Daily Values may be higher or lower depending on your calorie needs.
Ingredients
2 cups raw Brussel Sprouts
1 stalk celery, finely sliced
1/2 cup sliced almonds, dry toasted
2/3 cup dried cranberries
4 Tbsp olive oil
2 Tbsp cider vinegar
1 Tbsp honey
2 teaspoons Dijon mustard
1 clove garlic, finely minced
1/4 teaspoon salt
Instructions
Trim the sprout end and peel any damaged outer leaves and discard.
Using a knife, finely slice each sprout, then toss into a bowl breaking up the layers. Add the celery and cranberries.
If you are toasting the almonds, place then in a dry pan over medium heat and gently stir until just toasted, then remove the pan from the heat and move the nuts to a plate to cool. Do not cool in pan or they might burn.
In a small bowl combine the oil, vinegar, mustard, honey, garlic and salt and whisk to combine.
Pour half the dressing over the sprouts and toss until combined. Let the salad rest for 5 minutes, then taste. Add more dressing if necessary and serve with the toasted almonds.
Notes
If you don't have dried cranberries on hand any dried fruit would do- raisins, apricots or figs would be great.
A Stack of Dishes http://www.astackofdishes.com/