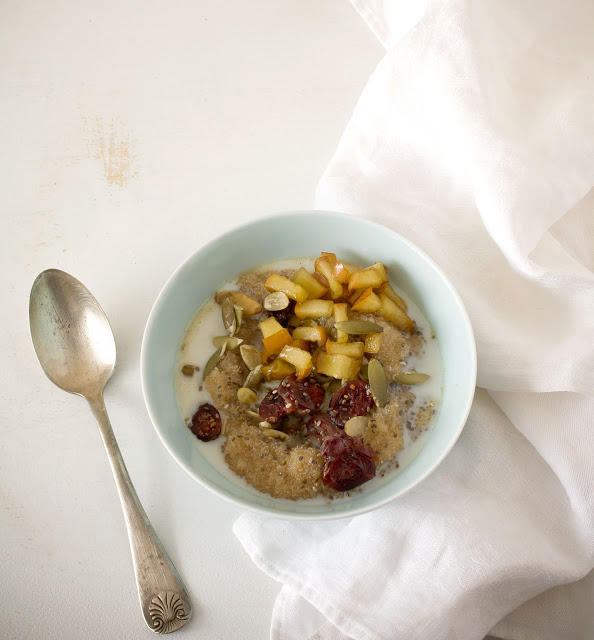 It's another gray stormy weekend here in the Northeast. It's an insular overcast morning of warm breakfasts and lingering coffee. A porridge morning.
Bored with the idea of oatmeal, I decided to make my morning cereal bowl with a lesser known whole grain, Amaranth. To add some depth and character, I found on my fruit plate an apple, which had reached its peak and did not promise good out of hand eating. A fine dice and a quick sautee in some butter and maple syrup added the sweetness and richness that rounded out my porridge. A sprinkle of Chia seeds and pepitas provided some crunch, and a quick toss of some dried cranberries provided more color. At the last some warm milk floated around the edges and coddled it all together.
You don't hear about Amaranth very often. It is a seed, indigenous to Central and South America. Like quinoa, it is high in protein and fiber and quite good for you. For those who are refraining from gluten, this is another great alternative. Amaranth seeds are much tinier than quinoa, I would say at least half the size, which makes these babies quite petite. They cook up the same, and have a much milder flavor, sort of mellow and neutral. If you find quinoa too crunchy and grainy for you, I invite you to try this.
Because the seeds are so teeny, the texture similar to that of farina, which to me is very satisfying and comforting. It's less stick-to-your-ribs hearty as compared to steel cut oats. It's not nearly as gummy and chewy, but rather a silkier  mush with a refined character.
Amaranth Porridge with Warm Maple Apples
As with any hot cereal the possibilities are endless. Pears, dried apricots or fresh berries would be divine, and feel free to let any spare nuts tumble into your bowl too.
serves 2
.66c Amaranth seeds
2c water
pinch of salt
1 small apple cut into small dice
1T unsalted butter
2T maple syrup
4T warmed milk
A few tablespoons of assorted nuts and seeds
In a medium sized saucepan over medium/low heat, combine seeds, water and salt. Bring to the boil and gently simmer until the water is absorbed and the seeds are tender. About 20 minutes.
Meanwhile, in a small sauté pan over medium heat, melt the butter and then toss in the apples. Saute gently for 2-3 minutes, then stir in the syrup and cook together for another 2-3 minutes until the sauce is bubbly and slightly thickened.
When the porridge is cooked, divide between two bowls. Spoon the warm apples and sauce over each and sprinkle with nuts and seeds of your choosing.
Stay warm and cozy!