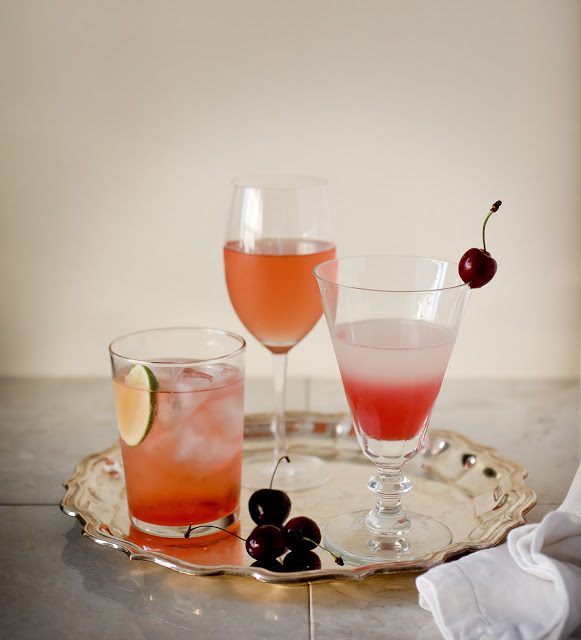 I've become obsessed with the blushy pink drink! Look how pretty they are, how can you resist?
For this batch, they are a bit less girly. Not nearly as sweet. The first is a drink is one that I concocted years ago when I worked for Georgine Cavaiola at her beautiful restaurant, Georgine Carmella. I worked there in the late 80's, before the nouvelle cuisine phase, and when fine dining meant La Cote Basque. Georgine's food was pure, fresh and elegant- made with so much care and love. It was the kind of food that made Tom Colicchio famous 2 decades later- it was well ahead of it's time.
Located in Little Italy, nestled in between ancient red checker clothed spaghetti restaurants, was this little storefront gem. It was a narrow place with penny tile floors and a tin ceiling. Each night the limos would roll up and the rich and famous who appreciated amazing food and their privacy, would slip into this tiny intimate restaurant and have their senses indulged to perfection.
Georgine was by far the toughest boss that I have ever worked for, and I loved her for it. I had previously working in some very fine restaurants, but Georgine not only insisted on good service and excellent food- she insisted on the dining experience and aesthetic. She was the only restauranteur that I've ever known that insisted that the staff take their evening meal in the dining room with linens and silver. She made sure that we hustled through our mis en place so that we had plenty of time to sit and eat leisurely. We were given dishes off the menu so that we could experience them and discuss them with knowledge. Georgine's feeling was that in order to understand and provide a good dining experience, the staff needed to start the evening from the same place. Beauty and grace begets beauty and grace. It was brilliant!
Years later I employed the same in my cake business. I would make a hot staff meal for my team- 8 or so in those days. We would collectively sit at a big long table and eat a healthy hot meal, that I had prepared. It gave us time to relax together, and share. When finished, all would clean up together, and then get back to work. That created a warm and familial environment, which I think lead to my team producing some beautiful work. We all worked so hard in those days- and we worked happy.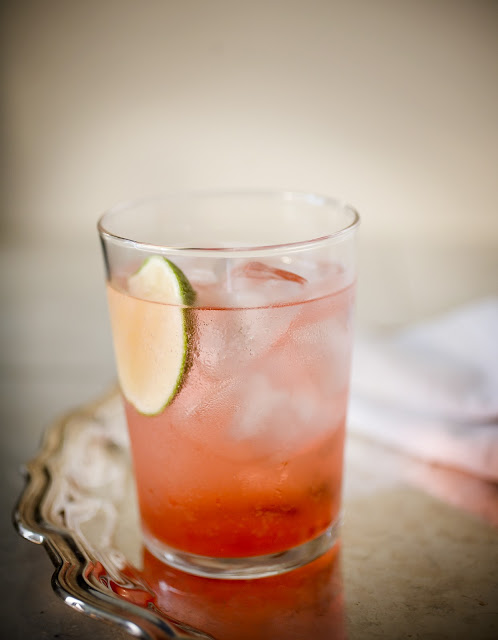 Georgine had us taste different wines and champagnes, and she also turned me on to one of my greatest delights: Amaro, or bitters. Amaro is taken as a digestif after a meal, but could also be taken at the beginning of a meal as an aperitif. They are made up of different roots and spices and though based in a sweet syrup, they are bitter to the taste. Camapari is the most famous, Cynar is another, but there are so many- all with their own flavor profile.
I fell in love with Amaro and really enjoy the bitter, earthy taste- to a point. This drink I created, which I call "A Bitter Kiss", uses aromatic gin as the base, some lemon soda as the sweetness and a touch of Campari to give it a refreshing edge. I love it in the summer as an alternative to gin and tonic. I've made them for people over the years, and even those leery of Campari have come to like it.
The second cocktail is a Black Pepper Cherry Lime Ricky Martini. I made a syrup from fresh deep red cherries and black peppercorns. There is just a hint of pepper, just enough to give it a bit and some depth and take the sweet edge off. These babies really do down too easily due to the limey citrus flavor, so be warned.
The syrup is a breeze to make and a fantastic hostess gift- or just keep a bottle in the back of your fridge for when you feel a little above the hoi polloi and desire a cocktail for yourself.
Lastly, I present to you a beautiful glass of rose. Oh poor rose, the bastard child of the wine world. Much aligned for it's misunderstood parentage, and so often unappreciated. This has got to stop immediately. I invite you to bring along a bottle or two of rose to the next summer cook out. Take a moment to ask your local wine shopkeeper for some guidance- you will be amazed at how much more interesting a rose can be than your old fall back of Pinot Grigio. The prices are often much less than they should be for the quality of the wine. I've had some rose's recently that have enough fruit and spice to pair well with a burger off the grill. I invite you to give it a try- you will not be disappointed.
A Bitter Kiss
makes one
3T gin
1T Campari- or to taste
3oz lemon/lime soda
Slice of lime
Serve over ice
Black pepper cherry syrup
makes about a cup
1# of fresh bing cherries, crushed
2C white sugar
6 whole black peppercorns
combine the three ingredients in a neutral bowl and allow to sit overnight on the counter, covered.
Strain the solids from the syrup and discard. 
Place syrup in a clean bottle and store in the fridge for up to 3 months.
Black Pepper Cherry Lime Ricky
makes one
In a cocktail shaker over ice, combine:
4T vodka
2T fresh lime juice
2T bar sugar- or superfine sugar
Shake this and strain into a martini glass
carefully add 1T of cherry syrup, or to taste