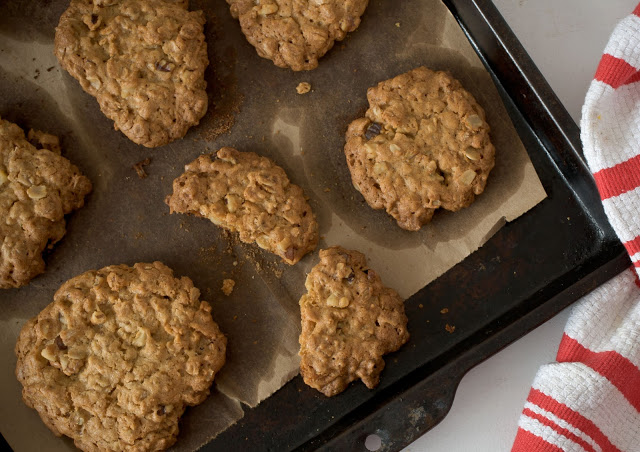 I made you oatmeal cookies today. I left out the raisins, because you don't like raisins. Instead I added extra walnuts, because I know those are your favorite.
I made you oatmeal cookies today, because I've had to sit at my computer a lot as I push to get my projects done. You came all the way to see me, and even though you knew I would have a lot of work to do, it's still no fun when the one you love is so close, yet so far.
I made you oatmeal cookies today, because it was gray and drizzly outside and you were feeling a little blue. You had hoped to walk the streets of my big noisy city, and the day turned out to be the worst day for it. You went out anyway and braved the chilly wetness- which made it a long and unpleasant day.
I made you oatmeal cookies today, because I wanted you to come home to sweetness, and warm kitchen smells, and your favorite treat-
I made you oatmeal love cookies today, because I want you to feel cared for, and for me, one of the ways I show you that, is with the movements of my hands, and my steady pace in my kitchen, and the laying out treats onto plates- because one of my greatest expressions of my heart is food.
And because,
I love you.
Oatmeal Love Cookies
I make my cookies with canola oil, rather than butter. Aside from the convenience, I find the cookies aren't much different, and I appreciate the lower saturated fat. They are a crispy cookie when cooked to the fullest. If you like a little cake-y-ness, bake until juuuust golden. Also feel free to add in traditional raisins if you like. My love does not like raisins, no she do not, but yours might.
makes approximately 30 cookies
1.5 c all purpose flour
.5 t salt
.5 t baking powder
1 t ground cinnamon
16 T canola oil
1.75 c sugar
2 T molasses
2 large eggs
3 c rolled oats (not instant)
1 c chopped walnuts
Preheat oven to 350˚
In a large mixing bowl combine thoroughly the flour, salt, baking powder and cinnamon.
In a separate bowl, combine the oil, sugar, molasses and eggs and mix thoroughly to a thick slurry.
Add the egg mixture into the flour mixture and stir until mostly incorporated, then add in the oats  and walnuts, and stir smooth.
Scoop out enough dough to pat into a 2″ disk and place on a lined baking sheet at least 1.5″ apart. The cookies do not spread.
Bake in the middle of the oven until golden and crisp, about 15 minutes.