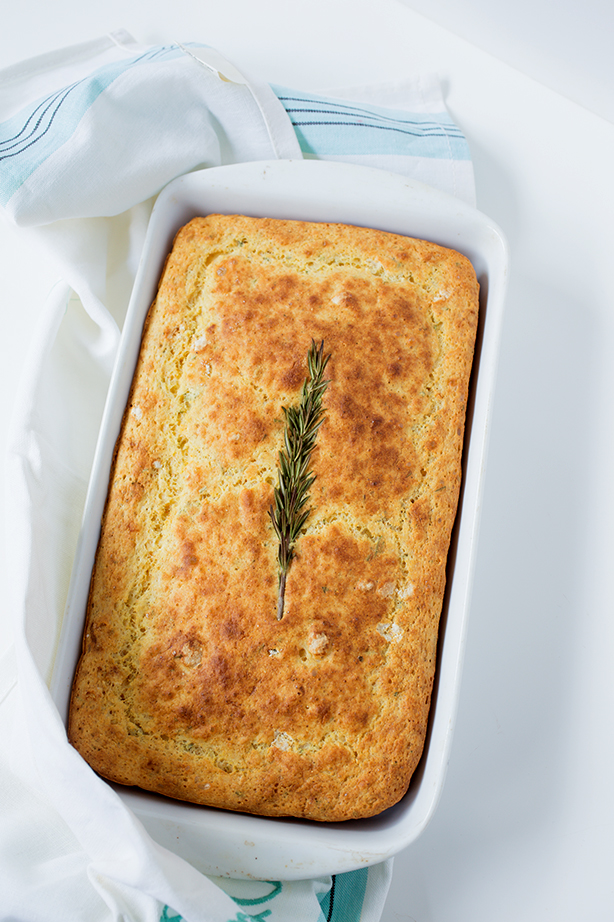 I've been thinking about making some kind of Corn Quick bread for a couple of weeks now. I wanted something to eat for breakfast as I run out the door, but not anything sweet. I was thinking about something earthy and toothsome, and light on the tummy would be good too.
I am a so-so fan of cornbread really. Mostly I find it dry. Not a bad thing when pairing it with a soup or stew, but as a breakfast treat, eh… This recipe is quite the opposite. It's moist and light, and the corn adds a some natural sweetness and chew. The rosemary is a bit of a surprise. To be honest, I started out thinking about cheese and jalapeños, or peppers and feta, something along those lines. The rosemary was a last-minute inspiration, largely due to the fact that a bunch of it was sitting in my fruit bowl for no good reason. The combination is fantastic! A happy chance.
I also did something different with this batch. Like a good Southern wife, I pre-heated the pan in the hot oven before filling it. I think this really made a difference too as the cornbread gets good heat from all sides. No extra work either. I just placed the pan in the oven as it was heating and pulled it out when I needed it. I'm sold.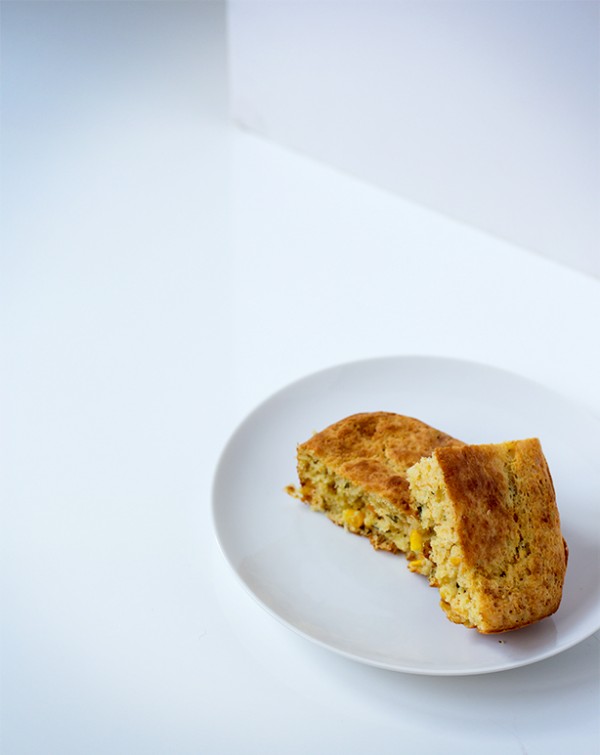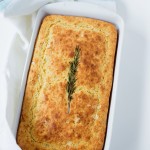 Rosemary and Corn Kernel Quickbread
2014-01-22 16:08:40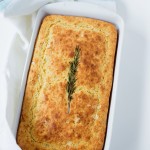 A moist and tender bread that gets some natural sweetness and chew from corn kernels.
Nutrition Facts
Amount Per Serving
* Percent Daily Values are based on a 2,000 calorie diet. Your Daily Values may be higher or lower depending on your calorie needs.
Ingredients
3/4 cup cornmeal
3/4 cup AP flour
4 teaspoons baking powder
1/2 teaspoon baking soda
1/2 teaspoon salt
2 large eggs, beaten
1 1/2 cup lowfat cultured buttermilk
2 tablespoons canola oil
2 cups corn
2 tablespoons minced fresh rosemary
Instructions
Preheat oven to 425˚ and place an 8x8" pan (or 6x9" like the one I used) in the oven to preheat too.
In a large mixing bowl add: cornmeal, flour, baking powder, baking soda and salt. Stir to combine.
Add the eggs, buttermilk, oil, corn and rosemary and stir until just mixed. Do not over mix.
Carefully remove the pan from the oven and coat with cooking spray. Pour in the batter and place into the oven until a toothpick comes out of the center cleanly. About 30 minutes.
Notes
Try not to eat it all at once- and as good as this is as a breakfast treat- it would go equally as well with a bowl of chicken soup too.
A Stack of Dishes http://www.astackofdishes.com/