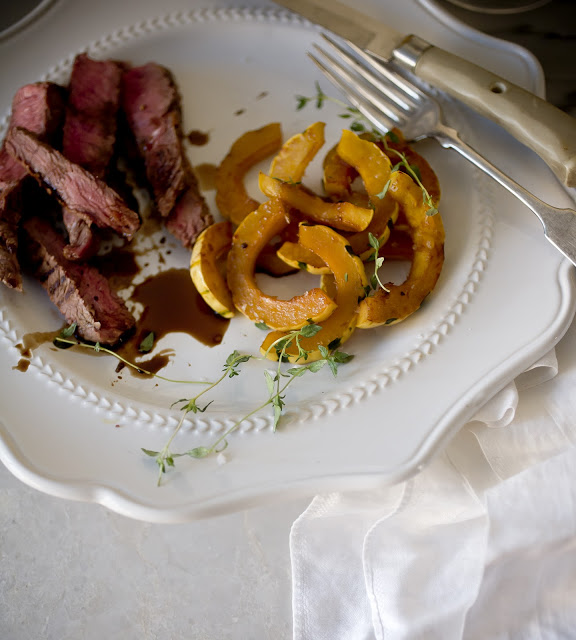 The gorgeous colors of fall. Golden Delicata squash sautéed to perfection.
Delicata is the perfect name for this lovely squash. It's typically smaller than most robust fall squash, around 5-6″ in length, and it has a beautiful yellow color contrasted with dark green stripes. A fashion maven as well as a delight.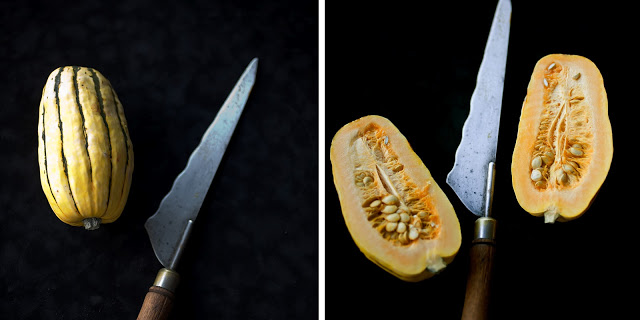 And it gets better- the skin is so fine that there is no need to peel! Taking a knife to a tough skinned fall squash can be a wrestling match sometimes, and that alone can be enough of a deterrent for me to just skip it altogether. The sweet delicata is my new best squash friend. Easy to slice, no need to peel, no need to lug some monster squash home from the market- and is just as bit delicious and healthy.
I tossed mine into a pan and they were done in just a few minutes. No need to pull out a baking sheet and roast, just a simple sautee and they are ready to serve. Delicata is also more delicate in taste too. I like my squash with a little bit of sweetness to it, so I added just a small touch of honey into the pan and finished with a few sprigs of fresh thyme.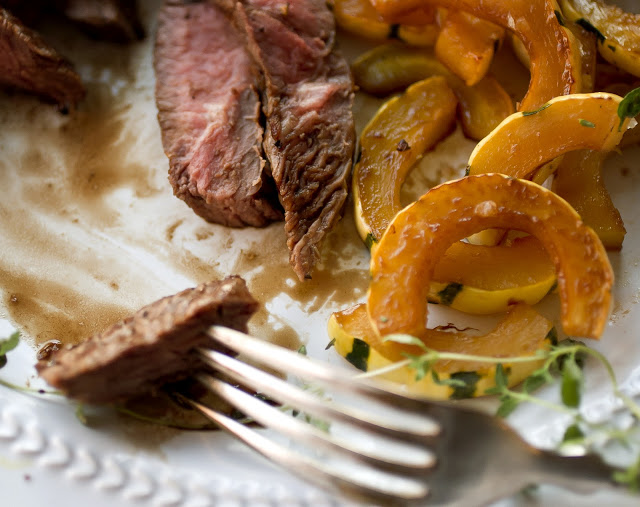 Steak grilled to perfection is splashed with some espresso vinegar.
To accompany my squash I pan grilled off some sirloin steaks. The seasoning I kept to the classic, simply lots of salt and fresh ground black pepper. For the finish I splashed on some yummy espresso balsamic vinegar that I purchased last weekend when I was visiting my Mother in Greenport. There is a new store out there right on Main St. called Vines and Branches. It's a gorgeous store stocked with rows and rows of flavored olive oils and balsamic vinegars. Both regular dark and white balsamic vinegars are infused with some amazing flavors such as cranberry pear, tangerine and juniper berry. Mother, daughter Olivia, and I circled around the shop and taste tested tiny sips of vinegar. Sounds like an odd thing to do to take vinegar straight, but they were all pretty delicious just like that! Needless to say, I walked out with a small armload that I just couldn't resist.
The dark espresso vinegar I used on the steak has a deeply intense coffee flavor. Startling and fantastic! The little bit of the sweetness from the vinegar mellows the bitter edge of the espresso and the acidity adds the right touch of zing for the beef. They do ship, so be sure to check out their site.
It doesn't take much to add a little something extra to a standard dish and elevate it to a place that you wouldn't have imagined. However, if you're not inclined to try the espresso vinegar- try a splash of traditional dark balsamic vinegar- or just leave it out altogether. A good steak is a good steak, and there ain't nothing wrong with that.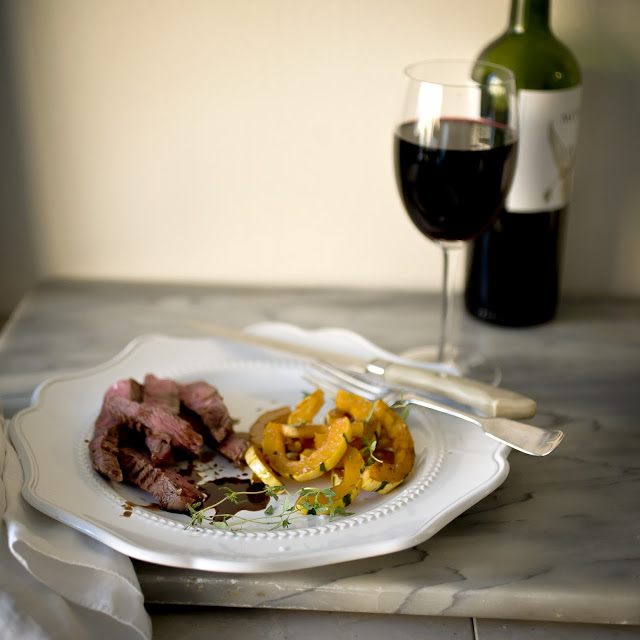 Delicata Squash and Perfection Grilled Steak w/ Espresso Vinegar
It took me only 15 minutes to get this meal to the table. The squash sautés quickly as the meat is grilling. A side of polenta is a nice addition if you're looking for a starch.
serves 4
2 average sized delicata squash
2 cloves garlic
2T honey or brown sugar
2T olive oil
3T water
4-6 sprigs of fresh thyme
Maldon salt to finish
4 4-6oz sirloin steaks, ~1″ thick, set out 30 minutes before cooking
Preheat a grillpan on the stovetop on medium high for 10-15 minutes.
Generously season the meat with salt and fresh ground black pepper.
Place the meat on a greased grill pan. Allow to grill for 5 minutes untouched. Then flip and grill another 5 minutes for medium rare. Add another 2 minutes for medium and 4-5 for well done.
After removing from the grill let the meat rest on the cutting board for a few minutes to allow the juices to settle into the meat.
Meanwhile, while the meat is grilling you can prepare the squash.
Wash the squash and slice in half. Scrape out seeds and slice into .5″ half rounds.
In a large frying pan add olive oil and swirl around to coat pan set on medium heat.
Crush and chop garlic and add to the pan and sauté for 1 minute. Toss in squash and arrange so all pieces have contact with bottom of the pan.
After about 3 minutes add water, thyme and honey and cover pan. Allow the squash to steam until the water has evaporated.
Remove the cover and shake pan to keep the squash from sticking and burning. Flip after 2 minutes. If the pan gets too hot and starts to burn, add a little more water to the pan.
The squash will turn a little translucent when done. Do not overcook to mush.
To serve, slice the meat and arrange on plates. Splash with vinegar. Add the squash to the plate and sprinkle with a nice healthy pinch of maldon salt.
Enjoy!