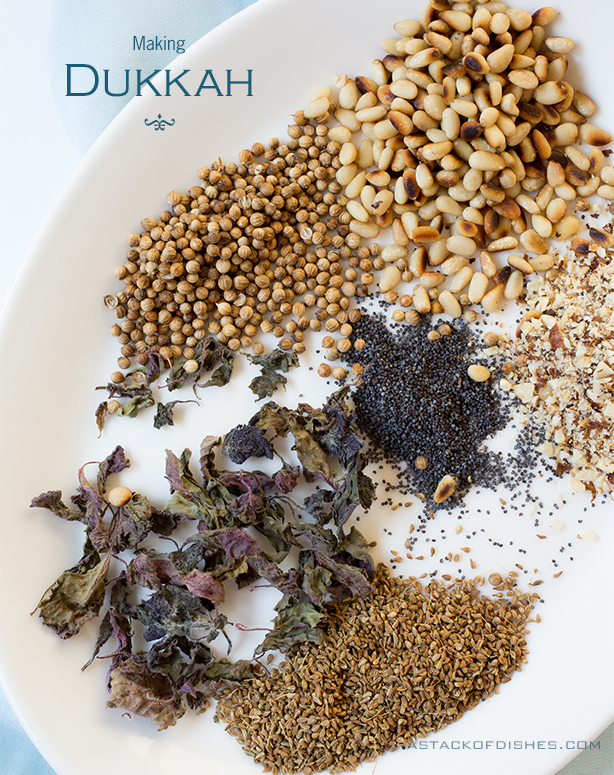 Have you heard of Dukkah? It's relatively new to me, which is surprising since I feel like I sometimes have heard of it all. Dukkah is a spice and nut blend that can be sprinkled on top of just about anything. Also sometimes spelled Duqqa, this melange is of middle Eastern origin, namely Egypt, where you may purchase it on the streets of Cairo in paper cones.
The concept is a mix of nuts such as hazelnuts and blended with toasted seeds such as coriander, anise and herbs such as mint. There is no real master recipe, the versions are as varied as the maker- sort of like ice cream. One idea, many flavor combinations. My combination consisted of hazelnuts, pine nuts, poppy seeds, anise, coriander and purple basil from my garden.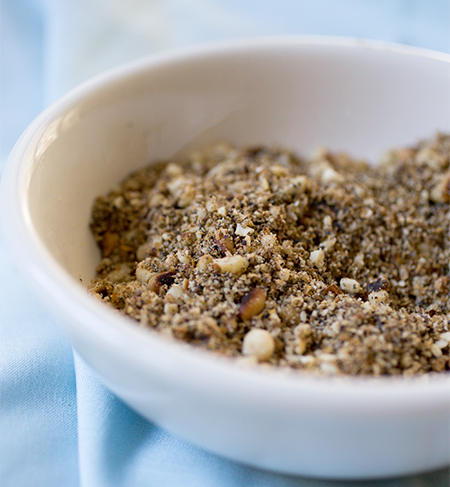 I toasted the nuts and spices separately, then ground them separately. I left the hazelnuts with a little bit of texture, which is my preference, but most often Dukkah is of a unified consistency.
How to Enjoy Dukkah
Traditionally in Egypt dukkah is served alongside olive oil and bread. Either the dukkah and oil or mixed together, or the bread may be dipped in oil, then into the dukkah before eating. It's a nosh. A simple, flavorful, great treat along with your tea or lunch. But I find dukkah to be much more versatile that that. I like mine sprinkled over yogurt, or to lace an otherwise plain green salad. Add it to your chicken salad, or enhance your grilled cheese with a smattering. Spinkle it over your morning eggs, or coat fish before roasting. Recently I used it in this Coconut Sweet Potato Soup recipe. I also tossed some into my latest scone recipe too. It was completely divine!
Worth the Effort?
To be honest, it took me a little time to make this batch. One must be careful when toasting nuts and spices. As you can see from my photo I got a little side tracked when toasting the pine nuts and they turned out a little dark. But there are several great reasons to make your own batch.
The first reason is it's a great way to use some of those spices sitting in your cupboard. They don't last forever, so you might as well create something with them. The second thing is a few tablespoons of this and that makes quite a big batch, which leads me to the third thing. Bottled up, this makes an awesome hostess gift and a great stocking stuffer. Stash a few jars in your freezer for quick hand outs. Trust me, you'll make lasting friends with this one.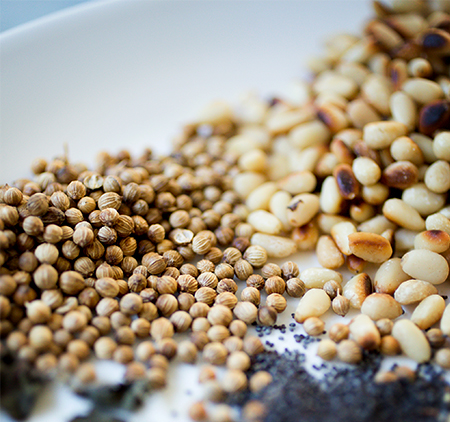 Like I said the recipe may vary. Here is the breakdown of my combination, along with some other suggestions:
3 tablespoons pine nuts, toasted
small handful hazel nuts, toasted
2 tablespoons coriander seeds
2 tablespoons poppy seeds
2 tablespoons anise seeds
small handful of dried purple basil
Using a spice blender, or by hand, or in a mortar and pestle, reduce the ingredients to a grainy powder and toss to thoroughly combine. Taste for balance. Anise, for instance, has a strong flavor and may out shine some of the subtler flavors. Store in an airtight container, preferably in the fridge. Mine presently lives on the counter as I find uses for it almost every day. (you know those avocado toasts everyone is going nuts over lately? Yup, a sprinkle of this goodness will make it shine!
Some other options:
sesame seeds
cumin seeds
mint
tarragon
caraway
nigella
almonds
black pepper