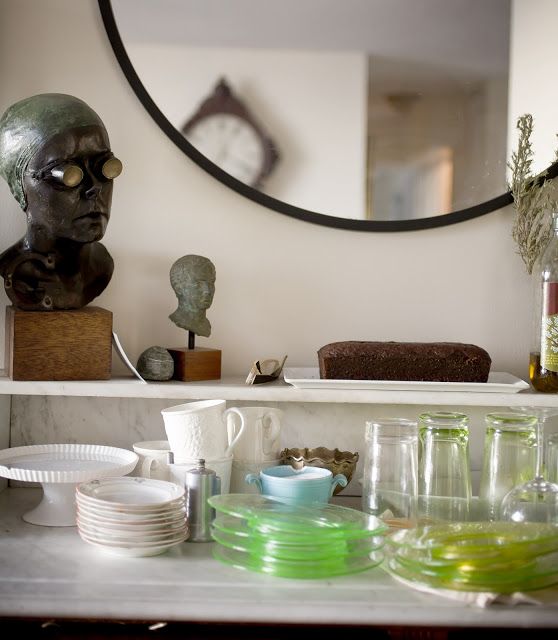 Stacks of Dishes with my morning Gingerbread
The gathering was easy and the company divine. Good food, delicious laughs and familial ease. It was a lovely day, one of the nicest I've had with my family in awhile. We were a small group, so there was plenty of opportunity to share and really get to speak with one another. My children are adults now and starting to point themselves into different directions. It's one of the hardships when pulling together large groups. I love to entertain large raucous crowds, it's so nice to "see" everyone, but I always leave feeling like I didn't get a chance to really visit.
Yesterday was a sweet day for visiting. The sunny afternoon was filled with relaxed talk while my Mother and my son leaned back into couches, Olivia danced with herself in the corner as we put the desserts together, and my Uncle Joe told me stories of my Grandfather- who passed when I was too young to know him- as I put on the coffee. Priceless ease.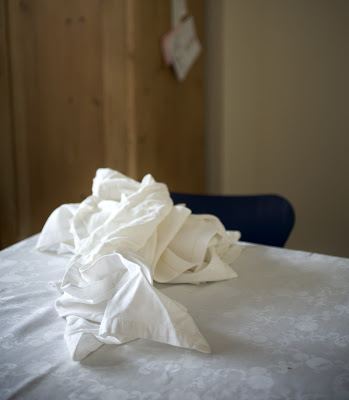 My favorite time, once the evening is over, is the quiet morning after. I'm a bit of a pain in that I really don't like people cleaning up my kitchen. It's not that I'm such a control freak or anything, it's that there is something beautifully zen about the sound of soapy water, and the clattering of dishes and silver while I review the events of the evening. There is ceremony in the storing away of platters and serving pieces- my loved things amongst loved ones, now put to rest until the next gathering. As I look around there are remnants of the evening imprinted in the dents in the pillows, crumbs on the carpet, and scattered smudgy wine glasses. It all tells a story, and every story touches me. Beauty.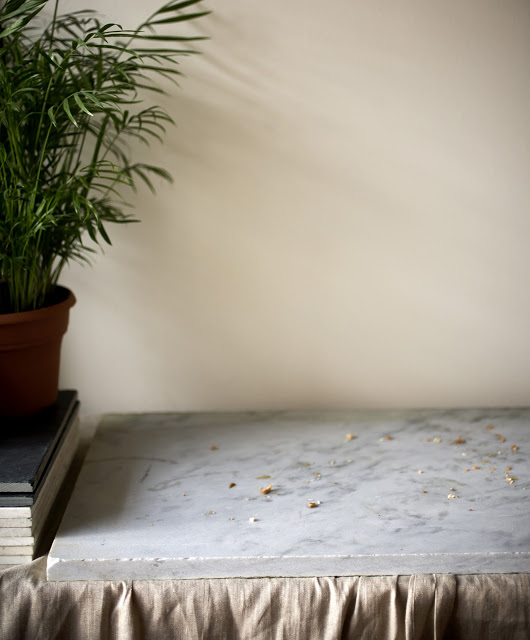 The morning held no rush for me. Everyone had headed off into the evening to their own homes so I was left to myself in the morning light to putter and fuss. This year for Thanksgiving my fiancee is at home in Louisiana with her family. It's hard to juggle families and holidays. I know so many that have to do it, it's not like I can complain really, it's just that she is also my family, and it's hard to be separated. This fact just made my morning that much quieter and that much more introspective.
Late yesterday, after finishing all my dinner preparations, I had a small chunk of time and a half a can of pumpkin left over. Since the oven was already on I pulled together a tasty Gingerbread for my after-feast breakfast. A simple homey tea cake.
This quick bread is SUPER moist with a nice mellow hit of molasses and a tender bite of ginger. The pumpkin doesn't reveal itself, it merely adds moisture and depth. As you can see it slices quite nicely and could even do with a toasting and a pat of butter if that's your preference.
I sliced mine up super thin to enjoy with my milky latte. It was a nice quiet moment in the morning light, before I began my post feast ritual.
Morning After Moist Gingerbread
makes one 4″x11″ loaf~ enough to serve 8-10
.5 can pumpkin puree (not pie filling)
2 large eggs
.5 c vegetable oil
.75c water
.5 c molasses
1c white sugar
1.75c all purpose flour
2 t baking soda
1 t salt
1t ground cinnamon
1t freshly grated nutmeg
2T freshly grated ginger
Preheat oven to 350˚ and grease 4″ x 11″ loaf pan
In medium bowl combine pumpkin, eggs, oil, water, molasses and sugar. Stir smooth.
In large bowl combine flour, baking soda, salt, cinnamon, nutmeg and ginger.
Pour the wet ingredients into the large bowl and stir just until incorporated. This makes a fairly wet batter.
Gently spoon into the loaf pan and spread evenly.
Place pan into the center of the preheated oven and bake. After ~40 minutes test for doneness- Gently pressing on the top of the cake. When it is springy to the touch is it done. Alternatively use a toothpick to poke into center of cake. When the toothpick comes out clean it's done.
Allow to cool for at least 15 minutes before removing from the pan.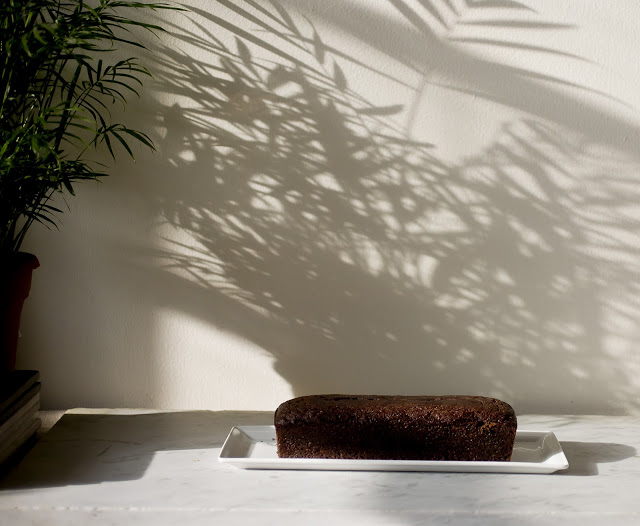 Happy Thanksgiving Everyone!