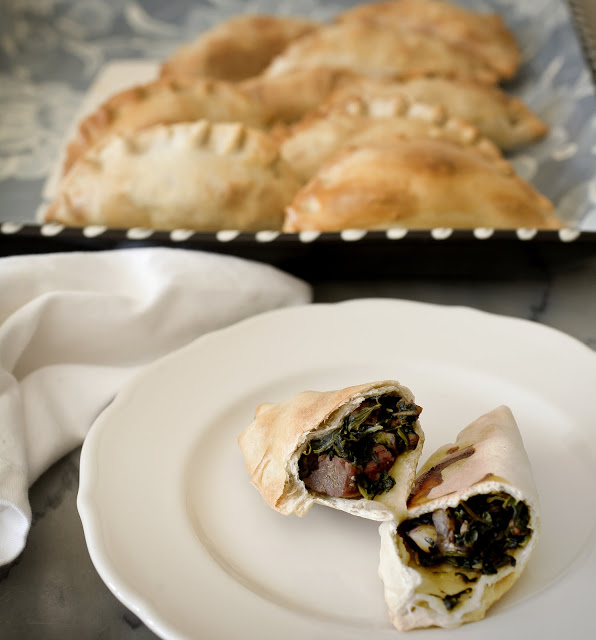 Ready to eat lamb hand pie.
I have weathered Sandy here in NYC without a single scratch- except for the emotional impact that I have for my fellow citizens. There is a very familiar similarity in my state this week compared to post 9/11. The same sadness, weariness and struggle to wrap my brain around so much devastation. I expected plenty of wreckage- but I am just so overwhelmed by the total losses. I've stopped watching the news updates and have turned instead towards putting my energy towards sending good thoughts and positive energy for our wounded city.
As the recovery unfolds I will no doubt find some way to help. I have a bag of clothes to donate sitting by the door, and I can certainly cook. There will be plenty of opportunity and I will be ready for it.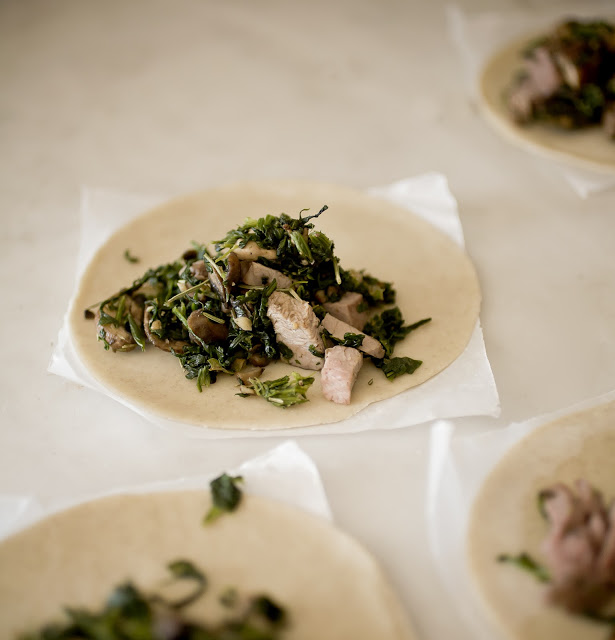 Ready to be folded
The mayor is presently on the TV saying that they need money, not food- or at least not right now. We'll see about that as time goes on. NYer's are a gathering of some of the most resilient folks around- but the future is long and the recovery is great.
So my pretty little lamb hand pies- what jewels to behold in the midst of this. I had made a fairly large roast the other day and ate all I could for a day or two. I live in a Hispanic neighborhood and in the freezer section of the markets are several brands of pre-made empanada dough. The one I found here is low in saturated fat and quite delicious. I usually make my own dough- the recipe for which you can find HERE– but this was a great alternative, and I'm not ashamed to say that for something simple like this, it was well worth it.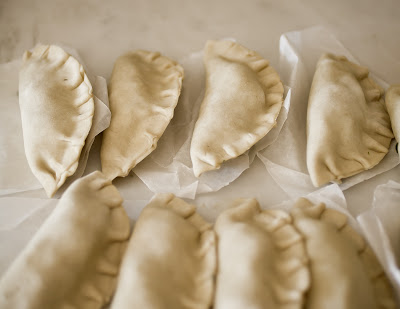 I quickly made up about 20 of them in no time flat. Some I have stashed in the freezer, the others I handed out to neighbors and friends. I had one the other day as a quick snack while studying. I only had to warm it up and I was good to go. Years ago I used to eat Cornish Pasties when I was a photo intern at the Catskill Center for Photography in Woodstock, NY. They are a delight. Comforting and wholesome- real stick to your ribs sort of food.
My heart goes out to any of my readers that have been negatively touched by Sandy.  Know that I am thinking of you.
Spinach and Mushroom Lamb Hand Pie
makes 20
You can make them and freeze them unbaked, or as I did, bake them off first. I like the latter for quick snacking or a rushed meal- both work equally well.
8-10 oz pre-cooked lamb- leftovers are fantastic, cut into small cubes
8 handfuls of fresh spinach, or one frozen package squeezed dry
1# white mushrooms
2 cloves garlic, smashed and minced
.5 yellow onion, diced
2T fresh minced Rosemary
S&P
2 packages of pre-made empanada dough, thawed or homemade
egg wash for sealing and finishing (1 egg + 3T water)
In a large frying pan, sautee the garlic and onion over medium heat until onions become slightly translucent. 
Add the mushrooms and sautee 2-3 minutes until they release their juice.
Add the spinach and sautee until fresh spinach is wilted or the frozen is well heated through
Add the rosemary and S&P to taste.
Allow the mixture to cool as you prepare the dough. Allow the frozen dough to thaw but not fully room temperature- keep cool.
Fill each wrapper on one half side of the circle. I like to be generous with mine. I know it may seem that you won't get them closed shut, but they will, promise.
Fold over the dough and paint edge with egg wash (or plain water if you prefer). Then pinch and crimp the edge together to seal tightly. 
Paint finished hand pies with egg wash and place on a lined baking tray.
Preheat oven to 375˚ and back until golden brown. The insides are pre-cooked, so they are done as soon as they look tempting.
Be patient and allow them to cook a few minutes before eating. The filling can get mighty hot.