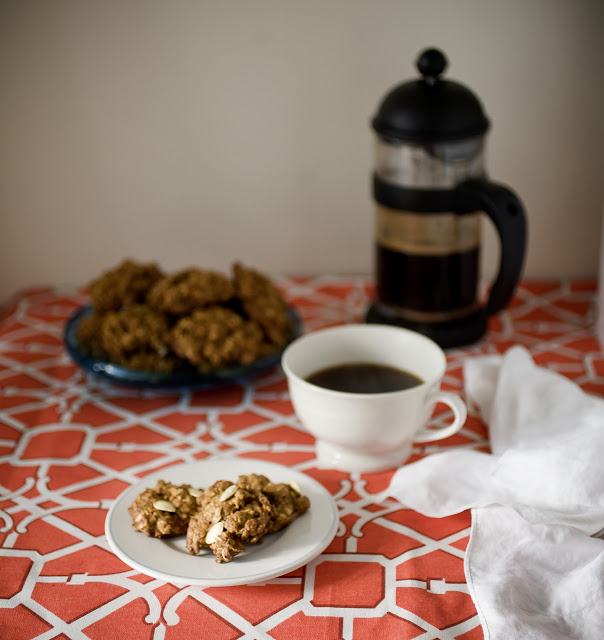 Earlier this year I resolutely put my foot down about not preparing Thanksgiving dinner. I have since had to pick that foot right back up. My initial reaction was to groan- but it did not take long for me to get excited about pulling together a meal for my dear ones.
The challenge really is to host 8 adults in my teeny NYC apartment with my teeny NYC apartment kitchen. It will work. I'll borrow chairs, rearrange my office and use my desk (which is a dining table), and have a "barn raising" of a holiday table. There is space in my living room/dining room/kitchen to set up the table in advance- but then there would be a literal elephant in the room which we can do without for the entire evening.
Nah, we'll hang around my coffee table, the kitchen is open to the entire place (thankfully) and we can commune and visit and cook together. When the bird is ready, I'll enlist everyone's help to pull in the table, set china and linens and start the feast.  I'm sure the Indians kept house in just this way when the Pilgrims arrived. The family huddled around the fire, while the women bustled about- something like that… Anyway, it's what I've got. I'm lucky, my family all likes each other.
I know that the internet is groaning with cranberry sauce recipes, pumpkin pie, turkey etc- Nothing wrong with any of that. It's just that breakfast that morning tends to get lost in the sauce. It's tricky right? You're hungry and all, but you know you've got some serious eats heading your way soon- and you don't want to get in trouble for opening the fridge too many times…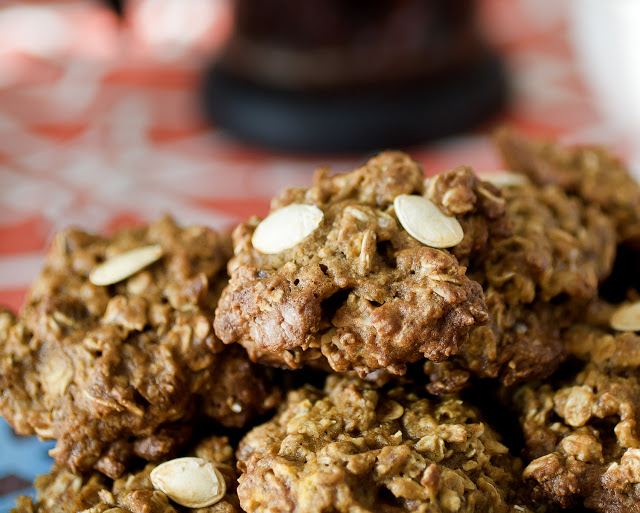 Enter my healthy pumpkin oat cookies. At the ready for all lazy wakers. Just get that coffee going, set out the plate and there you go. All holiday like with it's pumpkin and spice, and hearty and healthy to get the day off to a good start. You can make them in advance too. They freeze nicely so you don't need to be mixing and baking first thing.
Happy Thanksgiving all. Much to be grateful for these days- and still so many that need grace and support.
Keep those home fires burning.
Healthy Pumpkin Oat Breakfast Cookies
You can add into this an array of different things. Switch the nuts for raisins or dried cranberries etc.
Makes 12-14 cookies
.5c canned pumpkin puree (not pie filling)
1 large egg
1t vanilla
3T vegetable oil
2T molasses
.5c white sugar
.75c white flour
1.5c rolled oats
.25t baking powder
1.5t baking soda
.5t salt
1.5t ground cinnamon
.25t ground nutmeg
1c toasted walnuts
Preheat oven to 350˚ and prepare 2 cookie sheets.
In a medium sized bowl combine the pumpkin, egg, vanilla, oil, molasses and sugar. Stir to combine.
In a larger bowl sift together the flour, bp, bs, salt and spices. Add the oats and stir.
Add the wet ingredients to the dry and stir well. It will make a stiff batter. Gently add the nuts.
Drop large spoonfuls of the batter onto the baking sheet and spread into a flat-ish disk. 
I had some leftover pumpkin seeds that I put on top, but you can omit these.
Bake in the center of the oven for approximately 12 minutes. Test by gently pressing on the cookies. They should feel firm to the touch.
Allow to cool before diving in.