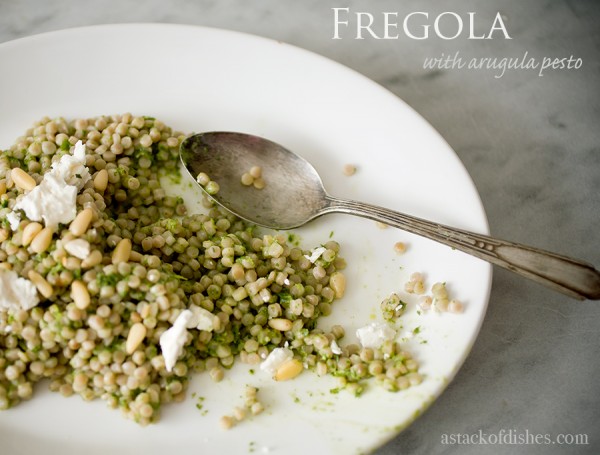 Looking for some inspiration for your lunch box or picnic basket? This fregola with arugula pesto comes together in a jiffy. I think you'll find that the peppery taste of arugula, with a spark of lemon, is a refreshing change from your usual pesto and pasta.
Fregola is a lesser known pasta, it's extremely similar to Israeli cous cous, so feel free to interchange if that's all you can find. The round beads of pasta are delightfully comforting on the tongue. It's very easy to get addicted to these pearls of goodness.
Arugula has always felt more to me like an herb than a lettuce green. I find myself tossing the tender leaves into a bowl of hot pasta the way one would with basil leaves. They delicately wilt into the dish and add a bright bite that I really enjoy. These days arugula is easy to find, especially the baby arugula leaves, unlike basil that tends to come and go. Far less of a hit on the wallet too- and I find it more versatile. It always pains me when I purchase a fragrant bunch of basil only to have it wither in the fridge.