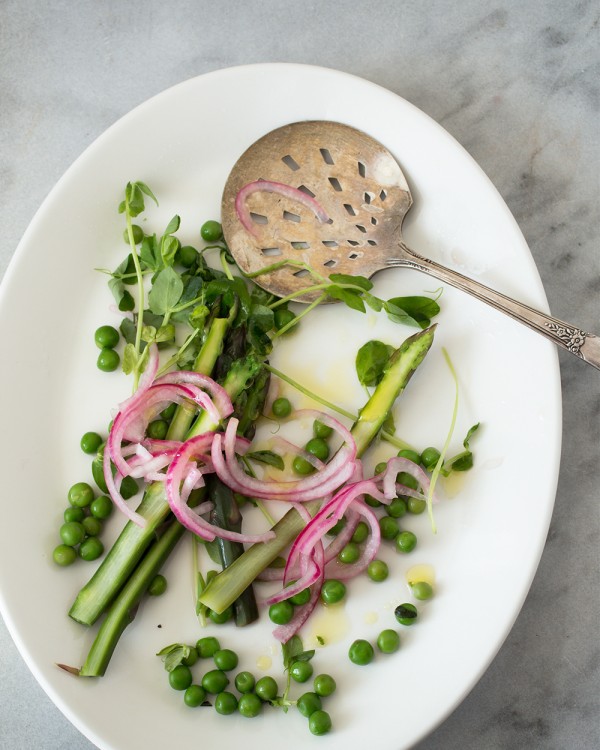 The peas are poppin', the asparagus is snappin' and the pickled onion gives this spring salad a sparkling little kick! This spritely salad is the epitome of spring to me.
This year for our Easter dinner I made a larger version of this salad, and it was such a hit that I had to remake for me, I mean you. I was never much of a pea eater as a kid. My experience of peas was salty, mushy, petite pois, straight out of the can, thanks to Le Sueur.
That elegant silver labeled can would get me wondering about Le Sueur. I always assumed him a grisly Frenchman who, with a huff and a wave of his hand, insisted on packing his precious peas into a precious looking can so that ignorant American children, such as I, could be enlightened. My mother certainly though them schmancy (and still does I believe…).
Come to find out that, Le Sueur bears no beret, expels not a huff, nor even an attitude- Le Sueur is actually a town in good ol' Minnesota- right 'chere in the U S of A. Apparently peas are aplenty and produce with aplomb in MinnesOHta! Who knew?
Somewhere in my youth and childhood I was given the opportunity to eat a fresh pea straight out of the pod- and my friends, that was a moment. Round bellied pods with sweet nuggets inside. Jewels! Fresh peas are just so sweet! Why- I mean WHY?!?! did someone ever think that cooking them into gray mushy beads was the way to go? No wonder it has become the supreme "face making" vegetable for kids.
There are no such horrors in my salad. I put just a slight blanch on mine. Just enough to draw out the full potential of the sweetness, while still keeping the pop and crunch. They also turn a brilliant green, which is a beautiful thing all on its own.
Same with the asparagus- mostly cooked- I wouldn't say al dente necessarily, but steamed or boiled just 2-3 minutes to bring out the flavor, yet still keeping a bite to them.
For the dressing I used some of my Homemade Mint Vinegar which was so perfect I cannot begin to tell you. First I pickled the onions in some, then took the residual juice of the onions and vinegar, and made a dressing out of it. So frightfully simple, fresh and and divine with a hint of mint.
Sorry Le Sueur, I think you got it all wrong- I think this American child has got something better than any fancy can could compete with.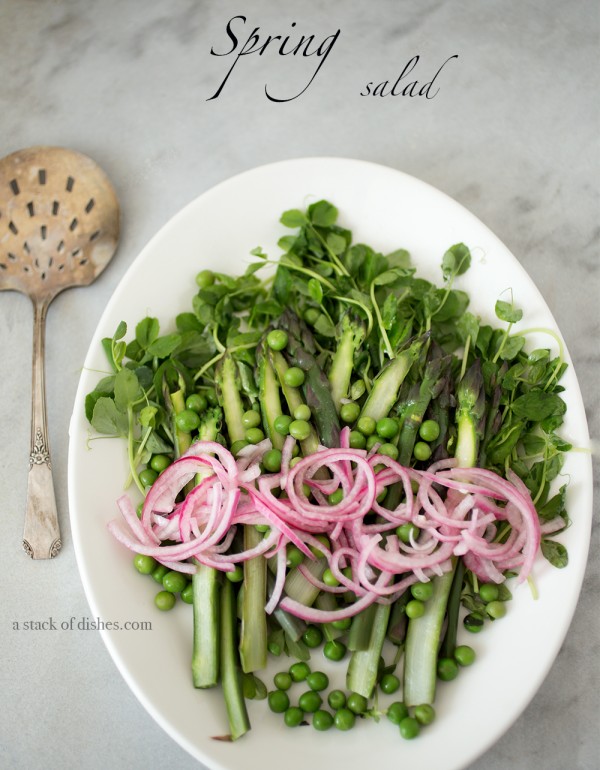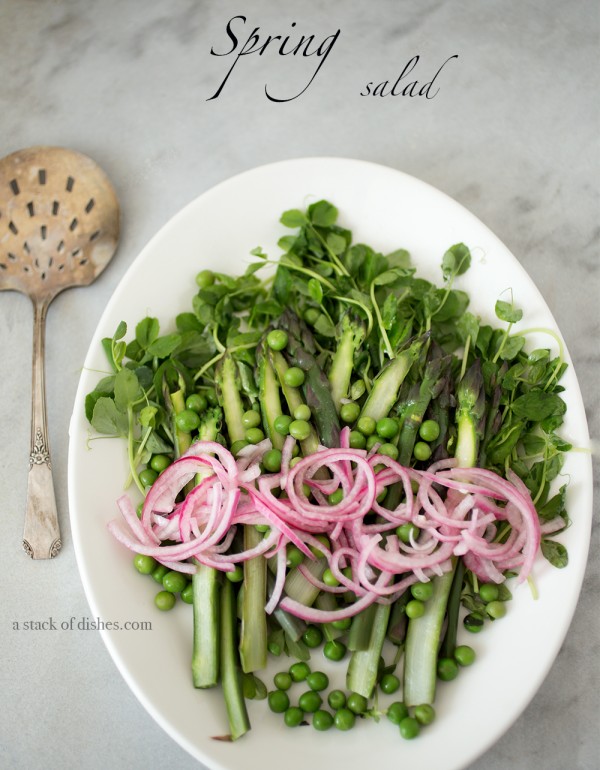 Asaragus and Pea Spring Salad with Pickled Onions
2013-04-05 12:00:37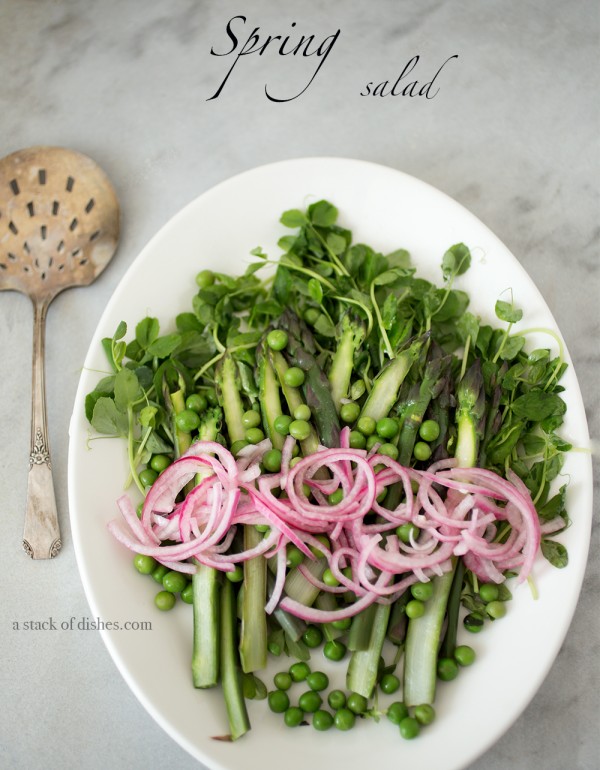 Cold or room temperature this salad is a hit. The onions take some time to do their thing, so start them first and dress the salad last. Serves 6
Nutrition Facts
Amount Per Serving
* Percent Daily Values are based on a 2,000 calorie diet. Your Daily Values may be higher or lower depending on your calorie needs.
Ingredients
1 large red onion
.25 cup Mint Vinegar (recipe under condiments), or red wine vinegar
1 pound Fresh garden peas
1 pound Fresh asparagus, washed and tough ends removed
1 bunch of pea shoots, or some other tender lettuce (watercress, etc)
1 teaspoon dijon mustard
3 Tablespoons olive oil
Salt & Pepper to taste
Pickling the onions
First peel the onions and slice on a mandolin (or very finely by hand). Place slices into a bowl and sprinkle a teaspoon of salt over, and toss while slightly massaging the salt into the onions with your fingers.
Let rest for 10-15 minute, then pour vinegar over and set aside for 30 minutes, giving them a stir from time to time. Over time they will soften and develop a beautiful bright pink color.
The Greens
In a good sized pot, fill with about 2 inches of water and a hefty three fingered pinch of salt- bring to the boil- and ready a colander in the sink.
Wash and trim the asparagus- if thick like mine shown, slice in half the long way.
Wash and set aside the peas.
First toss the asparagus into the boiling water and cook for 2-3 minutes until crisp-tender. They will turn a bright green. Test one for doneness. Remove with tongs from the pot and place into the colander and rinse with cold water to stop the cooking process, then remove and set aside.
Then into the same water, toss the peas and cook for 1 minute- maybe 70 seconds- really, don't over do it. They will also turn a bright beautiful green. Pour the water and peas through the colander and, as with the asparagus, rinse with cold water. Allow to drain.
Composing and dressing
On a large platter arrange the pea shoots, then lay the asparagus on top. Sprinkle with the peas, and the onions.
Remove 2-3T of vinegar/onion juice to a separate bowl, add the mustard and mix. While continuing to mix, add the oil- then season with salt and pepper.
Pour the dressing over the entire salad and serve.
Notes
Do not be tempted to dress this salad in advance. The acid in the dressing will cause the asparagus and peas to lose their brilliant color. You may compose the salad in advance, and dress it right before serving.
A Stack of Dishes http://www.astackofdishes.com/