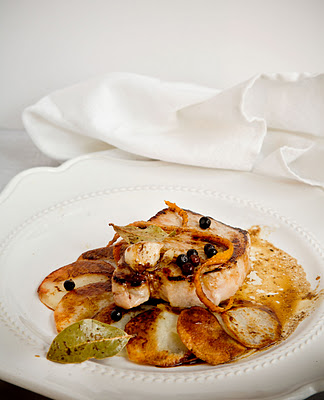 Donna Hay stole my idea! I shot this meal a little over a week ago, so you can imagine my surprise when I opened the latest issue of Delicious and saw a dish that was so similar to mine I almost fell over!! The recipe is different, and she does not showcase pommes anna, but the char on the pork and the curls of the orange zest- almost identical!
Honestly it made me chuckle and put a certain little pep in my step. I love Donna Hay's taste and style, so our dual pork chops gave me a sense of kinship. I have to say, I like the company I keep.
This recipe is packed with flavor and texture but not not packed with heaviness. It's surprisingly light and a great Fall meal for those days that you don't want to add any Winter hibernation padding.
The potatoes are a little fiddly, but a lot of drama for a little effort. I made each batch in small fry pans, you can get two going at a time if you're serving more than a couple at a time. Just slip the finished potatoes onto your dinner plates and then before serving slide into the oven to heat them back up and as an added bonus warm your plates too.
The port I used was worth the flavor- and I was happy to tap into the bottle I had stored in my liquor cabinet- but you can opt to switch this out for a pinot noir if you must. It will be a different experience but easier to pull off.
Pork Chops in a Port, Juniper Berry, Orange Sauce
serves 4
4 boneless pork chops, 1″ thick
1c port
2 cloves crushed garlic
2T juniper berries
4 bay leaves
3T brown sugar
zest from half orange
s & p
In small bowl combine all the ingredients except the pork. Muddle the garlic and zest a bit to release their oils into the port. Allow the mixture to sit for 5 minutes until the sugar completely dissolves.
Place the mixture into a shallow pan and arrange pork to allow to marinate. This should be for at least 15 minutes each side, but can be longer.
Turn oven on to 375˚ and prepare a baking sheet by lining it with parchment.
In frying pan with a glug of cooking grade olive oil, saute the pork about 2 minutes on each side over a medium high heat. Then slip the chops onto the baking sheet and slide into the oven. Allow to roast for about 8 minutes.
Meanwhile add the marinate into the pan with the pork drippings and gently cook to develop a light sauce. 
Individual Pommes Anna
4 starchy potatoes peeled and sliced super thin on a mandoline
2 cloves garlic sliced paper thin
1t butter per potato cake
1t olive oil per potato cake
s & p
In a small frying pan heat the olive oil and butter together until sizzling. Arrange the potato slices in a circular pattern. There should be at least 2 layers. There is no great science here, so feel free to overlap as little or as much as desired. Try to keep the ring about 4-5″ in diameter
Interleave some garlic into the potato slices and sprinkle generously with s & p.
Cook the potatoes without disturbing them for approximately 4 minutes. If you've made a cake that his thicker than half an inch place a lid over the pan to facilitate even cooking.
After the 4 minutes carefully slip a large spatula under the pan and slide/pull the cake off the pan and then flip over. The starch in the potatoes will make the cake stick together but it's still a little fragile. If it breaks, just tuck it back up. No one will know.
Cook the potatoes on the other side for a few minutes until cooked through. You can test this by piercing with a fork. The potatoes should give way with ease and not resist.
Slide the cake onto a serving plate and place pork chop on top. Spoon a little sauce over each and accent with the zest.