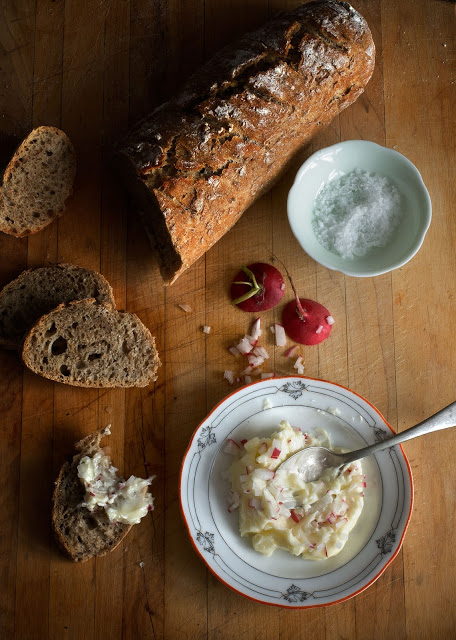 It's the late afternoon. Before the wine time, before we bathe and dress and head out to meet friends for dinner. It's the afternoon respite, when the day's whirl and swirl of energy has slowed to a breathless ease. It's the afternoon sit down.
Earlier in the day flour dust rose and settled as I prepared the rye bread dough and shaped it into two logs. The smell of caraway seeds filled the kitchen, and the homey smell of bread straight out of the oven is the now the familiar. It's so easy to make, so easy to create a masterpiece out of such simple ingredients- it no longer makes sense to do anything else.*
We don't eat much butter these days. The demon "saturated fat" lurks within and I shun it at every possible turn, but from time to time, there something so simply wonderful as butter on bread. It is a taste so crazy good and so elemental, that it makes me laugh. Because I eat butter so rarely, I can experience a wide open happiness. That's a really good feeling.
As a kid I remember reading books such as Heidi, where thick slices of wheaty homemade bread were slathered with butter. This was the staple, the basis of existence, the staff of life-the safe place of home.
I go back to that romantic place here.
The combination of radishes with butter and salt is another classic. If you've not tried it, please do. The sharp spice of the radish is tamed by the butter, and at the same time brightened by the salt. Typically radishes are sliced into paper thin wisps, then planked on top. For my table I've diced and mashed them right into the sweet butter. So simple. So good. A sprinkling of Maldon salt on top and you are complete.
A delightful afternoon snack.
Of simple.
And quiet goodness.
*The recipe for basic no knead bread is found HERE. To make rye, I replaced 1 cup of the white flour with dark rye, and added 2T of caraway seeds. When it came time to shape the bread I divided the dough in two and created two long thin loaves- as long as my oval pot would hold, and then baked them separately.