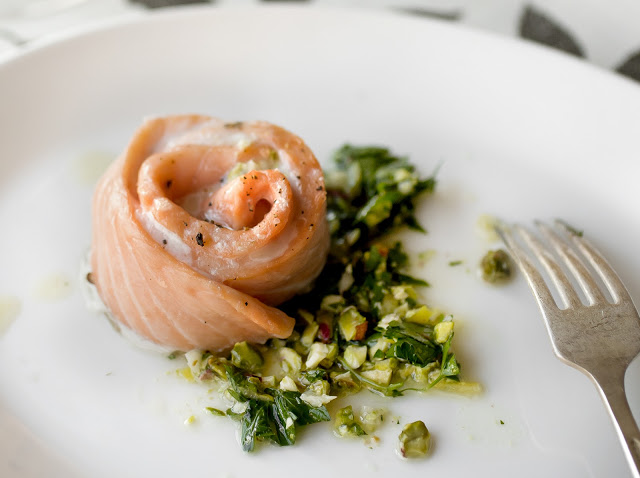 Because it's the simple little touches that can make all the difference. Tucking salmon into pretty little rosettes looks fiddly, but is really quite simple, and for so little effort, how lovely.
Cold Salmon is sliced into long thin strips and the rolled and tucked into little bundles. You could pin with a toothpick if you desire, but I find that they hold together just fine on their own.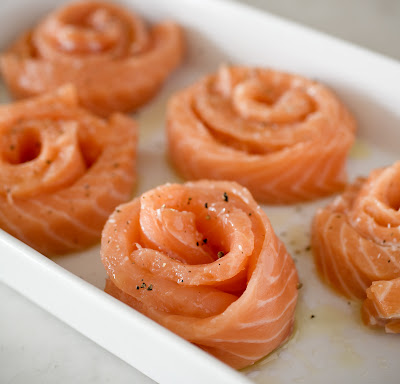 I oiled them with a light olive oil and gave each rosette a healthy grind of pepper and splash of salt-Simplicity at it's grandest.
The sauce is a sort of herby "cruda", fresh chopped herbs tossed with lemon zest and pistachios. The result is a bright light sauce with a little crunch. Serve this sauce on top of just about any fish (including lobster or shrimp) or even a grilled lamb chop or chicken. It also takes to the addition of a chili or two, if you like that bit of bite.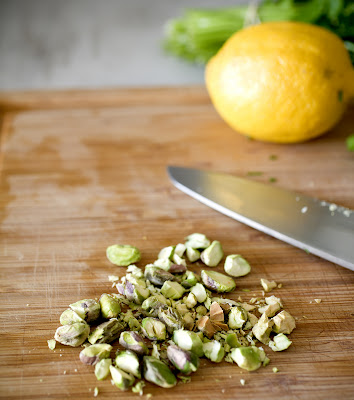 The rosettes are also delightful served at room temp, making this a lovely presentation for a buffet or brunch party- a tray of pretty pink blossoms.
Salmon Rosettes with Pistachio Cruda
serves 6-8 depending on size of rosettes
(sauce adapted from Gourmet March 2005)
2# fresh Salmon filet, from mid section
1 bunch flat leaf parsley, leaves and stems, chopped
4T chopped fresh mint
1 small clove garlic
.5 c shelled unsalted pistachios
1 lemon, zested and juiced
.5 c fruity olive oil
S & P
If your fish monger hasn't done it for you, remove the skin from the salmon.
With a thin bladed knife, cut .25″ (or thinner) strips of salmon. The colder the salmon the easier this will be. Consider popping the fish into the freezer for a few minutes if it helps.
Starting at one end of a salmon strip, fold it over to make the center "bud". If you can't do this- let it go, it's just a nice added touch.  Then wrap the strips of salmon around the center, overlapping the way rose petal do. I used 2 per rosette, but you can improvise here to make your flowers look good.
Place on oiled baking pan and sprinkle with a light olive oil, a healthy grind of black pepper and a sprinkling of salt. Roast in a 350˚ oven for ~ 12 mins
Rough chop the parsley and mint and place into a medium sized bowl.
Rough chop the pistachios and toss in on top of herbs.
Smash and finely mince garlic and add into bowl, along with lemon zest and juice. Stir in olive oil and season with salt and pepper.
It's best to make the salsa a little in advance to allow the zest and garlic to infuse into the oil. I've made this as far ahead as a day and it was divine.