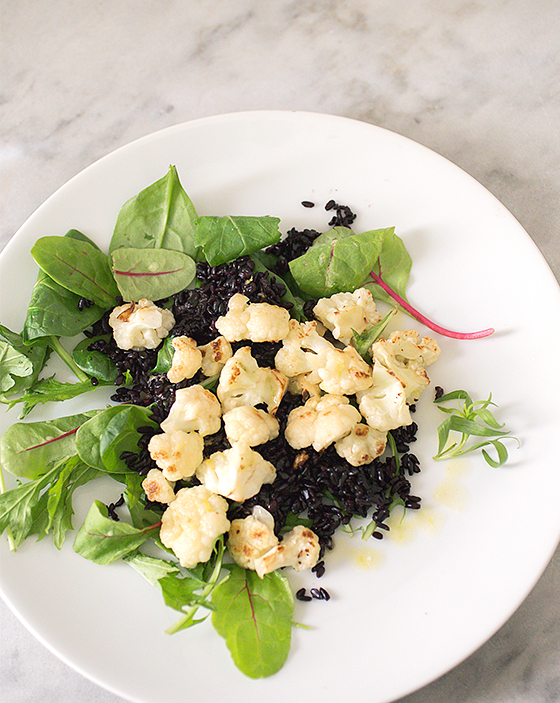 Because you're going to gorge on Turkey, stuffing and pie…. oh yes… the pie… Make a batch of rice, dress it, and keep it in the fridge. Then steam or sauté some veggies, add some greens, and keep on shopping/cooking/eating…. you get the picture.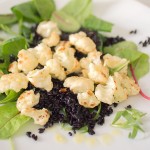 Forbidden Rice Salad with Cauliflower
2013-11-19 09:33:25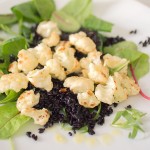 Forbidden or black rice can be found in the Asian aisle at your market. It's rich in antioxidants and has a lovely chewy texture. In a pinch you can switch it out with Jasmine or Brown rice.
Nutrition Facts
Amount Per Serving
* Percent Daily Values are based on a 2,000 calorie diet. Your Daily Values may be higher or lower depending on your calorie needs.
Ingredients
2 cups black rice
3.75 cups water
pinch of salt
1 head of cauliflower, broken into bite size florets
1 tbsp lemon zest
3 Tbsp lemon juice
1 tbsp mayonnaise
1 tsp dijon mustard
6 Tablespoons olive oil
2 Tablespoons fresh minced tarragon
10 cups mixed baby salad greens
Instructions
Place the rice, water and salt in a rice cooker and set to cook. Alternatively cook in a pot, bringing the water to a boil, then reducing to a simmer. Cover pot and cook until water is absorbed and the rice is tender. About 20 minutes.
In a large skillet over medium heat, warm 1 tablespoon olive oil. Add the cauliflower and cook without stirring until charred on bottom side, about 3 minutes, then turn and repeat. Add 2 Tablespoons of water, cover the skillet and cook for another 2-3 minutes until cauliflower is tender. Season with salt and pepper.
In a medium bowl combine: zest, lemon juice, mayonnaise, mustard and 5 tablespoons olive oil. Whisk until emulsified, then season with salt and pepper to waste.
When the rice is done and still warm, toss with half of the dressing, then add the tarragon.
Let rice cool for 10 minutes, then add the cauliflower and the remaining dressing.
Serve over greens
A Stack of Dishes http://www.astackofdishes.com/