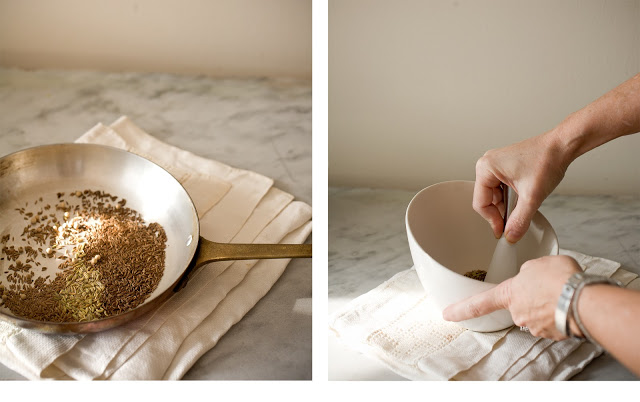 Between the holiday gatherings and indulgences it is becoming increasingly more important to eat well whenever possible. I hate the thought of a "diet" as to me that triggers images of falling into the droning pit of Hell that is salad and cans of tuna.
The better antidote is to eat well AND eat healthily. Healthy for my heart, healthy for my hips, and healthy for my soul. We eat at least three times a day, and will do so for the rest of our lives. These are multiple opportunities a day to take the power to create your own best self. It's also multiple opportunities a day to celebrate and enjoy. ENJOY!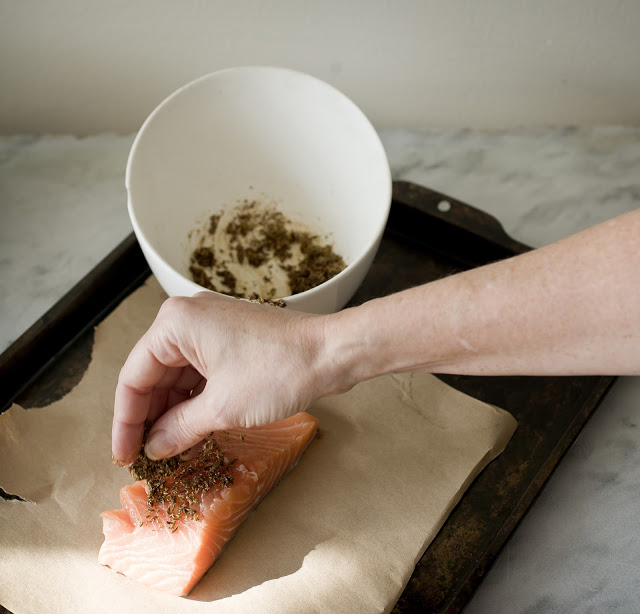 This salmon dish is perfection. Easy to prepare and super kind to the heart and hips. I'm sure by now you don't need me to tell you how good salmon is for you. Rich in omega 3's- so good for keeping those blood vessels flexible and healthy. We don't get nearly enough in most cases, and though taking a supplement can seem like a good idea, the power of food is far healthier- not to mention more delicious.
Roasting is a miracle to fish cooking. First off it's virtually fool proof (I'll teach you how), it minimizes the fish smell in the house that you get from stove top preparations, it requires less attention at the stove, and it's super healthy. If you have any fears of preparing fish this can save you.
Not only that but roasted salmon is so moist, almost creamy in texture, that I promise you'll fall in love. If you like your fish with a crusty skin, a quick sear in the pan on top of the stove does the trick. Then  simply toss your oven proof pan directly into the oven.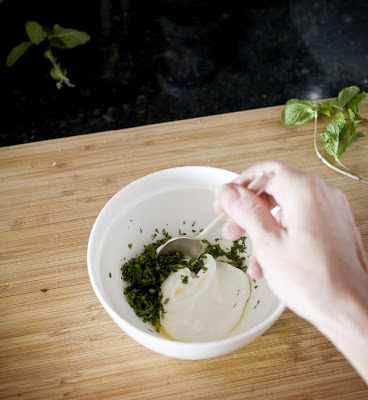 The spice marinade is where the fun is in making this dish. Quick toast some spices in a dry pan. This only takes a minute or two. When the kitchen fills with warm spicy goodness remove the pan immediately and set aside a minute to let the grains cool. Then simply mash them into a powder (or use a spice grinder), add a touch of oil and apply paste to the top of the fish. You can just let this sit for a bit while you set the rice to cooking for instance, or even marinate the fish do the night before and keep in the fridge until ready to roast.
The simple sauce is made with Greek yogurt with chopped fresh mint and cilantro. The combination added a bright fresh note that played against the depth of the rich fish and the spices.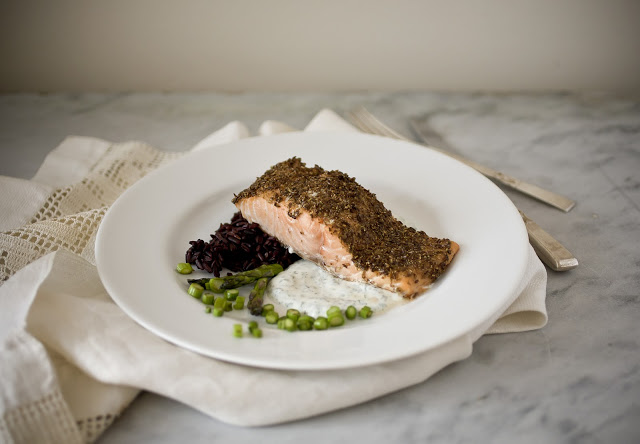 What is also fantastic about this meal is it's a wonderful thing to prepare for a group. The fish can be lined up on baking sheets and kept in the fridge. The rice can be made ahead of time and rewarmed, leaving just quick sautee of asparagus for last minute.
Spice Marinated  Roasted Salmon
serves 4

4 5oz pieces of fresh salmon
1T cumin seeds
1T caraway seeds
2t fennel seeds
1T white peppercorns
2T olive oil
S&P

3T finely minced fresh mint
3T finely minced fresh cilantro, including stems
1t olive oil
1c Greek yogurt
milk for thinning- if desired
S&P

In a dry frying pan place the spices over medium heat. Toast carefully until they begin to release their aromatics. Taking care not to burn. This will take just a minute or two.

Remove from the flame and set aside to cool for a few minutes. Place the spices into a mortar and pestle, or spice grinder, and reduce to a rough powder.

Stir in olive oil and salt and pepper, creating a paste.

Rinse and pat dry fish, then place skin side down onto a lined baking sheet. I use paper shopping bags to line my sheets, cut to size.

With fingers, spread the marinade paste over the entire top of the fish. Cover with a layer of plastic wrap and allow the flavors of the marinade to permeate the fish for a few minutes.

Preheat oven to 400˚

In a small bowl combine the herbs, yogurt, salt and pepper and stir to combine.

When the oven is ready set the fish into the center of the oven. The rule of thumb is ~10 minutes per inch of fish. After about 8 minutes I employ the poke method. I simply press down on the top of the fish. If it feels jiggly or resistant in the middle I give it more time. A minute or two later I'll check again. The feel is one of give, not resistance.

When it comes to salmon you can err on the side of undercooking, and some people even prefer it. After you remove the fish from the oven it will continue to cook for another minute or so, so be brave and go for the sooner than the later.