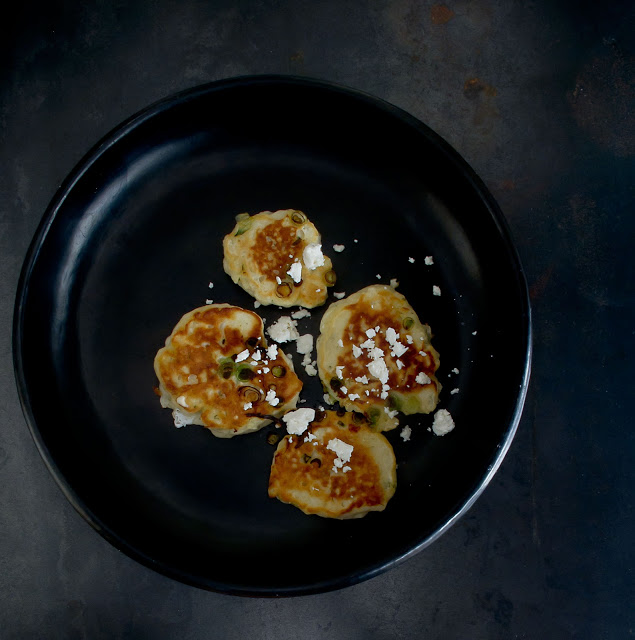 Buttermilky tang mixed with the freshness of the dill. The char on the scallions give a sharp onion bite. Salty feta is the creamy thanks to the crunch of the crust.
Enjoy with your early evening cocktail, or crisp Sauvignon Blanc.
Happy Weekend.
Savory Scallion Dill Pancake
This is a good "back pocket" recipe for an impromptu gathering, when you need a nibble so soak up good wine with good company. Poach and egg and make it a savory breakfast treat.
Makes 16- 2.5″ pancakes
2 cups of all purpose flour
1T baking powder
1/2 t salt
2T fresh dill, minced
2 eggs
2 cups buttermilk
4 scallion, cut into fine rounds
1T olive oil
1-2 oz of fresh feta
In a mixing bowl, combine the flour, baking powder, salt and dill. Mix thoroughly.
In a separate cup, combine the buttermilk and eggs and beat smooth.
Add the buttermilk into the dry and gently combine, taking care not to over mix. A few lumps or streaks of of flour is preferable to over mixing.
In a frying pan warm the oil over medium heat. Add the scallions and fry for 2 minutes until they start to sizzle.
Add dollops of batter over the scallions and cook until the edges start to firm and brown. Turn and fry on the other side.
Transfer to a warm platter and sprinkle with crumbled feta and serve.