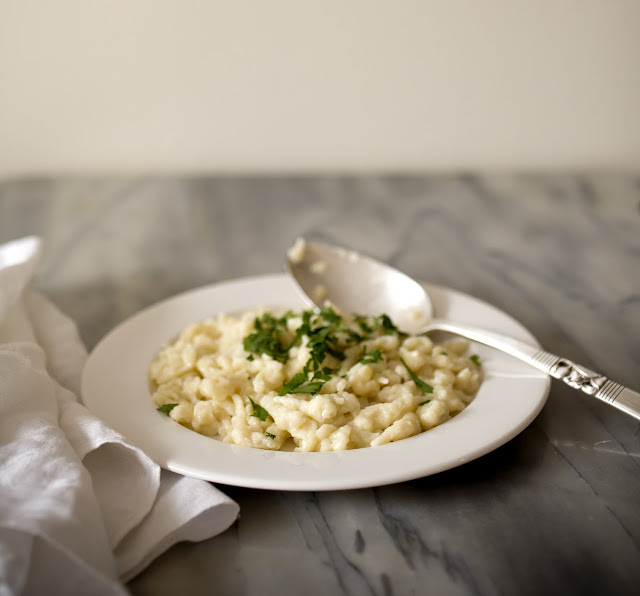 Fresh herb spaetzle
Most have heard of them, delicate knobby egg dumplings that often accompany a chop or roast. Pronounced "Shpetsluh", they are of Swabian origin-meaning the region of Southern Germany, Switzerland, Northern Italy etc. and as common there as pasta or noodles anywhere else. The beauty of these little beauties, is that they come together in a snap- by the time the water is boiling the batter is made. The cooking time is short and sweet, making them a much better go to than dried pasta for a mid week dinner.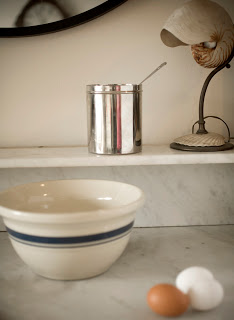 As is often the case with something so simple and ubiquitous, no two households make them the same. I was taught by my dear friend Uta in Munich, but even still, mine are much different than hers. I like mine fluffier and plump lumpier- she, longer noodle-y strands. There is no right or wrong to that, just personal taste- or maybe it's a regional thing- not sure about that.
When it comes to the recipe, I make my batter by feel, much the way I make my crepe batter. For you, dear reader, fear not- I worked it out in the "lab" and have put together my fool proof version. Try it this way first and then feel free to adjust the next go round.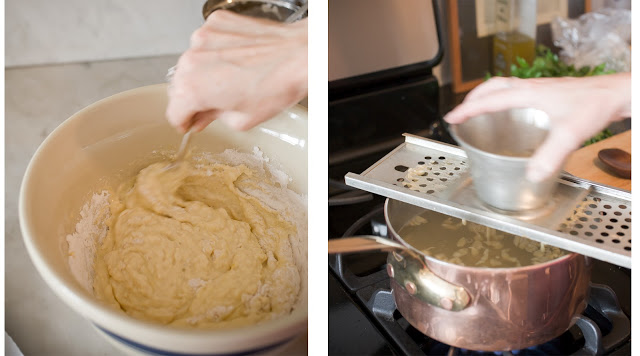 There are also several different methods of making the shape of the dumplings. The traditional method is to slop the batter onto a board and then over boiling water scrape off bits and let them fall into the boiling water. Tedium infinitum. There are extruders and some use the holes of a colander (never tried it). I have a
scraper version
 Spaetzle maker that I bought in Munich years and years ago, and I am very happy with it. There is a little lip in the bottom that hinges on the pot. A bit of batter is placed into the bowl portion and the whole thing slides back and forth. Gravity pulls the dumplings down, and the scraper cuts them into little lengths.
After a few minutes of boiling they are ready to go. Like fresh pasta when it rises to the top of the pot they are ready. I like to give mine another minute to cook out the floury taste and plump them up a bit. Then I simply toss them with some olive oil, salt and fresh chopped flat leafed parsley. This version has graced many an Easter table in my house and just so delicious.
Often you see the dumplings refried and tossed with a little cheese. I'm less a fan of this presentation as the refrying makes them tough compared to the fresh, but still yummy. Fresh spaetzle have a tender chewy mouth feel that is pure heaven and not to be missed.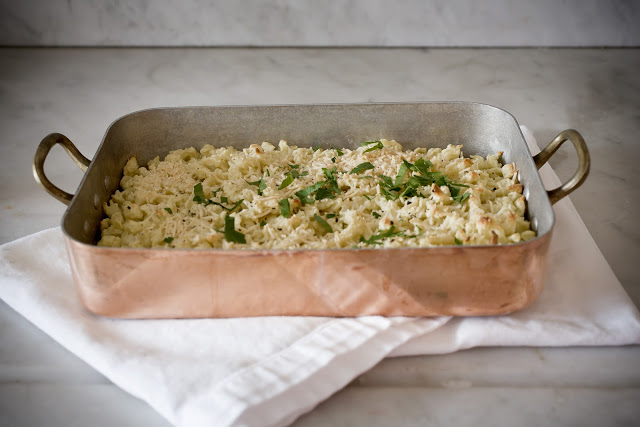 Spaetzle is also served tossed with tangy cheese, like an emmentaler, and baked. A nifty version of mac and cheese if you will. Add in some caramelized onions for the full on experience.  I would do this with any leftovers, completely divine, and my second favorite way to eat them.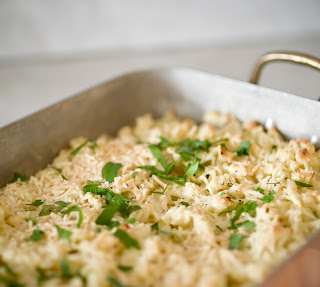 I hope you give these a try. They really are so easy to make and so good. Once you get the hang of them they can land on your dinner table in no time.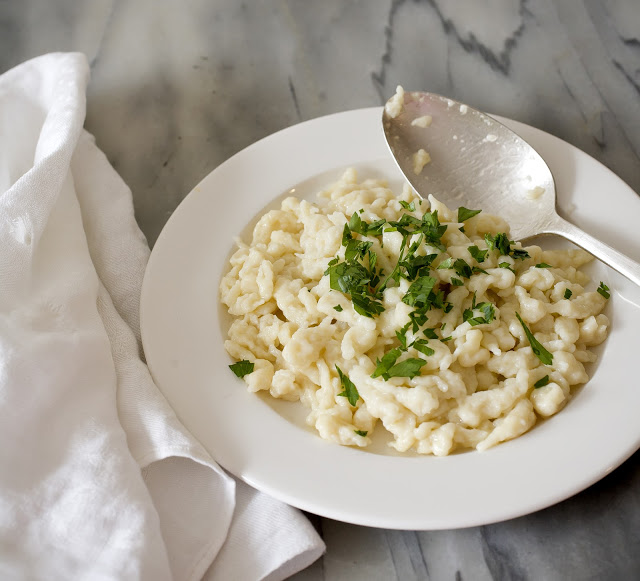 Fresh Spaetzle
serves 6
2c AP flour
3 large eggs
1t salt
1c milk
2T olive oil
3T fresh chopped flat leaf parsley
Dump it all into a bowl and mix away. The batter should be much thicker than a pancake batter but still loose.
Stir until you start to see the gluten threads form when you pull the spoon through. Over mixed batter makes a tougher dumpling, but you do need some heft.
Boil a large pot of salted water. If the pot is large enough you can cook the entire batch at once, or skim off smaller batches.
Once the dumplings are in the water (don't worry, they won't stick together), I give the pot a quick stir so they cook evenly. Let them cook until they rise to the surface and then give them a minute more. This makes them less floury in my opinion and a little plumper.
Drain into a colander and toss right away with butter or oil and the parsley. Season with a bit of salt and pepper to taste.