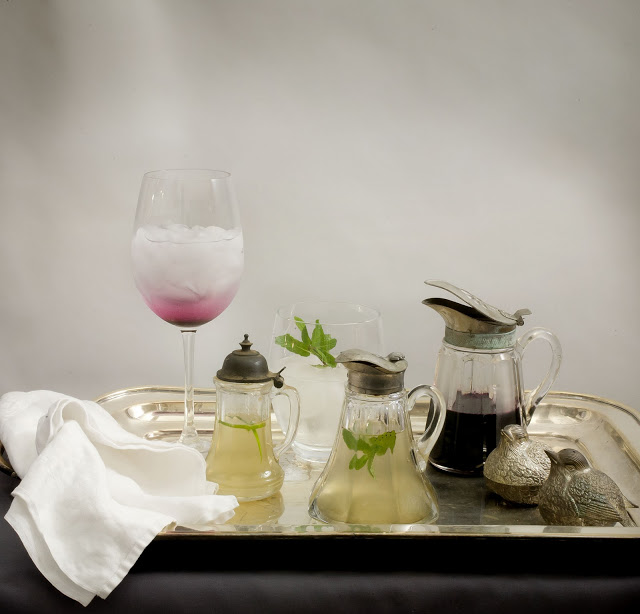 Homemade syrups for soda and cocktail making

As a birthday treat to myself this year I purchased a

soda making device

 that has been a lovely addition to my life. Years ago I used to get old fashioned glass seltzer bottles delivered to my door once every two weeks. It was a bit decadent but I just loved that wooden box by the front door that held blue and clear glass bottles. The guy that ran the business was a bit of a character too, and it was always fun to hear about his past weeks antics. Those days, and the Seltzer Man are now past and gone- so now enter my newest toy.

I will admit that I am not a plain seltzer water gal. I like a little zip or somethin' somethin' with my bubbles, and a slice of lime is just not quite enough for me.

I love the notion of homemade ginger ale or root beer. Kinda makes me want to sit at a counter on a stool and drink from a straw while swinging my legs. The beauty of homemade syrups is that they are great for kids or the non drinkers in your life- I would have LOVED something interesting to sip when I was pregnant for instance.

The other beauty is that added to some booze flavored syrups also work for the imbibing crowd. A little splash of syrup over some chilled vodka can mean a Schmancy Martini in a flash. When entertaining I've made a row of several different types to syrups with suggestions and let my guests play around. A great conversation starter and more interesting than the usual.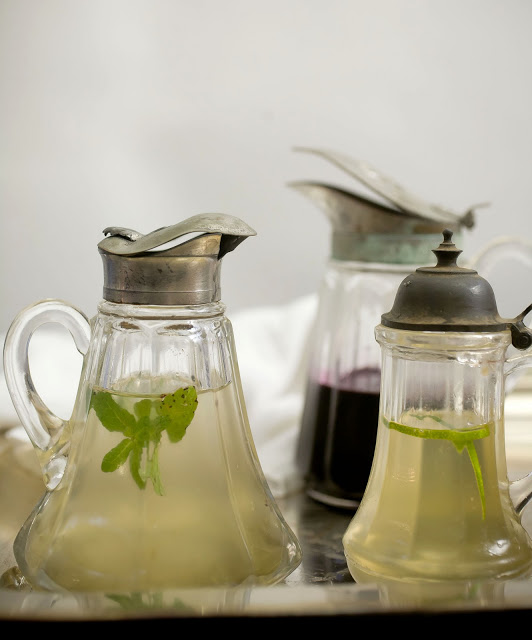 The soda maker company sells syrups, but why not make your own? Fresh made syrups don't last as long as the store bought ones, so unless you're giving them away, make them in small batches and store in the fridge.
Blueberry Thyme Syrup
makes ~ 3 c
4c Blueberries, may use frozen berries
juice of 1 lemon
1 bunch of thyme
2.5c sugar
Wash and crush berries in a medium saucepan. Add lemon and thyme and simmer for 10 minutes
Strain juice from the solids through a seive pressing down on the berries to remove as much juice as possible.
Return the juice to the pot and add sugar.
Simmer for another 10 minutes.
I strain a second time through a paper filter to remove any seeds etc., cool before bottling.
Keep bottled syrup in the fridge
Ginger Ale Syrup
makes ~ 3c
.5c peeled and chopped fresh ginger
3 c sugar
3c water
Combine all in a heavy bottomed saucepan and simmer for 20 minutes.
Strain the ginger and cool before bottling.
Keep bottled syrup in the fridge
Fresh Mint Syrup
makes ~3 c
3c water
1 bunch fresh mint leaves rough chopped
3c sugar
Combine water and leaves in a saucepan.
Bring water to a boil then turn off heat. Allow leaves to steep until cool.
Strain leaves and return the tea to the pot. Add the sugar
Bring back to the boil for 2 minutes and remove from the heat.
Cool before bottling and store in the fridge.