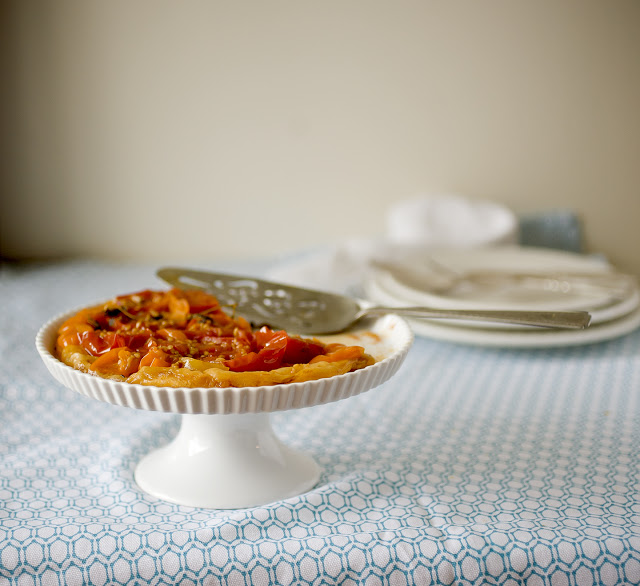 Were coming into the summer bounty of tomatoes, my favorite time of the year. This tart tatin is a welcome relief from the trays of tomato mozzarella salads, and yet, still a light and delicious way to enjoy summer's bounty. The vinegar and sugar in this dish, along with the roasting, brings out a different layer of flavors in the tomatoes, causing them to intensify and sweeten into such goodness.
This dish is also one of those dishes that will generate oohs and ahhhs when presented to the table, but is unabashedly and devilishly simple to make. The tart tatin also comes together so quickly that you can run up off the beach and throw this into the oven. By the time sandy feet, and sun-screened skin are rinsed and dried, your beautiful tarts are ready to be flipped onto a serving dish and placed on the table.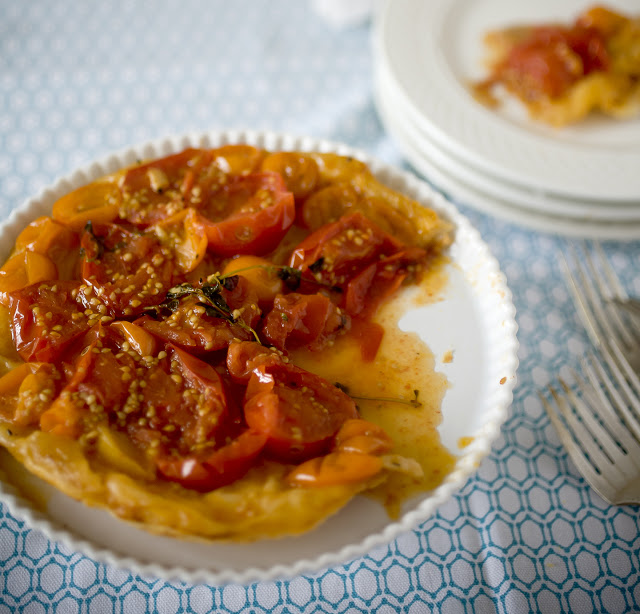 When I made this recently for a luncheon I made two. While the first was in the oven finishing off, I readied the second. It only takes a few minutes to bake off the tart, so as  the first came out, in went round two. The tart tatins are best straight out of the oven. The liquor from the tomatoes soaks the pastry, making it saturated and divine, but left too long it becomes soggy and it loses it's edge. This is not a good dish to make the day before, unfortunately.
If you want to prep ahead you can roll out and cut your pastry to size and leave on wax paper, parchment, or in between layers of saran, and then drop it on top of your pan when you're ready to go. It really comes together very quickly, and this way you can keep a cleaner counter.
Serve this with a garden salad, or even top off with some feta cheese if you want a dish with a little more heft. Definitely serve with a crisp white wine.
Summer Tomato Tart Tatin
serves two generously
2T unsalted butter
1T white vinegar
2t brown sugar
1 clove garlic, minced
2 sprigs of fresh thyme
2 large fistfuls of cherry tomatoes, cut in half
one sheet of prepared puff pastry
Preheat oven to 425˚
In an 8″ (preferably nonstick) frying pan, melt the butter. Add the vinegar, sugar, garlic and thyme and cook over moderate heat for 2-3 mins until thickened.
Place tomatoes, cut side down into the thickened sauce, making the grouping as tight as possible.
Roll out the puff pastry and cut a circle 9″ in diameter. Place on top of the tomatoes.
Pop the works into the hot oven and allow to bake until brown and puffed up. Approximately 15 mins.
Remove from the oven and allow to sit for one minute.
Place a plate on top of the pan and invert the tatin onto the plate.
Serve immediately.
Viva Summer!!