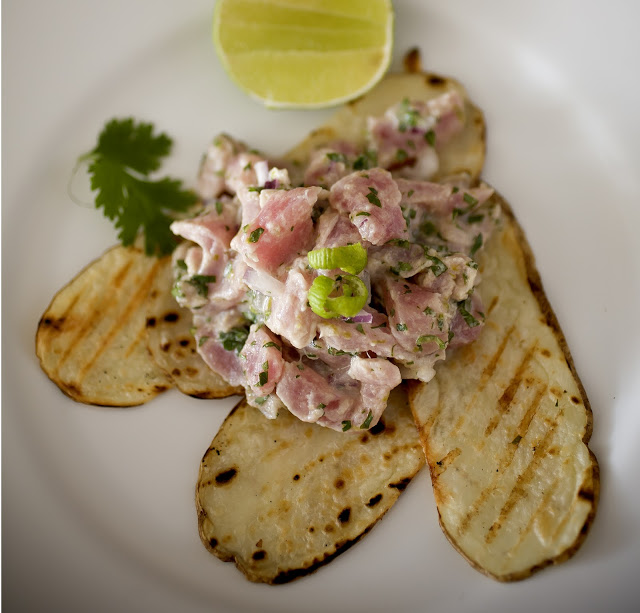 While I was downtown in Chinatown searching for langon fruits, I spied me some beautiful Tuna. Whenever I see really good quality Tuna I hate the thought of cooking it. It's just to gorgeous for that. What the fish monger hated even more was my instruction of the exact piece that I wanted. I don't like to be a pain….nah, not true, I can be a nudge. I figure Italian grandmothers can get away with it, why not a Latina/Irishwoman?? Trust me though, I let that guy know that I really appreciated his efforts. In the end everyone was happy.
While stumbling around I also came across some fresh, tight Thai Chilies. You may see them in the market as more stores are starting to carry them. They are small, slim and green, and pack a smart punch that can really sting if you're not careful. I, as you know, love them. Feel free to switch out to jalepenos of a lesser quantity if your not a heat freak like me, or eliminate altogether. I would add a good grind of black pepper at least though…
So once back in my kitchen with the spoils of my excursion, I sliced up a few potatoes as thin as I could get them, oiled them, and threw them on my grill pan. While the potatoes softened and charred, I pulled together the tartare.
I think tartare should be made a la minute, meaning not in advance. Though perfectly good the next day, I prefer it fresh, before the lime juice has a chance to do too much work on that beautiful tuna, but if you're making a batch for a get together, go ahead and make it beforehand- just keep it cold, cold, cold.
So here you have it. My late afternoon lunch.
I need to head downtown more often…
Tuna Tartare on Grilled Potato Slices
serves 4
4 potatoes, scrubbed and sliced by hand as thinly as possible
1.25# of fresh sushi grade tuna
3T toasted sesame oil
.25 c cilantro
1 juicy thai chili, minced finely
zest and juice from 3 limes
3T minced red onion
pinch of salt
Heat grill pan to high. Brush potato slices with oil and grill on one side until translucent  then flip to second side. Cook in batches until all are done and arrange on plates.
In medium size bowl combine all the ingredients except the tuna. Taste for acid and chili balance. 
I tossed my tuna into the freezer as I was starting the potatoes so that I can get neater slices from the cold fish. Do no freeze completely though.
Dice the tuna into small pieces, then toss the lot into the dressing. Give it all a thorough coating and let rest for just a minute or two. I taste again for flavor balance. 
Divide the tuna between the plates and enjoy!